Assessing responses to the Danish FSA's recent discussion paper on pensions risk
KEY POINTS
The Danish FSA is focusing on alternative investment risks for pension funds and consumer risk in market-rate pension products.
It is scrutinising pension funds' direct lending, including real estate lending.
Pension providers are seen to use different labelling for risk levels in market-rate pension product ranges.
With asset prices ballooning and memories of the 2007-08 financial crisis clear, it is unsurprising those policing pension funds are focusing on risk.
In Denmark, the Financial Supervisory Authority (FSA or Finanstilsynet) has been particularly vocal about two aspects of pensions risk — pension funds' alternative investment activities and the shifting of investment risk to customers through the trend towards market-rate non-guaranteed products.
Both issues are still live for the regulator, as it deliberates responses to its discussion paper. At the FSA's pensions conference in Copenhagen at the beginning of March, director general Jesper Berg highlighted lending by pension funds as a topic of regulatory concern.
The FSA had previously said it was worried about the extent to which Danish pension funds had the level of expertise they needed to make and adequately manage alternative investments.
It was concerned about skills in relation to due diligence, risk management and ongoing management of the investment as well as valuation, according to a spokesman.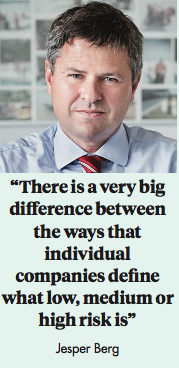 The FSA is also in the process of looking into direct lending undertaken by pension funds, including real estate lending, and is aiming to find out whether the funds are more willing to accept risk than banks, and what governance they apply around such activity.
But apart from homing in on the potential for investment losses at the funds themselves, the regulator is setting its sights on the level of investment risk taken on by individual consumers.
It opened an investigation in March 2017 into the risks involved in the new breed of market-rate pension products — which have become more widespread over the last few years alongside the gradual decline in traditional average-rate pensions, with or without guarantees.
Berg indicated that part of the problem was seen as the difference in labelling of investment risk rather than the investment risk for consumers per se. The FSA had observed a larger proportion of higher risk investments in market-rate products than there were in traditional products.
"At the same time, there is a very big difference between the ways that individual companies define what low, medium or high risk is," Berg said at the time.
The supervisor introduced its debate initiative on the risks for consumers in market-rate pensions, saying that every time Danes saved DKK100 (€13.44) in their pensions, DKK60 went into pension plans where it is unclear what benefit the customer will receive.
Berg said the trend towards increased provision of market-rate pensions was driven by the desire to give customers higher expected pension payments, but that meant it was customers themselves who were bearing the risk of whether there would be enough money for their retirement.
Jesper Kirstein, chief executive of the consultancy Kirstein, told the FSA in his response to its discussion paper on pensions risk, that the biggest problem with market-rate products was that the companies providing them had a severely limited reporting requirements regarding the products. As things stand, companies are only obliged to disclose the returns of the different funds and profiles that they offer.
"This means that interested parties cannot get an insight into the investment strategies of the different products without asking the companies when they want to understand the risk, return, competences, and so on," he wrote.
"Disclosure requirements are therefore significantly lower than what companies are required to reveal in relation to savings in the average-rate space," he continued. This inadequate transparency is unsatisfactory and prevents customers or their representatives from getting hold of the necessary insight, or makes it difficult, according to Kirstein.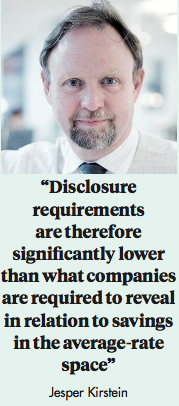 Kirstein also submitted the standard questionnaire his firm sent out to companies to gather information for its report on the market environment, offering the document as "inspiration" for any future efforts by the regulator to collect information on market-rate pensions from providers.
Meanwhile, Maria Hjorth, chief executive of Mercer Denmark and Michael Wendt, business leader at Mercer Wealth in Denmark, told the FSA that many of the challenges named by the regulator within the overall issue of market-rate pensions and risk were not isolated Danish "problems", because, they said, their firm was involved in similar discussions in other countries.
Hjorth and Wendt addressed the FSA's examples in its discussion document that showed investment risk within risk categories of non-guaranteed products varied significantly between providers.
"This is due, inter alia, to the fact that the extent and timing of the scaling down of risk in lifecycle products is very different from company to company," they wrote.
The firm added that evaluation of the return and risk of market-rate products could potentially be linked to the pension administrator's position on the balance between internal and external management, active and passive management, and the extent of financial instrument use.
Risk could be classified on a five-level scale from low risk to high risk, with conservative, medium risk and aggressive in between, it suggested.
The right trade-off
PFA Pension, Denmark's largest commercial pensions provider, said it was important to have realistic return expectations, given that historically low interest rates meant pensions investment returns looked likely to be lower in future after more than 30 years of good returns.
"Stability and predictability – both in the accumulation and decumulation phases – have advantages in the form of customers knowing what they have"
There was a trade-off between risk and expected return, and therefore the size of pensions, it said. "Stability and predictability – both in the accumulation and decumulation phases – have advantages in the form of customers knowing what they have," PFA Pension's response said.
However, it also said these advantages limited the ability to take investment risk and thereby maximising the return on savings. "Each individual customer should have the chance of choosing a market-rate product that gives them the permutation that exactly suits that individual," PFA said.
The pensions provider said there was a need for an appropriate, standardised key risk figure based on identical assumptions, which would make it easier to compare providers.
"Increased transparency means, among other things, that companies use exactly the same assumptions for predicted estimates of both best estimate and worst-case scenarios," PFA said.
Advice to customers choosing market-rate products should be improved, the firm said, ensuring that customers are at least given advice when they started the savings plan, at the time of major life events, and immediately before they became pensioners.
"The advice should use a customer's overall financial situation as the starting point," the firm said.
In its response to the FSA's paper, the Danish association for insurance and pensions, F&P, stressed that although market-rate products involved a greater degree of investment risk than non-guaranteed products, the risk that the individual client would end up getting a low pension was very small.
This was because providers limited investment risks through diversification, because pensions were very long-term investments and also due to the fact investment risk was usually reduced within such products as customers approached retirement age, it said.
F&P put forward its own four-point plan in March to promote consumer protection on pensions. The association said in its response to the FSA's discussion paper that there was lot of literature showing most consumers found it very hard to understand risk — and to take action to manage that risk.
"It is important to take the consumer's limited understanding and interest as a starting point when communicating on risk," F&P said.
Sweden: AP funds power on
1

2

3

4

Currently reading

Denmark: Pension risk faces scrutiny

5

6

7

8