Regulatory developments and the low-interest-rate environment are pushing pension funds to move away from guaranteed schemes
Key points
Danish pension funds for architects and for academics and vets are appealing a ban on switching to market-rate pensions without individual consent
Regulator's stance not seen in itself as indication of a tougher stance on shift away from traditional average-rate pensions
Offering a financial gain from reserves seen as best way for providers to effect the shift
EIOPA's revised calculation of the Danish Volatility Adjustment by is likely to give further impetus to the trend towards market-rate pensions
Increased demands from the regulator are often identified as a key factor behind the gradual but relentless shift in recent years of Denmark's labour-market pensions away from the traditional average-rate products – some of which have certain guarantees. But now two Danish pension funds have found themselves fighting the regulator to be allowed to switch scheme members over to newer unit-linked or market rate, less capital-intensive products.
Just before Easter, the pension fund for architects, AP (Arkitekternes Pensionskasse) and the pension fund for agricultural academics and vets, PJD (Pensionskassen for Jordbrugsakademikere & Dyrlæger) – both run by Sampension – lodged an appeal against the decision made by the Danish FSA (Finanstilsynet or Financial Supervisory Authority).
In March, the FSA had blocked them from using a planned collective vote at their upcoming annual general meetings as consent to carry out a wholesale switch of customers' pensions from conditionally-guaranteed average-rate to market-rate pensions. "The FSA judges that the pension fund has not proved that it is objectively justified from the point of view of the members to undertake the change through a collective ballot, that groups of members will not be disadvantaged by change, and that the aim of the change cannot be achieved by offering members an individual choice," the regulator wrote.
For AP and PJD, Sampension's chief mathematics officer Flemming Windfeld explains it is important for the two pension funds to have the same product for all members and therefore make the change for all at the same time.
"If we just changed the contributions, all existing members will get two products and a lack of overview," he says.
"The pension funds think that it should be a decision for the annual general meeting, as their existing product, in fact, is without guarantees. It is therefore just a change in the investment method," says Windfield.
In the past, some Danish labour-market pension funds have been able to make a scheme-wide change to market-rate from average-rate or with-profits pensions – with Industriens Pension being one example.
But the details of these cases were different, the FSA argues. "The Danish FSA has looked into several cases of pension companies wanting to switch the scheme members pension product both for future contributions and existing savings, including Industriens Pension, and has developed some criteria that must be met in order to fulfil its obligation to act honestly and fairly to the scheme members," says Ulla Brøns Petersen, director, consumer affairs and financial intermediaries division at the regulator.
"The criteria have been met in those other cases, but in the case of AP/PJD, the Danish FSA was not satisfied that the change was necessary to achieve an objective goal that could not be achieved by giving the scheme members an individual choice, nor did the Danish FSA find that AP/PJD could demonstrate that no member would get 'a lesser deal' after the switch," she says.
Industriens Pension changed most of its pension scheme from traditional average-rate plans to market-rate savings in 2011. One of the main reasons for the decision, according to Laurits Harmer Lassen, chief press officer at the fund, was that it would enable the fund to transfer the collective reserves to members' individual savings.
"If members with traditional average-rate plans wanted to transfer their savings to a new pension scheme, they could not get their share of the collective reserves," he says. "We did not consider it fair to these members, and we therefore changed the pension scheme to market-rate savings."
In the wake of the financial crisis, many Industriens Pension's members had lost their jobs, leading to a substantial number taking jobs in other sectors.
As part of the change to market-rate, the pension fund transferred the collective bonus potential to the members' savings, which wrote up most people's savings by 25%.
"In other words, there was a considerable financial gain on the individual members' savings in relation to the change," says Harmer Lassen.
Far from representing a new hurdle to the ongoing trend towards market-rate pensions, the AP/PJD case appears to centre on specific objections to the details of the proposed move rather than any objection to the principle of customers switching to market-rate products.
Q&A: Norli Pension's new chief executive Mads Smith Hanse on traditional average-rate schemes
What is Norli's business model and how long have you been operating in the Danish pensions?
Mads Smith Hanse: Norli Pension specialises in managing traditional average-rate pension schemes in run-off through accurate risk and cost management. The business started through the acquisition of the company from Skandia in 2015. An additional portfolio was taken over from Skandia in 2018.
Is demand for your services increasing, and if so, why?
As more average-rate pensions schemes in the Danish pension industry are put into run-off and several pension companies increasingly focus their product development and offering on market-rate products, the case for pooling the portfolios with a company like Norli Pension which focuses entirely on the effective management of such average-rate pension portfolios is certainly improving. A similar development has been going on in other countries, particularly the UK, for years already.
What are the challenges in managing and investing traditional average-rate pensions?
Management of average-rate pensions is more complex and challenging than market-rate pensions in several areas:
● capital requirements are higher;
● interest rate risk from the EIOPA discount curve requires tight risk management;
● IT systems are complex and hence costs are likely to be higher;
● management needs to allocate more time to ensure a fair treatment and distribution of returns to policyholders.
Do you face much competition in the Danish market, and do you see other players entering this market?
We believe we currently are the only ones actively pursuing this strategy in Denmark, but although the entry barrier is somewhat high, one might see others do the same at some point.
The trend is continuing, as Danish pension funds seek to adapt their product offering to what they find realistically deliverable, given the transformed operating environment.
Last winter, for example, JØP, the Danish pension fund for lawyers and economics, told members that, as a result of higher life expectancy and lower interest rates, it was no longer able to pay the supplementary pension which used to form part of the basic pension in its traditional 'Afdeling 1' average-rate pension product.
As a result, it said it was offering the opportunity for individual scheme members to switch to the 'Afdeling 2' product which most members now have, described as "market-rate with smoothing" – an adjusted average interest rate scheme that includes the benefits of market interest rates.
Regulatory developments are continuing to put pressure on pension providers to move away from guaranteed pensions.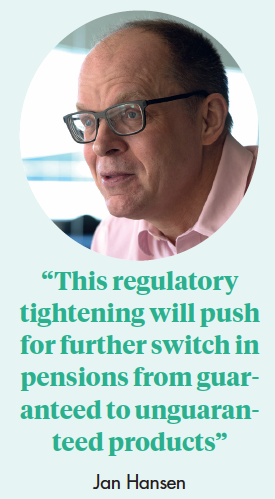 Jan Hansen, deputy executive director at the industry association Insurance & Pension Denmark, notes that the European Insurance and Occupational Pensions Authority (EIOPA) has recently revised calculation of the Danish Volatility Adjustment, which is part of the risk-free interest rate curve used for discounting liabilities.
"The revision is technical in its nature, but the impact is a lowering of the interest rate curve with more than 10bps," says Hansen.
"This lowers the expected financial return on savings in guaranteed products, because the investment strategy is forced in a more conservative way.
"This regulatory tightening will push for further switch in pensions from guaranteed to unguaranteed products," he says.
Søren Husted, director, retirement and health solutions at Aon in Denmark, does not accept the AP/PJD case suggests that the FSA is becoming stricter on this question, and expects the trend to continue over the next few years.
He says: "These guaranteed pensions products require a lot a capital for the pension provider and they have a set of investment guidelines from the FSA that they need to follow.
"Which means that they need to have a very conservative investment strategy – mainly domestic bonds, which makes it difficult to generate a decent return on investments."
He points out that all new Danish pension schemes are defined-contribution schemes – which has been the case for the past 10-15 years – and they are primarily placed in market-rate pension products, because most carriers had decided not to offer guaranteed products to new clients.
Neither does Morten Linde, investments practice leader at Willis Towers Watson Denmark, see the FSA's latest ruling as any indication of a tougher stance. He refers to an unnamed case in 2013 where the pension provider had taken the same approach as AP/PJD. This ended with a settlement with members offered their guarantee back, with others getting 5% of the reserves as compensation for the lost guarantee. "Probably only a few actually followed up and got their guarantee back," Linde says.
Pension providers are typically moving customers to market-rate products by creating new pension schemes, Linde says, with default saving in a market-rate product. And with the interest rate in the average-rate products low, he says, only a few choose the latter.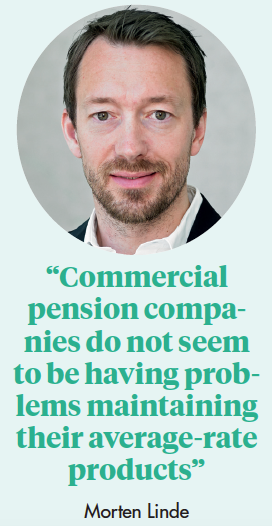 "It is only in the union-based pension companies where guarantees have been collectively removed and members moved to market rate without individual consent. In the commercial market, the members or customers have been offered a move including the reserves," says Linde.
"At present it is only PFA, the largest commercial pension company, that continues to offer the reserves in a shift," he says.
At the moment, however, the commercial pension companies do not seem to be having problems maintaining their average-rate products, he says. Union-based pension funds have few options and small administrations are unable to handle a huge member-advice challenge.
"But a softer way out could be a product shift against passive acceptance and hoping for FSA approval if the information given beforehand is sufficient – probably only a small amount of the members would react," Linde says.
ATP: Green signals
1

2

Currently reading

Denmark: Schemes challenge regulator on guarantee

3

4

5

6