Despite the blustery short-term economic environment, Danish pension funds have set their sights firmly on the horizon, playing the long game on asset allocation, writes Rachel Fixsen
Speculators whipped up a storm around Denmark's currency earlier this year, betting that the Nordic country would follow Switzerland and jettison its foreign exchange peg to the euro. The resulting uncertainty on financial markets sparked new hedging moves by businesses and investment institutions alike, as well as some big profit-taking by at least two Danish pension funds.
Despite the uncertainty, pension funds are playing the long game within asset allocation. Slowly but surely, institutions are repositioning assets in response to persistently lower interest rates. "Broadly speaking, the largest Danish pension funds have gradually been building up their exposure to alternative investments during the past four to five years," says Casper Hammerich, investment consultant at Kirstein in Copenhagen. "This has mainly been driven by the low-yielding fixed income environment."
Many new allocations to alternatives have taken the form of real estate and infrastructure investments, but pension funds have also been turning to private equity and private debt investments, Hammerich observes.
Costs have been in sharper focus for pension funds than before, he adds. And as a result, many of these new investments have been done internally or through local subsidiaries of the funds, such as Copenhagen Infrastructure Partners for PensionDanmark, and PKA AIP for pension fund administrator PKA.
At a glance
Danish institutions have been repositioning assets in response to persistently low interest rates.
Many new allocations to alternatives have taken the form of real estate and infrastructure investments, but schemes have also turned to private equity and private debt.
The labour-market pension fund PenSam has been moving away from fixed income to more risky assets.
ATP believes the shift from nominal government bonds and index-linked to equities and real assets is unlikely to change any time soon.
Nordea's Life & Pensions business has been taking on more illiquid assets within its traditional with-profits investment portfolio and is in the process of increasing risk, according to the CIO at Nordea Life & Pension Denmark, Anders Schelde. "In the wake of the financial crisis, we allocated very little to illiquid assets – real estate, private equity, forestry and so on – and now over the last two years we have gradually increased our allocations again to a more-or-less normal level," he says.
New allocations to these illiquid assets are now similar to those of 2007, Schelde says. "We have the capacity to take on more risk – market risk but also the liquidity risk. With interest rates being so low, there is a hunt for yield, and within that new allocation we have today there has been quite a lot of change from how we did it in 2007 and 2008."
The illiquid exposure within the portfolio now focuses more on alternative credit, but it has very little allocation to hedge funds, which were more of a feature in portfolios before 2008, Schelde explains. "We are still very keen on private equity."
The shape and size of Nordea Life & Pension's real estate investment has not changed much, he adds, with most of it still in direct holdings within Denmark. "What has changed is that there is a new opportunity with public/private partnerships (PPPs) within the regions, and some of the deals are quite large."
The Nordea division is very interested in this kind of investment, he says, for the same reasons it has its sights set on alternative credit – stable returns and risk that can be controlled well. "It is like government bonds with some risk on top, but risk we are good at managing," says Schelde.
With financial buffers now in excess of 10%, the Nordea division has capacity for more illiquid investment, and now the investment team wants to harvest the illiquidity premiums from that type of investment.
PenSam up the risk curve
Meanwhile, the labour-market pension fund PenSam has been moving away from fixed income to more risky assets for several years, according to CIO Benny Buchardt Andersen. "The move has been into two channels," he says. "On one side are listed assets like equities, emerging market debt and high-yield debt, and the other route has been into alternative investments – private equity, real estate, infrastructure and illiquid credit."
That move is still going on. "We will move out of fixed income but not entirely to equity," Buchardt Andersen explains.
The allocation to equity has grown to 31% now from just 16% at the beginning of 2010 but strategically will not exceed 30% of total assets. The shift away from investment-grade fixed income has been more dramatic, sliding to 28% now compared with five years ago, when 66% of PenSam's assets were held in the form of traditional government and mortgage bonds.
The change towards alternatives, on the other hand, has been more gradual, mainly because of the illiquid nature of the investments. This allocation has grown to 23% from 13.6%. Within that, property has expanded to 6.5% from 5.6%, private equity to 5% from 4% and illiquid credit to 10% from 3.5%.
Where will PenSam move from here? "The Danish FSA asks us to have a plan for illiquid assets," says Buchardt Andersen. "They must not be so huge we can't pay money to the pensioners and other bills." The strategic plan maps out the growth in assets under management and the cap, as well as the floor, for what needs to be invested in illiquid assets, he says.
The target allows for investment in alternatives to increase by 10-15% in total over the next five years. "We have a mandate whereby, if investment opportunities arise, we can increase assets in each sub-class by up to 5%. We need to find out where there are opportunities, but one thing is for sure – we think government bonds are too expensive, and returns on other investments seem more attractive."
Flexibility for ATP
ATP, Denmark's largest pension fund with around DKK92bn (€12.3bn) in assets, splits its overall assets into portions. ATP's investment portfolio is only around 20% of its total assets, with the majority invested in its hedging portfolio. This consists mainly of bonds and related instruments and is designed to underpin the yield guarantees ATP gives its members.
Last summer, the pension fund changed the structure of the yield guarantees it offers scheme members, which allowed it to use a wider range of fixed income hedging investments and instruments to back those guarantees. This flexibility, it has said, could lead to higher returns and lower financial costs. Within the investment portfolio, the amount of fixed income assets has fallen over the last year or two. The fund considers its investment portfolio in risk terms rather than using more traditional asset classes as pots to allocate to.
Pension funds increase investment in SMEs
Danish pension funds are taking on investment exposure to small and medium-sized enterprises (SMEs) within the country, partly for the returns the sector can provide but also to support the domestic economy in which they have a large stake.
In March, three of the largest pension funds – ATP, PensionDanmark and Danske Bank subsidiary Danica Pension – ploughed DKK1bn (€134m) in a new subordinate loan fund for SMEs.
Danske Bank said the pension funds wanted to contribute to increasing growth and resilience in the Danish business sector, acknowledging that the country was dependent on development among SMEs.
The new fund, which is to be run by administration firm Capital Four, will target those businesses turning over more than DKK50m a year and seeking loans of over DKK10m.
Other Danish pension funds will be invited to take part in the fund, which is expected to be ready for launch at the end of the summer.
In December, Danica Pension announced a separate investment in the sector, investing DKK1bn in the GRO Fund, which would provide subordinated capital
and equity for expansion to SMEs.
In April 2014, the country's largest commercial pension provider PFA put money into SMEs in Denmark by boosting its stake in private equity firm Kirk & Thoresen Invest.
The investments are the result of a pledge made in 2012 by Danish pension funds to the government to promote lending to SMEs, as part of the deal that included the extension of the alternative yield curve used to calculate pension fund liabilities.
"The big trend has been that we have less in nominal government bonds and index-linked and more in equities and real estate and other real assets – this has to do with the low interest rates," says Henrik Gade Jepsen, CIO of ATP. This trend seems unlikely to be reversed any time soon, he indicates. "The investment portfolio tries to make a positive return to increase pensions, and it's difficult to be an investor in bonds when there are zero or negative interest rates. From a European perspective, the central bank seems determined to keep rates low, so we're prepared for a period of low interest rates. What has been very important for us is the diversification, so, from a portfolio perspective, we have decided to increase real assets."
Gade Jepsen sidesteps making forecasts of economic growth or contraction, explaining that ATP is not trying to base its investments on macro projections since it is not a global macro investor. "For us, it's more important in that it helps us in our assessment of risk, and which is such that we are not using our risk budget to our fullest extent. We are basically keeping some powder dry at the moment, which is very important to do in case interesting opportunities arise."
Another reason for keeping on the sidelines is that assets on many markets are currently overvalued, he says. "Being so low on safe-haven assets means we are not as well diversified as we were," he says.
Currency pressure
The surge of upward pressure on the krone in January and February following the Swiss National Bank's surprise decision to unpeg the franc from the euro – and exacerbated by the European Central Bank's large-scale quantitative easing – prompted many Danish pension funds to start hedging their euro assets.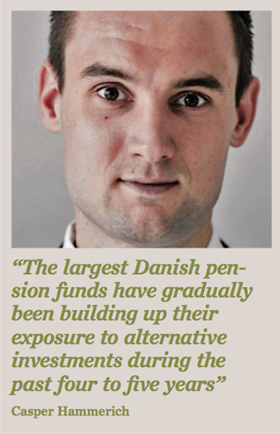 Central bank data has shed light on this activity, although individual pension funds themselves have been reluctant to own up to it publicly. Some pension funds, notably Sampension and PKA, managed to make sizeable profits from the turmoil by closing bond positions or switching currency hedging.
As for PenSam, the only hedging used is for currencies with the krone including the euro fully hedged, a practice it took on two years ago to free up the risk budget to invest in other asset classes. It made no changes to this in January and February of this year.
Nordea Life & Pension, meanwhile, has some products fully hedged and others left unhedged, a practice that has not changed with the latest spate of upward pressure on the Danish krone, says Schelde.
For ATP, the drama surrounding the pressure on the krone this year has had no impact on asset allocation, nor on its liability hedging strategy, says Gade Jepsen. The statutory pension fund has repeatedly said it has full confidence in the Danish central bank's determination to defend the krone-euro peg.
Hammerich, too, is confident. "The Danish krone has been pegged to the deutschmark and subsequently to the euro for more than three decades and represents a cornerstone of Danish economic policy," he says. "Even though one should never say never, we are quite confident the krone has weathered the storm."
As for the market outlook, Hammerich sees significant challenges to growth and inflation within the euro-zone, though he acknowledges the ECB is trying hard to deal with these. "The ECB is doing its part, but it can only do so much," he says. "It might be engaged in quantitative easing for a long time." An important theme for asset managers and investors alike has been positioning correctly towards the energy sector, he says, in particular towards a rally in oil prices.
Schelde believes there are reasons to be optimistic about the prospects for European equities but cautions that it would be unwise to get carried away. "In my career, I've probably never seen the macro factors so well aligned," he says. "We will have a cyclical upturn with that showing in the data quite soon."
At PenSam, Buchardt Andersen is wary that when bond yields do turn higher the increase could be radical, not least because market makers will not be able to take any risk with the change of tide. With its investment-grade bond allocation now drastically reduced, PenSam is surely better positioned for such a rise in bond yields.