A hard Brexit could have catastrophic consequences
Key points
• The derivatives sector is perhaps the sector most at risk from severe disruption if there is a hard Brexit
• Derivatives experts and national regulators have identified 15 problems that will have an immediate adverse impact on the market's operation if not addressed
• Looking at financial markets more generally, without a Brexit deal financial firms in the UK could lose their 'passport' to market services in the EU27, and vice-versa
• Big banks may regard the administrative hurdle of adapting client contracts to Brexit as a reason to jettison less valuable smaller clients, in an era of high capital charges
Securities services firms may not have the same cachet as chic tech companies but they are increasingly encroaching onto the tech firms' territory either through partnerships or homegrown initiatives. They are not only deploying the latest tools for the traditional offering but also developing data analytics, dashboards and algorithms to be used across the trading lifecycle.
Pundits on financial markets, politics and other areas of life often observe, when fretting about an issue, that the short-term consequences may look small but the long-term consequences will be deeper.
But when it comes to Brexit and derivatives, one could make a good case for saying that the opposite is true. The long-term consequences look manageable, given the UK and EU have managed to negotiate an agreement that includes the planned transition period of 21 months – giving the UK and EU time to iron out bumps in the system. However, if this fails to pass the UK Parliament and there is a hard Brexit from 'day one' next March, the short-term consequences could, in theory at least, be catastrophic.
The potential catastrophe has even been colour-coded. In October the International Swaps and Derivatives Association (ISDA) and six national trade bodies within the EU27 published 'The impact of Brexit on OTC [over-the-counter] derivatives'. It includes a summary table of 16 actions through which, it argued, "EU authorities can mitigate adverse impacts of Brexit". The table has eight items marked in red as "immediate/high-impact", seven in orange as "immediate/low impact", and only one in yellow as "delayed impact", denoting something less urgent.
Robert Daniell, senior counsel in the derivatives and trading team at Macfarlanes, a City of London law firm, describes the consequences of not dealing with these items ahead of the date of Brexit as "in many cases deeply concerning and in some cases quite hair-raising".
A senior regulatory affairs specialist specialising in financial services at a public affairs firm in Brussels describes the derivatives market as "the one major concern: the main problem", with regard to Brexit and financial markets.
Roger Cogan, head of European public policy at ISDA in Brussels, states the consensus view by describing one of the red boxes in the report, the recognition of UK central clearing counterparties (CCPs) by the EU as properly regulated and supervised, as "probably the most important item".
It is equally important for the UK and the EU27, since the London Clearing House, a CCP, clears the bulk of the world's currency-denominated derivatives, including most euro-denominated contracts. Under international financial rules, a wide range of derivatives have to be cleared by CCPs, to reduce the magnitude of the market disruption should a big market player default.
This problem relates to what the EU calls "regulatory equivalence" – agreement by the EU that UK institutions and markets are as well-regulated as for their EU counterparts.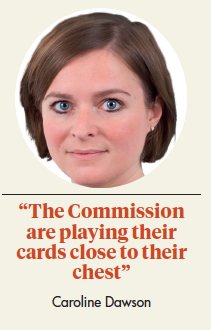 The Commission has, since the report's publication, offered some reassurance on this item. Valdis Dombrovskis, European Commission vice-president with responsibility for financial services, has announced that the EU27 will temporarily recognise UK CCPs, although Cogan of ISDA points out that there is still some uncertainty about what the Commission includes in this concession. For example, he notes, it is unclear whether it would cover the bilateral (client to clearing member) leg of a client-cleared contract.
In any case, there are plenty of other areas where people close to negotiations see little sign of progress. For example, the Commission has made no promises or even encouraging noises about granting regulatory equivalence for UK trading venues.
Moreover, lawyers and other market observers argue that it is hard to know for sure in advance what the big issues are. For this reason, many people criticise the Commission's approach. Caroline Dawson, senior counsel at Clifford Chance, the City of London law firm, and one of the people who helped draft the ISDA report, notes: "As far as I understand it, there may be one or two massive headline issues the Commission is thinking about doing something on, but apart from that they are playing their cards close to their chest. It is likely that there is a hierarchy, with some issues which they regard as priority issues, with solutions lined up to do something about them."
Dawson has two objections to this approach. The first: "They can have the best solution in the world, but if they don't say something about what they're doing, people will have to start taking action to try to mitigate the effects themselves, which could be very disruptive." The second: "It's difficult for the Commission to know what's going to be a massive problem until Brexit comes and it is a massive problem."
UK entities doing derivatives deals with EU27 counterparties could, in theory, have eliminated the headache by switching to contracts cleared by EU27 CCPs, or by setting up entities within the EU27. However, the EU27's rather small CCPs lack the wherewithal to suddenly ramp up the number of contracts they clear.
As to setting up shop in the EU27, one City of London lawyer warns that if market participants start to lose confidence that some arrangement can be made in time, "I don't think there's time by this stage for people to create EU entities. I think it's more likely that people will just panic and close everything out, and we will end up with market instability." In any case, some contracts cleared on the London Clearing House are not cleared anywhere in the EU27.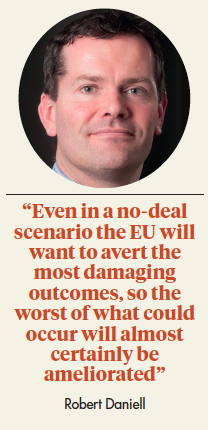 The issue of trading venues is, in common with the topic of clearing houses and various other items, essentially about regulatory equivalence – and this conceptual problem is one of the main stumbling blocks to a resolution of the concerns of both UK and EU27 users of derivatives.
The Commission says that it cannot decide if a country has regulatory equivalence to its own regime until that country has left the EU. The UK government argues that, under the European Union (Withdrawal) Act passed by Parliament, it cannot deviate from EU regulations until it leaves, so by definition on Brexit day it can guarantee regulatory equivalence.
Some observers remain sceptical of the EU27's intentions. They see a (partially) hidden agenda among much of the EU27: to move as much of the European financial services business that has migrated to London over the decades back over the other side of the Channel – and even to prompt UK firms to establish a bigger presence within the EU27. This is also bound up with another aspect of regulatory equivalence – passporting (see box). Failure to reach agreement on regulatory equivalence would help their cause by making it hard for UK entities to continue servicing EU27 clients.
It is also possible that something goes wrong even with the best of intentions. Daniell of Macfarlanes concludes: "Even in a no-deal scenario the EU will want to avert the most damaging outcomes, so the worst of what could occur will almost certainly be ameliorated." Having said this, "the worry is that, in the long list of existing practices that need to be grandfathered [allowed to apply in the new regime] in order to prevent material disruption, something critical, but not appreciated as such, gets missed."
Three further challenges for derivatives clearing in Europe
1. Passporting
UK financial services providers worry that their right to sell products and services into the EU could disappear either immediately, if there were no Bre xit deal, or in the long term if the UK and EU failed to agree on the appropriate deals for financial services during the transition period. This right is known as 'passporting'.
A regulatory affairs specialist at a public affairs firm in Brussels says the UK is most likely to be granted access on the basis of "regulatory equivalence" (see main story), but sector-by-sector within financial services rather than for the industry as a whole.
If UK firms could not benefit from passporting they would have to set up offices within the EU. James Wood-Collins, CEO of Record Currency Management, based in Windsor, England, estimates that to create an entity within the EU that would be accepted by the local regulator as more than a brass-plate subsidiary with a token presence, he would have to transfer three to five experienced and trusted people from the firm's existing office in the UK, recruit people to fill their positions back home, and take on a couple of local non-executive directors. The firm's current workforce is about 80.
2. Influence and obligation
The UK would lose its direct influence over EU policymaking. To give an example, Mifid (Markets In Financial Instruments Directive) II, which came into force in January 2018, contained the principle of 'unbundling', where brokers must charge clients separately for trading commissions and research, only because the UK pushed it through against French and German opposition, notes the Brussels-based regulatory affairs specialist. When Mifid III eventually comes along, the French and Germans may well want to reverse this, and the UK will have to accept it if it wants to maintain regulatory equivalence.
On the other hand, many hedge fund managers and some private equity fund managers dislike much of the Alternative Investment Fund Managers Directive, and it is possible the UK might choose to diverge from its provisions in the long term. Fund managers regard it as onerous – they have to report to the Financial Conduct Authority on their investment strategy, assets, leverage and principal markets – and intrusive – they have to file an annual report to investors showing what senior staff have been paid.
3. Unloved clients
In the short term, London-based subsidiaries within US and UK banking groups are under increasing pressure, as Brexit approaches, to redo or 're-paper' their contracts with EU27 clients, in case they lose their passport to provide services to these clients on Brexit day (and vice-versa). The largest clients will naturally be at the front of the queue, with smaller ones having to wait.
Banks may even react to this short-term problem with a long-term solution – deciding that now is the time to jettison their less lucrative clients for good.
"Let's say that you're a big bank with thousands of clients, and you have to work through the paperwork with clients in Italy or Germany," says Sean Capstick, head of prime brokerage at Global Prime Partners, a London firm. "If you already have a problem with smaller clients, because they don't make the revenue hurdles, don't trade as much as they should, and don't borrow as much money as they should, will you want to go to the trouble of re-papering with the smaller entities? Will this become an exercise in off-boarding them?"
He argues that big banks have become progressively less enthusiastic about small clients because of a combination of factors. These include internal pressure to meet minimum revenue hurdles per client, and the Basel III capital adequacy regime, which requires banks to hold more capital than before, relative to risk.
Liabilities remain in focus
1

2

3

4

5

Currently reading

Derivatives face Brexit risk

6

7