We interview seven Nordic funds about their portfolios
Alecta: caution is the watchword
• Sweden's largest occupational pension provider
• Taking a defensive asset-allocation approach
In today's market, Alecta, Sweden's largest pension fund with SEK874bn (€84bn) in assets, is opting for a degree of caution in its investment mix.
Asked about Alecta's main considerations behind asset allocation, CIO Hans Sterte says: "We like to have a rather defensive portfolio in this market.
"We have a very strong balance sheet, but we still like to have a rather high fixed-income portion in the portfolio," he says. Sterte joined Alecta in March as the firm's chief investment management, having worked in a similar role at Skandia.
At the end of September, Alecta had 44% of its investments in equities, of which 17% were in Swedish equities, 9% in property, 21% in corporate bonds, and 26% in other fixed income.
Sterte says no substantial changes to this mix have been made in the last year.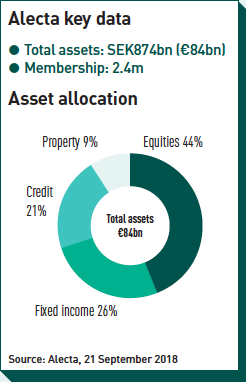 Some areas of Alecta's asset allocation have depressed returns this year, according to an interim report for January to June 2018. In those six months, Alecta had held a high allocation to pharmaceutical stocks, which have not performed as well as other sectors.
Conversely, its underweight position in oil-related shares compared to the benchmark index also had a negative effect on performance during the first half of the year.
Looking ahead, Sterte favours adding a certain type of investment to Alecta's current mix: "I would like to have more inflation-prone assets in the portfolio to be better protected if inflation were to rise," he says.
The biggest asset allocation challenge Alecta faces is the high level of valuations across the board, he says.
While ESG has little effect on asset allocation, it is an important factor during stock picking, Sterte says.
Alecta's CEO Magnus Billing said in the report that the company had boosted its position in sustainable investment over the first half of the year, and that at the end of June it held SEK29bn in green bonds. It also made its first impact-investments during the six-month period.
In April, Alecta provided the anchor investment for a closed-end impact fund from NN Investment Partners and FMO Investment Management, an arm of Dutch development bank FMO, committing $200m (€164m).
This year Alecta won new five-year contracts in the bidding process via Collectum, the administrator of Sweden's supplementary private-sector occupational pension (ITP). It was therefore reaffirmed as default provider within traditional insurance.
AP7: maintaining a balanced approach
• Exposure to global equities has been increased
• AP7 wants to diversify into real estate and infrastructure
As the default provider in Sweden's premium pension system (PPM), national pension fund AP7 runs a balanced portfolio composed of varying proportions of units from just two funds.
AP7's asset allocation is split 90/10 between global equities and Swedish fixed income. The PPM is the defined contribution (DC) portion of the first pillar state pension, in which individuals have the option to choose their own investment funds.
Ingrid Albinsson, AP7's CIO, says the design of the balanced product – called Såfa – is built on two important factors.
"Firstly, total state pension is the starting point for the allocation," she says. "As a result, the DC pension plan – the premium pension within the state pension, of which the savings managed by AP7 form a part – is a small portion of that total.
"The other part, the income pension part, is a type of fixed-income savings, while the DC plan carries a higher return objective and consequently higher risk," she says.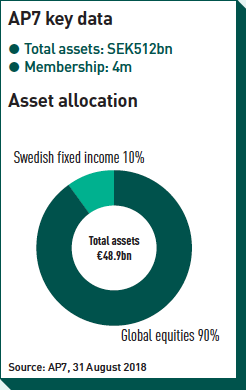 "Secondly, Såfa contains an individual life-cycle approach, and because of this, the allocation is high towards equity exposure," she says.
Over the last year, there have been changes to asset allocation within the equity fund – Såfa's main building block. "The fund has increased diversification towards global equity risk factors," she says, a development that has further to go.
"The fund will strive for increased diversification within the equity fund, and this will include exposure such as global equity risk factors, small-cap exposure and credit exposure," she explains.
AP7 is not permitted to invest in illiquid assets, but with the Swedish pension system in the throes of a reform, this could change. Last year, the fund's chief executive spoke out in favour of broadening AP7's investment remit to include real estate and infrastructure.
Albinsson says the pension fund does use certain alternative investments as diversifying strategies, as well as risk-factor investing.
In May, AP7 said it had started investing in factor premia as part of the new strategic portfolio set out in 2016.
The pension fund plans to invest 10% of its assets in these strategies over the next few years.
ESG has been a central part of AP7's investment process for many years, Albinsson adds.
In May, the fund chose KBI Global Investors and Impax Asset Management to run two 'green impact investment' mandates totalling SEK3bn (€288m).
KBI Global Investors will run a clean-water mandate linked to one of the UN's Sustainable Development Goals, and Impax Asset Management has been handed a broader brief, covering climate and environmental investments and linked to several global sustainability targets.
ATP: flexing its financial muscles
• Denmark's largest pension fund has been targeting the private markets
• Listed investments could be shed in favour of further private-market opportunities
The buying power of ATP has been felt in the private markets recently as the DKK783.8bn (€105bn) fund's investment portfolio continues to take more risk within equities.
This strategy was evident in ATP's first-half figures for the portfolio, with the equity risk factor having increased over the period at the expense of exposure to the inflation-rate risk factor, as well as the 'other factors' risk category.
The statutory pension fund's overall assets are divided into a large hedging portfolio designed to cover its pension guarantees and the DKK100bn investment portfolio, which consists of ATP's bonus potential.
Asset allocation in the investment portfolio, which borrows from the hedging portfolio, and which is leveraged about 300%, is considered in terms of the various risk factors it is exposed to.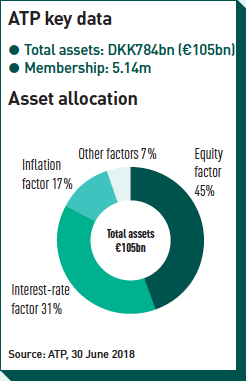 At the end of the first half of 2018 the investment portfolio's equity factor weighting had risen to 45% from 43% at the end of 2017. The interest-rate factor was steady at 31%; and inflation factor contracted to 17% from 18%; 'other factors' shrank to 7% from 8% six months earlier.
In terms of traditional asset classes – which ATP reports on for return purposes – the investment portfolio consists of an overall equity portfolio, holding listed Danish and international equities and private equity; an infrastructure portfolio including forestry investments in North America and Australia as well as investments in renewable energy; and real estate investments, which are made directly through joint ventures and indirectly via unlisted real estate funds.
Another portfolio holds inflation-related instruments such as commodity-linked contracts, index-linked bonds, inflation swaps and long-term hedging strategies against inflation.
The fund has a government-bond and mortgage-bond portfolio, as well as a credit portfolio – a category which includes corporate bonds, loans as well as interest payments to ATP's hedging portfolio.
"The main consideration behind our asset allocation is robustness and our factor-based balanced approach – risk parity-inspired but also including private-market exposure," says Kasper Ahrndt Lorenzen, ATP's CIO.
"Over the last 12 months we have taken on additional risk via private-markets deals," he says.
One large deal this year was the DKK40.3bn takeover – in conjunction with PFA, PKA and Macquarie Infrastructure and Real Assets (MIRA) – of Danish telecoms operator TDC. In September 2017, the pension fund made its biggest deal ever, investing DKK9.76bn in Copenhagen Airports.
Looking ahead, if good opportunities arise in the private markets, listed investments could be shed from the overall portfolio. "As private-markets deals come in we might buy if expected return targets are met – exposure via private markets might crowd out public-market exposure," Ahrndt Lorenzen says.
Asked what he sees as the main challenges for asset allocation, he cites hidden interest-rate beta in equities – also known as equity duration – and alternatives.
Integrating ESG factors in asset allocation has also become more important for the pension fund.
Elo: coping with a low-return environment
• Elo's best-performing asset class was Finnish equities in H1 2018
• The fund has reduced its reliance on hedge funds
Elo Mutual Pension Insurance Company investments returned 0.8% over the first half of ths year. The best performing asset class was Finnish equities, yielding nearly 10%. Unlisted equities also performed well, returning 6.7%.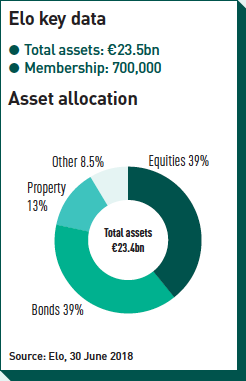 According to managing director Satu Huber, global investment markets were tense over the first six months of 2018 and returns stayed relatively low in many asset classes. The biggest challenge in the markets at present is the particularly low returns in all asset classes, she says. "The zero-interest-rate environment challenges the whole pensions system now and over the coming years."
Over the year, Elo reduced its exposure to hedge funds from nearly 12% to the current 8.7% of all assets. Huber explains the background to this evolution and notes that professional institutional investors are these days able to follow several different hedge fund strategies with their in-house investment teams. "One thing to note, actually, are the expenses of investing in hedge funds [externally]," she says. "It is good to point out that our exposure to hedge funds does not really reflect the impact this [hedge fund] sector has on returns of all assets [at Elo]".
Ilmarinen: focus on real estate
• There are plans to diversify the real estate portfolio geographically and to expand into real estate debt during 2019
• But unlisted equities gave best return in the first half of this year
The €46.3bn Ilmarinen fund is aiming to diversify its property portfolio internationally, says Mikko Antila, the company's head of international real estate.
Property makes up 12.5% of Ilmarinen's investments (€5.8bn) and the ratio has increased from 11.4% since mid-2017. Ilmarinen's property investments are mainly direct, with property funds comprising just 1.3% of all holdings. Some 25% of Ilmarinen's property portfolio is invested outside Finland.
"We have a strategic aim, which is to have an international exposure of approximately 40% of all property holdings in the long term," says Antila. Most of Ilmarinen's property investments overseas are made through joint ventures, where risk is often shared with a local partner. "This is where our focus has specifically been over the past four years and this continues to make the core of our strategy in overseas property," he says.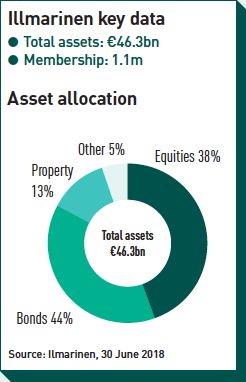 Ilmarinen, however, is also increasing its investments in real estate debt. "That will be the big theme for us next year. We have not [decided] what percentage of our property portfolio should be invested in real estate lending. Our target is to make this asset class a notable support pillar in our property portfolio," he says.
Property lending is becoming an increasingly attractive investment target owing to its diverse risk-return characteristics.
"These investments complement our portfolio as a means of risk diversification in the current stage of the market cycle," says Antila. He adds that geographical diversification is the driving force within Ilmarinen's property portfolio.
In September, Ilmarinen acquired a new office property in Frankfurt, and has invested in property in Belgium, the Netherlands, the UK, and the US. "We see that the long-term prospects in these markets remain particularly strong," he says.
"On the other hand, Finnish real estate, will still continue to make up the core of Ilmarinen's real estate portfolio."
At Ilmarinen, the best returns in the first half of the year, however, came from unlisted equities. Unlisted equities yielded a return of 8.1% and make 1.6% of Ilmarinen's portfolio. Over the first half of the year, Ilmarinen's portfolio yielded a total return of 1.1%. "Fears of a trade war and other political risks shook the markets during the first half of the year," said the company's president and CEO Stefan Björkman at a press conference.
"Valuations are high actually in all asset classes at the moment. Valuations for property, in our view, are, however, still at a sustainable level. We must be picky in which markets we buy in and focus on the markets where we see strong occupational demand in the long term and a positive outlook on rental development," says Antila, describing the way Ilmarinen picks new investment targets.
PFA: 'Strategy 2020'
• A shift is under way from listed to unlisted investments
• Alternatives and real estate have been substantially boosted
Since 2015, as part of a strategy to transform part of its listed portfolio into unlisted, PFA has more than tripled its holdings in alternatives.
Real estate holdings, meanwhile, have nearly doubled over the same period. At the end of August 2018, PFA – Denmark's largest commercial pension provider – had DKK30bn (€4bn) of alternatives in its portfolio and DKK46bn in real estate.
The shift towards unlisted investments is ongoing, explains PFA Group chief financial officer Anders Damgaard. "We are now at a level of 17% of the portfolio in unlisted and we're heading towards the 25% area," he says.
The background to turning away from listed investments is the low-interest-rate environment and the resulting need for investor to increase yield and to include stable long-term returns in the portfolio.
The changes are all part of PFA's 'Strategy 2020' put in place at the end of 2015 in the months after Allan Polack took over as chief executive.
Given that unlisted investments can require more attention from an investor at the deal-making and monitoring stages – and the fact that PFA also has a strategy of doing as much as it can in-house – it is not surprising the firm is taking on more staff.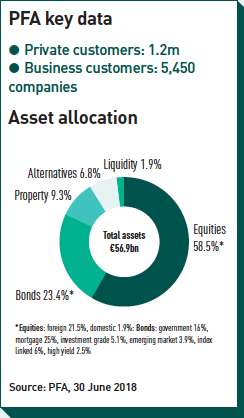 "We've invested quite a bit in increasing our alternatives team, from two to 20 people including middle-office staff, and we will probably increase a little bit more," Damgaard says. PFA has a target of managing at least half of direct investments in house, and is approaching the 75% mark.
September brought the result of a big direct investment for PFA, as it announced its participation in Global Infrastructure Partners' purchase of half of the UK offshore windfarm Hornsea 1 from Danish utility Ørsted (formerly Dong Energy) – in a deal with a complex financing structure that was worth about £4.46bn (€5bn).
At the end of last year, PFA was part of a consortium investing £2bn in the UK's Walney Extension offshore wind-farm project, similarly buying a stake from Ørsted.
In February, PFA and fellow Danish pension funds ATP and PKA and Macquarie Infrastructure & Real Assets, made a large investment in Denmark's former national telecoms operator TDC, when a DKK40.3bn offer was backed by the firm's management board.
Another element of Strategy 2020 has been for the pension provider to adopt a risk-factor approach to its portfolio management, moving away from the traditional asset allocation method.
While the core portfolio is a bottom-up fund of cash, stocks and bonds, the investment pot also involves a more liquid overlay which can be scaled up or down using beta, rates or credit exposure.
"On top of that, we have opportunistic harvesting of risk premia, to squeeze that last 20 to 40bps of return out of the portfolio," Damgaard says.
Out of these three components of the portfolio, he says PFA aggregates the risk factors. This has been working quite well and provides an efficient way to a quick overview of portfolio risk.
"We have eight main portfolios, so this gives you a framework allowing you to implement strategies in consistent way. We have a conviction and we take a bet, and then it's an almost mathematical process to scale that across the portfolio," Damgaard says.
Varma: sets its sights overseas
• Expansion of international property investment under way
• The division of domestic/ international property assets could reach 50-50
Varma, Finland's largest mutual pension insurance company, is increasing the share of international property in its real-estate portfolio.
Ilkka Tomperi, director of real estate investments at the €46bn fund, says that about five years ago Finnish property constituted 95% of Varma's real estate investments, while only 5% was invested internationally. Today the ratio of international assets stands at about 20% of all property investments. The property portfolio consists of assets worth €3.8bn, €2.8bn in direct property and €1bn in indirect.
"We have not set any official goal for the percentage of our property assets should be invested overseas, but we could say that roughly 50/50 in Finland and overseas could be a good outcome in the medium term," says Tomperi.
"Instead of deciding to allocate a certain percentage of our property portfolio in real estate, we consider each new investment as a case of its own. In practice, this means choosing new investments solely on the basis of their own merits and potential."
When considering investing in asset-specific joint ventures, Varma prefers properties requiring reasonable levels of management. It also aims to diversify the risks by purchasing properties with several tenants instead of single tenant.
Varma has invested about two thirds of its capital to international opportunities through traditional real-estate funds where most of the commitments have been made in core-plus or value-add funds.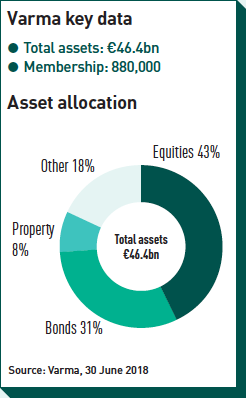 The bulk of Varma's real estate portfolio in Finland consists of office (33%) and residential properties (28%) in Finland. Varma has also invested in Finnish retail premises, hotels and public sector real estate like schools.
Residential property is a handy way to diversify the portfolio as the occupancy rate is 97% and income is uncorrelated with the economy, unlike offices.
In term's of overseas property, Varma's focus is on large cities in the UK, France, Germany and Sweden. "These are the most liquid real-estate markets in Europe, clearly more liquid than Finland, which is also comparably a very small property market. It is important to invest in big cities where real estate sector is vibrant, and demand is guaranteed in the long run," Tomperi says.
Germany is a stable euro-zone country, and France for Varma means Paris which, like London, is the second genuinely global city with a great diversity of industries from finance to media.
Tomperi does not expect Brexit to have a notable long-term impact on London's standing as a real estate investment magnet.
Varma has invested in residential properties for senior citizens, as well as in retail properties across the UK. In addition, Varma has invested in UK property also through UK-focused and pan-European value-add funds.
"London hosts one of the largest economies in Europe and it is one of the leading capitals in the world. This will be the case even 20 years later," Tomperi says.
Varma's international property holdings include investments in funds investing in other parts of Europe like the Netherlands, Spain and Poland.
Varma also has older legacy investments in the US and Asia. The fund has no plans to make new investments in Asia at present owing to the late stage of the local property market cycle. The same is true of the US.
The main challenge involved in making a property portfolio more international is the somewhat exaggerated property prices. As a consequence of extremely low risk-free rates, property yields have bottomed out.
"Even if rate rises take place, major pricing correction led by yield expansion may not happen. Still, the margin for error is very limited when entry pricing in prime properties is as low as it often is in today's market. Thus, the key is to invest in properties that are well-located and future-proof," Tomperi says.
Nordic Region: Shifting borders
1

2

3

4

Currently reading

Different strokes