As balance sheet capital requirements mean banks step away from lending, institutional investors are replacing them
Key points
• Private debt markets have grown in size
• Direct lending has increased as banks have decreased their lending
• There are innovative routes to sourcing deals
Since the global financial crisis the private debt markets have grown substantially, driven by investor demand and new issuance. Investors now have an unprecedented number of funds and strategies to choose from. Some with high upside such as distressed credit may be seen as part of a private equity allocation. Lower return strategies in the form of mezzanine and credit opportunities could be classified as special situations or opportunistic. Lower-yielding strategies with less credit risk, like senior debt, would sit in fixed income or alternative credit.
Preqin figures show that private debt funds totalled $595bn (€484bn) at the end of 2016. It forecasts that it could grow to $2.5trn in a decade.
Private debt is seen as a standalone asset class. The desire for sources of fixed income with the ability to generate more yield is the biggest driver. It coincides with the feeling that investors understand areas like direct lending as they lend already through the bond market, says Gregg Disdale, head of alternative credit at Willis Towers Watson . "They are just moving from large to mid-sized corporates through direct lending."
For investors, it can be confusing to navigate the opportunities. Cambridge Associates sees three strategies: capital preservation; return maximisation; and opportunistic and niche strategies.
Niche strategies as the name implies, cover a range of narrow opportunities. Most capital has flowed to funds purchasing non-performing loans, says Tod Trabocco, managing director at Cambridge Associates. It includes areas such as pharmaceutical and music royalties, rediscount lenders, and funds specialising in life settlements, catastrophe bonds and trade finance.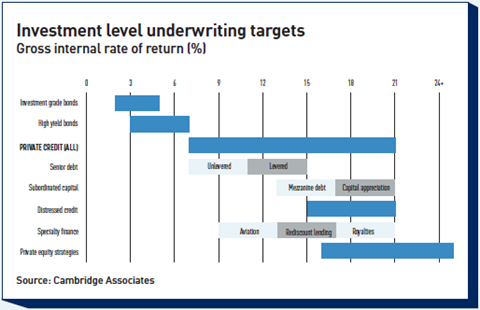 Return-maximising strategies seek to generate private equity–like returns through purchasing performing or distressed instruments. "Firms owned by entrepreneurs or families seeking capital but reluctant to surrender control will turn to structured equity or subordinated capital appreciation providers to meet their financing needs," says Trabocco.
Capital preservation strategies encompasses both direct lending through senior debt funds as well as traditional mezzanine, where managers source opportunities through relationships and provide junior capital to finance acquisitions.
Direct lending through senior debt is perhaps the strategy closest to traditional debt investment. It covers both corporate credit risks in the form of senior secured lending to mid-market companies that are too small to issue syndicated loans direct lending and also asset backed lending. The latter includes real estate and infrastructure debt covering residential and commercial mortgages. Infrastructure debt can be in various forms including structured and mezzanine. Residential mortgages can be bilateral loans: "A vast amount of this is still done by banks but they have become even more focused on only lending senior secured debt to high-quality, well-let buildings," says Disdale.
That has led to an opportunity to disintermediate banks by providing high loan-to-value debt and supplementing bank debt with subordinated credit. "Banks do not lend on unlet buildings, so there are some gaps in the market," he says. For companies, one advantage of borrowing from a fund rather than a bank, is that private debt funds are not focused on selling other products such as derivatives.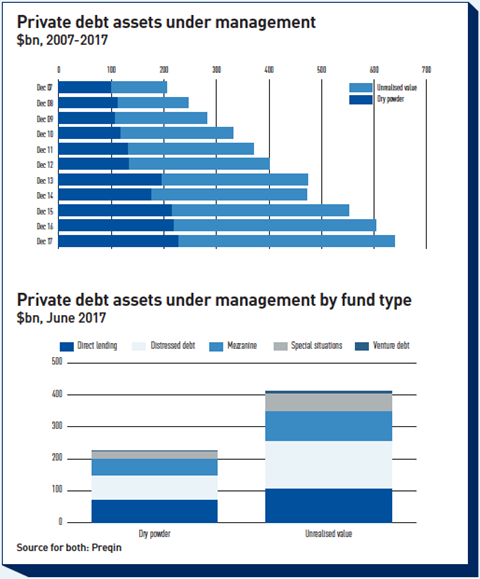 US investors have been undertaking direct lending for some time and Asia is seeing early movement. Europe is in-between. The three core markets are the UK, France and Germany with Benelux and Scandinavia also offering opportunities, says Graeme Delaney-Smith, head of European direct lending at Alcentra. Some 75% to 80% of capital is focused on the three core markets as they have more volume and larger sizes.
Alcentra is a large player in the European private debt markets and its investments range from €35m to €300m. As Europe is less mature than the US, there is a concentration of capital in a small number of funds. At the upper end, funds can be about €5bn in size with a second tier about €2bn and underneath that there are smaller niche funds, focusing on geography or sectors, or just junior tranches. In the US, which is a mature market, there is a variety of funds available stratified by size and other measures.
For Alcentra, exposure to a broad universe has advantages. "The reason we bother with smaller deals is that we can work with the borrowers over a period of time and continue to commit capital to those businesses as they grow and require more capital to buy and build, for example, by making acquisitions," says Delaney-Smith.
For private debt funds, a key consideration is sourcing deals. Strategies differ on achieving this. Long-established firms have developed relationships with private equity firms working alongside them to finance new deals. For new players, ensuring that there is no adverse selection to sourcing deals may make the difference between a success and failure.
"Banks have become even more focused on only lending senior secured debt to high-quality, well-let buildings"

Gregg Disdale
Hermes began a direct lending operation with a blank piece of paper in 2015. The route it followed is interesting because it shows how adopting a niche strategy can enable managers to enter a new market. Rather than competing with banks to find clients, Hermes established a formal lending agreement with RBS : "RBS are required to show Hermes every deal within certain parameters, provided the borrower has given permission. If we like a deal, we can do our own independent credit research," says Patrick Marshall, Hermes's head of private debt.
RBS shows Hermes between 200 and 250 deals a year and it will invest in about 7-10% of them. As banks are constrained in the size of loans they can hold, this gives RBS more firepower in competing for deals where they would hope to earn additional fees through selling other products which Hermes has no interest to offer. Hermes lends in its own name, so that two loans would be made that rank equally. For borrowers, Hermes is seen as a fund manager with relationships with pension funds and roots as an institutional fund manager. What such an arrangement does require though is that both entities share the same credit appetite. Hermes does benefit from the upfront arrangement fees that the bank negotiates, which other direct lenders would not receive.
As Trabocco says, private credit is a big tent that offers options for preserving capital, generating yield or benefitting from capital appreciation. For long-term institutional investors it can be an attractive asset class. But arriving at an optimal allocation requires consideration of the entre portfolio's exposure to both alternative and traditional assets.
Case study: Strathclyde continues to expand private debt holdings
Gail Moss
Key points
• Assets: £21.1bn (€24.1bn)
• 223,000 members
• Shift from equity to credit locks in gains while diversifying the portfolio
• Sale of equities comprising 5% of the total portfolio in the next three years
The de-risking strategy of Strathclyde Pension Fund (SPF) – slashing equities to reinvest in credit – was a response to the 2008 financial crisis.
One of the UK's biggest public pension funds, serving nearly 223,000 public sector workers in and around the Scottish city of Glasgow, SPF had previously held the bulk of its portfolio – now worth £21.1bn (€24.1bn) – in equities.
"We thought about reducing equities as they had always performed well, but missed the boat before the financial crisis," says Richard McIndoe, director of SPF.
The crisis reduced SPF's funding level to its lowest ever level, 70%. It had remained at over 100% for most of the fund's history.
In 2012, SPF decided to set up a de-risking strategy. If and when the funding level reached 110%, equities worth 10% of the total portfolio value would be sold, to be replaced by enhanced yield assets, including credit.
SPF has a traditional, credit allocation to corporate bonds together with a short-term enhanced yield allocation, which includes private debt and multi-asset credit, but excludes, for example, sovereign debt.
In 2015, this strategy was reviewed, and the trigger was reduced to 105%.
Last year, an actuarial valuation showed SPF's solvency had increased to 105% as at the end of March 2017, having achieved an annual return of 12.5% in the three-year period to this date. De-risking was therefore implemented.
As a result, in December 2017, £2bn-worth of securities – largely from a passive equity mandate run by Legal & General Investment Management (LGIM) – were sold, reducing the equity allocation to 57.5%.
"Legal & General was always going to carry out the process, as it is our risk and transition manager," says McIndoe. "It also runs the largest element – 42.5% – of our portfolio."
The de-risking was implemented via a derivative sale of equities within its mandate, followed by the sale of the equities and unwinding of the derivatives. This was then replicated pro rata across all the fund's equity mandates.
At the end of December 2017, the £2bn was still all in cash. Since then a chunk has been invested. McIndoe says: "There was a risk that credit markets would go in the wrong direction while we waited. But had that happened, we would have either held on to the money or invested in something else."
He adds: "In any case, everything looked a bit expensive a couple of months ago. And it's not a bad time to have some defensive allocations in the portfolio, as equity markets have wobbled a bit."
About two-thirds of the proceeds – £1.3bn – is being invested in three classes of credit: private debt, multi-asset debt and emerging market debt. The rest is going into absolute return strategies and direct investments. A smaller amount has been earmarked for long-term enhanced-yield strategies, primarily infrastructure.
As at 31 December 2017, 12.5% of the total portfolio was invested in short-term enhanced yield strategies: once the equity proceeds are fully invested, this will reach 15%.
The shift from equity to credit has twin objectives, both of which are intended to reduce risk; it locks in equity gains while diversifying the portfolio.
"We have always been an equity investor, but as the fund matures, there is less need for equities," says McIndoe. He continues: "We started investing in private equity in 1990 and have been very successful. So given the direction of the fund is to reduce equity in favour of credit, it makes sense to initiate a private debt strategy, as we feel comfortable with it."
SPF's allocation to private debt is split between funds from two managers, Barings and Alcentra. Both segments have returned about 6% over the past 12 months. "The 6% is less than our equities have returned – which was 15.5% – but it is what we anticipated, especially considering one of the objectives of the allocation is to diversify risk," says McIndoe.
SPF has committed £690m to the private debt programme, but not yet been called by the managers of the relevant mandates.
The pension fund will soon be starting a tender process to find a manager, or managers, to make further acquisitions in the private debt space.
At the end of 2017, the fund held £660m in multi-asset credit mandates run by Barings and Oak Hill. It has agreed to invest a further £420m between the two managers.
The existing £300m emerging market debt mandate run by Ashmore, will be boosted by an additional £210m from the de-risking.
While implementing the investment strategy has been smooth, it has meant a lot of work for SPF over the past three years. "Finding managers and funds to invest in has taken up a lot of our time," says McIndoe. "It has been done using a combination of in-house resources and our investment consultant, Hymans Robertson."
McIndoe says there will be another sale of equities comprising 5% of the total portfolio in the next three years, adding further investments to the aforementioned strategies. "This will not be dependent on the scheme's funding position, although clearly if equity markets fell significantly, we would probably hold off," says McIndoe.
In February, SPF decided to take the next step by increasing the short-term enhanced yield portion to 20%, while reducing equity holdings to 52.5%.
Meanwhile, the "long-term enhanced yield" allocation – designed to provide inflation protection as well as income – is also targeted to reach 20% of the total portfolio by 2020.
SPF's existing infrastructure holdings are all in the UK. There is an emphasis on renewable energy and social infrastructure. It will award new mandates to invest in global infrastructure.
It is also planning to expand its direct investment portfolio with slightly more risky investments, including credit. This could include direct lending to companies – particularly small and medium-sized enterprises (SMEs) – in the UK.
"Banks in the UK have been less willing to lend to SMEs since 2009 and have disappeared from a lot of other markets they used to service, so it's an opportunity for other investors, and we're taking it," says McIndoe. "The companies themselves are getting the capital they need – and it works for us too."
Rachel Fixsen
Key points
• Assets DKK233bn (€31.3bn)
• Credit investments span project finance, infrastructure loans, corporate loans and credit funds
• Credit structuring seen as key to success
• Environment for private credit investment is improving overall
PensionDanmark has spent the past seven years building up its private-credit investment operation. The rationale has been that as a long-term investor, the pension fund sees itself in a position to harvest premia for illiquidity and structuring from the asset class.
The DKK233bn (€31.3bn) Danish labour-market fund, which covers blue-collar workers in a range of industries, began investing in private credit in 2011 – although it had previously opportunistically invested in some mezzanine credit funds.
In 2011, the pension fund invested in long-term loans guaranteed by the Danish Export Credit Agency (EKF), and this was followed by investments in infrastructure debt in co-operation with JP Morgan Asset Management. Its private credit focus now spans project finance, infrastructure loans, corporate loans and credit funds. Direct investments can be either senior secured credit or junior and mezzanine loan tranches.
PensionDanmark sees private credit as a growing part of its investments, and Kim Nielsen, head of private debt at the fund, says his team is looking for ways of diversifying the portfolio further and harvesting illiquidity premiums.
The four-person private credit team is set to expand. "If activity levels stays at current levels, we may also add one more during the next year or so," says Nielsen.
The range of investments is also broadening. "We started out focusing very much on the low-credit-risk part of the investment spectrum, such as infrastructure debt and EKF guaranteed loans, but we have increasingly used time to analyse investment opportunities within the structured credit part of private credit asset class," he says.
The keys to success, include knowing your risk appetite, operational capabilities and where private credit fits within overall asset allocation.
"This makes it possible to focus on the parts of private credit where you can add most value to the overall performance of the pension fund."
It is also crucial, Nielsen says, to have a strong team with a good network – people who are capable of sourcing interesting opportunities, analysing new investment types as well as undertaking due diligence.
With credit structuring a fundamental ingredient in the returns it is able to extract from private credit investments, PensionDanmark has different types of in-house structuring specialists. "Structuring is a key contributor to delivering strong investment returns in the private credit space," Nielsen says. "Negotiating attractive investment structures with attractive fee structures as well as appropriate governance structures adds a lot of value."
Despite the popularity of private credit among institutional investors, because of the low yields on government bonds, Nielsen says conditions are getting better for investors.
"Overall, the environment is improving for institutional investors investing in private credit as regulation to some extent forces banks to a greater extent to partner with institutional investors in order to provide the financing, which their customers need.
"Some parts of the private credit space may be a little bit crowded, but not worse than other investment classes."
While PensionDanmark cannot reveal its direct investments, Nielsen says it has committed capital to an AXA-managed structured credit fund and a Lone Star-managed real estate focused special situations fund.
As a principle, the fund only invests in funds when they offer market access, resources and skills its own in-house team does not possess.
Private Credit: One ring to rule them all
1

2

3

Currently reading

Direct Lending: Becoming bankers

4