Integration is high on the agenda for most asset managers. What does it take to build truly sustainable portfolios?
Key points
• Asset managers are increasingly integrating ESG factors within their strategies
• It is difficult to compare portfolios from a pure ESG standpoint
• Integration can be approached in many ways, from exclusion of stocks to the use of ESG factors in portfolio construction
• Most companies prefer a bottom-up approach, leaving portfolio managers the final decisions
The world's asset managers are aggressively on the front foot in relation to ESG. News of sustainable fund launches or enhanced integration of environmental, social and governance (ESG) factors in investment strategies come almost on a weekly basis. It is hard to keep track, but a good indicator for the size of this trend is the overall value of assets managed against sustainable investment objectives.
There are many surveys on sustainable investment covering slightly different areas and different definitions of the approach. One of the most comprehensive is compiled every two years by the Global Sustainable Investment Alliance (GSIA), an international grouping of sustainable investment associations. The latest GSIA report said that the assets invested in sustainable strategies globally had grown 25% to $22.9trn (€19.2trn) between 2014 and 2016.
Pension funds with sustainability objectives should approach ESG integration with a degree of scepticism. Separating the asset managers that are truly integrating ESG factors from those that are merely 'greenwashing' their portfolios can be extremely challenging.
There are at least two ways to deal with the problem. First, one could focus on the actual portfolios, by analysing the ESG scores of constituents. This is fraught with difficulties, because of the well-known scarcity and heterogeneity of available ESG data. The availability of data may be growing but the methodological questions in assessing ESG factors remain.
Integration frameworks
Rather than focusing on portfolio analysis, it may be more productive to analyse the manager's integration framework. This means looking at the strategic decisions the asset manager has made in integrating ESG principles. This is no less challenging than analysing the greenness of portfolios. Interestingly, asking even a small number of asset managers to provide some details of how they integrate ESG will yield different answers.
To research this article, IPE asked 22 managers of different sizes and capabilities. This sample, which was not built to represent the wider asset management sector, returned a striking variety of approaches. However, analysing their answers in detail helped identify several criteria to assess their efforts in ESG integration.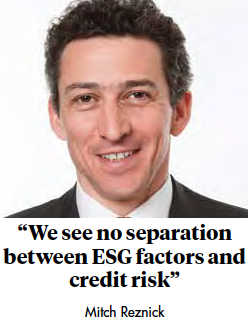 Some of the criteria are straightforward. Depth of asset class integration should win praise from investors. Sustainable investment principles are more deeply integrated in equity strategies but are increasingly being applied to fixed income and asset classes. Olivier Cassin, head of institutional distribution at BNY Mellon Investment Management, says the company takes pride in its efforts in this area. "We think that it's an important proof point. Some of our boutiques were among the first to offer sustainable strategies in corporate bonds, dynamic fixed income and multi-asset," he says.
The ESG world has overcome debates about whether shareholders and creditors have any conflicts of interest in ESG matters, according to Mitch Reznick, co-head of credit and head of credit research at Hermes Investment Management. His teams of portfolio managers and analysts fully integrate ESG criteria into investment decisions, using a mixture of data from external providers and proprietary research. "We see no separation between ESG factors and credit risk," he says.
The size of an asset manager's ESG team could be seen an indicator of commitment to the area. It would seem safe to assume that the larger a manager's AUM, the greater the needs in terms of human resources to manage an effective ESG integration strategy. For comparison, Candriam's central ESG team is 14 strong, while much larger organisations in terms of AUM have only slightly larger teams. However, the size of an ESG team is not necessarily directly correlated with success in ESG objectives. A large team is no use if the research it produces is not implemented by portfolio managers.
The composition of the team would seem, if anything, more important. Some firms, including Invesco, emphasise the skill mix in the team. Bonnie Saynay, Invesco's global head of responsible investment, says: "Having skilled ESG analysts that can engage directly with fund managers on portfolio management issues is very important. That is why we have hired CFAs and MBAs on our team."
Availability of tools in aid of ESG research, not just to ESG specialists but across the firm, is also paramount. There are plenty of external providers of data and analysis tools, but there are obvious merits in developing proprietary tools. AXA Investment Managers' global head of responsible investment Matt Christensen cites four main tools used by the company. The ESG scoring tool incorporates different data suppliers. A series of key performance indicators (KPIs) is used to assess investee companies against ESG factors. The ESG team is also developing a tool for tracking how AXA IM has engaged with investee companies on specific issues as well as its voting record. An 'ESG dashboard' links all these tools together.
The seniority of the team and its positioning with respect to a company's governance is telling in terms of the company's commitment to ESG. The fact that the head of the central ESG team reports to senior management is generally a good sign. This is the case for firms such as Amundi, AXA IM or Candriam.
The way an asset manager conducts its engagement and stewardship activities, as well as its voting record, is crucial for delivering on its sustainability objectives. It would be unwise to assume that the most vocal investors will be the most successful in engaging with investee companies. However, silence on key issues, a patchy voting record, or lack of engagement activities are usually bad signs.
Hermes' Reznick says: "If we relied only on ESG scores we would get a poor investment result. We try to identify the companies that are scored poorly in key areas but that are earnestly seeking to improve themselves. You do that through engagement. The process is invest, engage, change, perform. As long-term financial stakeholders, we find that companies listen."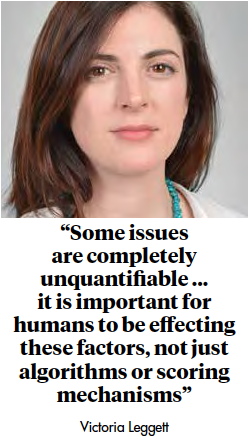 A good indicator of commitment to sustainability is whether responsibility for leading engagement with investee companies rests only with the ESG team or is shared across the firm. When engagement efforts are shared between ESG specialists and portfolio managers, engagement is more likely to succeed. "The engagement relationship can be initiated by our stewardship division, but it can also be conducted by the analysts in our credit team on their own. We often do shared meetings with the stewardship team as well. We share resources going in both direction," adds Reznick.
Engagement is most successful when conducted in combination with other investors, so ESG integration leaders will not do it alone. In fact, a company's willingness to take part in external advocacy or research work is also a sign of ESG credibility. Some firms actively work on ESG issues with external stakeholders such as academia or larger advocacy organisations. These efforts can be conducive to a more successful ESG integration strategy. An example of an organisation that has partnered with a number of asset managers to carry out research on sustainability issues it the Cambridge Institute for Sustainability Leadership (CISL).
To be successful, all of the activities described above need to be reported on to clients. Transparency is key and, regrettably, the way asset managers report on their efforts could be improved significantly. Many firms say they are working on this issue but, for the time being, sustainability and engagement reports tend to be relatively superficial. This is partly owing to the lack of standardised reporting frameworks on ESG criteria.
Victoria Leggett, head of responsible investing for asset management and equity portfolio manager at Swiss manager UBP, says: "A regulatory effort would be helpful in enforcing standardised reporting requirements. There are lot of legal requirements to deliver risk and financial information on a regular basis and in some countries investors are already required to report on ESG matters. It should not be too complex to extend these reporting and disclosure requirements to include non-financial information. We see and welcome the efforts that are being taken by the European Commission."
ESG integration: what to look for
Following a series of interviews and written exchanges with asset management companies, IPE identified several criteria to assess a manager's ESG integration efforts.
Depth of asset class integration: is ESG integrated only within equities or other asset classes, too?
Size and skill composition of central ESG team
Availability of ESG research tools: externally and internally generated data
Seniority of ESG team: who does the team report to?
Senior management buy-in: is the firm committed to ESG at board level?
Engagement and stewardship approach, including voting record: who leads the approach – portfolio managers or ESG specialists, or both? Is the approach collaborative?
Does the company conduct advocacy and research in partnership with external organisations, such as academic institutions or think tanks?
Depth of ESG reporting: how detailed and trasparent are the company's reports on ESG activities?
Firm-level versus fund-level exclusion of companies or industries
Bottom-up or top-down integration: do portfolio managers have the final decision or is there discretion by portfolio managers over ESG-related investment decisions?
Strategic questions
A test of a manager's ESG integration efforts is whether the company excludes certain sectors from all portfolios. A number of asset managers have announced divestment from thermal coal and other industries that are considered problematic from an ESG perspective, such as tobacco, alcohol or weapons.
Some clients might see a company that has applied firm-wide exclusions as more credible from an ESG integration point of view. Equally, other clients might believe that managers that have not excluded any sectors a priori should not be written off in terms of their ESG credentials. As we have seen, integration can be managed in different ways.
Furthermore, as Thamotheram asks, "should a company that has made a top-down decision to avoid coal, because it's actually a bad investment, be necessarily considered a responsible investor?" Thamotheram's argument is that some firms might advertise exclusion decisions as significant steps towards ESG integration, when in fact they are simply sensible investment decisions that any competent manager should be taking.
Perhaps the most fundamental decision for an asset manager is whether to adopt a top-down or a bottom-up approach to ESG integration. It might determine how much the manager achieves in terms of sustainability.
In this case, a top-down approach means that ESG-related decisions are not made individually by portfolio managers but collegially at firm-level or by the team responsible for ESG. This is the approach chosen by Amundi, which is integrating ESG factors throughout its funds, and Candriam.
To explain the approach, Candriam's global head of responsible investments and research Wim Van Hyfte says: "We distinguish ourselves from many of our peers in that the decisions that are taken by my team, for instance on eligibility of stocks, cannot be overruled by individual staff that manage portfolios in our range of socially-responsible investing funds."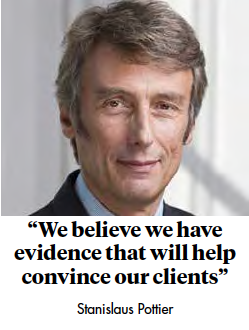 Conversely, a bottom-up approach means individual portfolio managers can decide whether an issuer or stock makes it into their portfolio based on their own understanding of ESG investment. In assessing a manager's ESG credentials, the question could lead to heated discussions.
Does a top-down approach necessarily indicate that a manager is more serious about ESG, compared with a manager that does not force portfolio managers to invest according to ESG principles? The answer is far from clear. It is clear, however, that depending on which approach they choose, asset managers may end up being quite different organisations from a structural point of view.
Most of the companies surveyed for this article belong to the bottom-up camp, and have justified the choice using similar arguments. UBP has gone for the bottom-up approach. Leggett says: "It has been conscious choice at the responsible investment committee level not to impose too rigid a top-down structure in trying to homogenise several different different approaches to investment. I think ESG integration has to make sense to the fund manager, but it has to genuinely be incorporated into how they look at investments, otherwise it will only ever be hollow." As a result, she adds, the company's fund managers adopt different approaches and tilts, depending on their familiarity with environmental, social or governance factors.
"Some of the managers incorporate their ESG analysis into their weighted average cost of capital (WACC) calculations, to the extent that their discounted cash flow (DCF) model will change according to the ESG profile of a company. Equally, there are some issues that are completely unquantifiable. That is why it is important for humans to be effecting these factors, not just algorithms or scoring mechanisms," explains Leggett. In general, however, portfolio managers are not obliged to meet fixed ESG standards in terms of portfolio allocation.
Invesco's Saynay also supports a bottom-up approach, saying: "The very essence of active management means that fund managers have to believe in the integration of ESG factors. What level of adoption will be achieved if you forcibly choose to establish a prescriptive, non-nuanced approach? You will get considerably more value by being practical and incremental when approaching investment teams."
Clients are part of the equation, too. Amundi, which has gone for a strictly top-down approach of integrating ESG across all portfolios, may have to face some difficult conversations. There will be clients who are not entirely convinced about the risk/return benefit of tilting to ESG factors. Stanislas Pottier, chief responsible investment officer at the company, says: "Our hope is that it will be a minority of clients. We are committed to this strategy, therefore we are ready for exchanges between clients and top executives on the matter. We are also developing our quant research to prove the connection between ESG and performance. We believe we have evidence that will help convince our clients."
Choosing a bottom-up approach may require increased efforts on part of the ESG team to spread the ESG culture around the firm. AXA IM's Matt Christensen emphasises the educational role of his team, which frequently delivers training to portfolio managers on the topical issues within their industry. This forms part of the team's two-tier approach to ESG integration.
Christensen explains: "The centralised team handles the long-term questions and the broad themes, such as issues relating to climate change or the voting season. At the same time, the team drills down on questions relating to individual issues with portfolio managers. We're trying to address those company-related questions with the relevant investment teams themselves so they can develop an ESG-integrated approach to analysing securities."
Systemic challenges
Despite these efforts, the industry still draws criticism for its lack of meanigful action. Raj Thamotheram, founder and chair of the think tank Preventable Surprises and a former head of ESG, argues that ESG integration has little societal value if it is not conducted in tandem with serious stewardship efforts. Furthermore, integration should happen on a systemic level, and not be confined to individual portfolio decisions.
He says: "When we started the UN PRI, there was a very clear decision that there needed to be an equal focus on integration and stewardship. In order to transform the way that investors relate to investee companies, we understood that we needed to do both. We have lost track of that original insight and we have become much more focused on integration than on stewardship, which in many cases is interpreted as a mere tick-box exercise, what I call 'tummy-tickling' engagement.
"We need market-level integration rather than to just focus on the heroic decisions of individual portfolio managers. This means getting the other actors in the value chain fully involved in integrating ESG analysis into their day jobs, from clients to sell-side and credit rating analysts and other intermediaries, including investment consultants. And without this wider systemic integration, the societal value of integration by individual analysts – who operate within narrow parameters typically set by cap weighted indices and tracking error – is very limited."
How do you integrate sustainable investment?
BlackRock
Tariq Fancy, CIO of sustainable investing
BlackRock's approach is to include ESG information as it relates to potential investment decisions and is consistent with the fund's risk and return objectives. The BlackRock Sustainable Investing team coordinates the global effort, provides consistency and ensures quality across our diverse investment platform. The team partners with investment teams, who have ultimate ownership of and control over the implementation of ESG integration, to tailor processes for each group. Our goal is to enable all teams to reach a minimum level of ESG integration, and to support all teams in their plans to deepen their own capabilities. We plan to selectively add to ESG data and research resources, develop tools to improve investor access to ESG information, and increase the accessibility of proprietary investment insights from sustainability information.
Robeco
Masja Zandbergen, head of ESG integration
Robeco sees three broad approaches to addressing ESG issues in portfolios. Integration, which means using financially material ESG information to improve the risk/return profile. Exclusions, which consists of avoiding investments in areas of controversial products or business practice. Impact, which signifies investing for socio-economic impact, alongside the financial returns. Our Active Ownership team supports each of these approaches. We treat sustainability like other return drivers such as a company's financials or market momentum in our investment processes. ESG data gathered from many different sources, including the extensive research from RobecoSAM is used to analyse and value a company, issuer or a country. Generally, a security with a better ESG performance on material issues usually has a greater chance of making it into the portfolio than one with a lower profile. However, if ESG risks are already very much priced into the market, the portfolio manager can still invest if he or she thinks there is enough room for improvement to allow an upside for the stock or bond.
M&G Investments
Ben Constable-Maxwell, director of corporate finance, stewardship and responsible investment
Our process of fundamental research that considers all the meaningful risks and opportunities affecting companies. We actively engage with companies to help understand the issues they are facing, and to encourage positive change. Throughout this process, ESG are incorporated in both our investment decisions and our engagement activities. As ESG issues tend to evolve over time, we consider such factors to be a fundamental component of our long-term approach. M&G's Corporate Finance and Stewardship team supports investment teams integrating ESG in their investment processes. This team works with a forum of internal representatives who specialise in ESG from across the different businesses and work together to enhance, challenge and support teams in all maters ESG related.
RBC GAM
Judy Cotte, head of corporate governance and responsible investing
RBC GAM believes that by acting as an active, engaged and responsible owner we are better able to enhance the long-term, sustainable performance of our portfolios. Our investment teams are each responsible for integrating ESG in a manner that adds value to their investment process. Each team has access to the ESG research of industry-leading ESG research providers and plays a key role in both proxy voting and ESG-related engagements with our investee companies. In addition, we have incorporated the ESG scores from our research providers into our quantitative platforms. Additional initiatives include monthly reports on ESG leaders and laggards in our equity portfolios delivered to our investment managers, carbon footprint reporting for select funds, the internal distribution of topical ESG content and a commitment to produce new papers and thought pieces on ESG. Lastly, select companies, industries and nations identified as high risk are monitored on an ongoing basis.