Despite problems in Europe and globally, opinions are split on the likelihood of another banking crisis
At a glance
• Not everyone says the recent sell-off in bank shares is a cause for concern.
• Banks are being squeezed by tighter regulatory standards and narrower interest margins.
• Compressed bond yields have provided an underwriting discipline for insurance companies.
• Fund managers should consider both market sentiment and the economic backdrop.
Europe's financial sector faces many challenges with increased regulation requiring higher levels of capital, a negative-interest-rate environment and the challenge of macroeconomic shocks such as the oil price collapse. In February there was a big sell-off in European financials. Should we be worried about the banking system collapsing?
Perhaps not. As Philippe Ithurbide, global head of research, strategy and analysis, at Amundi Asset Management, points out, unlike the previous crisis, the banks have no financing problem today. "Banking system supervision has come a long way since the financial crisis, as has the communication on the subject; the ECB [European Central Bank] has conducted a large-scale and thorough audit; stress tests have been mostly reassuring, and risks clearly identified." Moreover, European banks have raised more than €500bn in equity since the crisis, and are now well-capitalised.
Wouter Sturkenboom, senior investment strategist at Russell Investments, says a combination of genuine and warranted concerns regarding the dim prospects for the European banking sector and simple unadulterated fear caused the turmoil. "At the moment they work together in a vicious cycle," he says.
The European banking sector certainly faces many challenges, which have made many commentators such as Sturkenboom gloomy. "The prospects are not great. Profitability is squeezed by higher capital ratios, tighter regulation and supervision, lower interest margins and the likelihood of losses coming out of the commodity and materials sectors as well as emerging markets," he says. "The newly enacted bail-in regime is also causing angst among bond investors and could end up creating systemic pressures when a bank gets into trouble."
Despite the headwinds facing the sector, Jean-François Boulier, CEO of Aviva Europe, is more optimistic. "Concerns about loan write-offs from the oil sector may be valid in the US, but in Europe, the oil sector is not that well-developed and the exposure to the energy sector is quite limited. There is clearly a lot of volatility in the energy sector, but the market has lost sight of what the risk actually is and what should be the price for that risk."
Aviva's funds were long banks before the recent turmoil, says Boulier. "For a number of banks, the price/book ratio is below one, in the range 0.3-0.6 so they feel cheap. Banks do face many hurdles – Basel IV [rules on capital adequacy] is forcing them to keep more capital so the return on capital is low. But they are well capitalised so they are not really in danger. The real challenge is in profitability."
Clearly, the banking landscape is changing with more regulation and greater capital requirements, but also new competitors. There has been speculation that these could destroy the franchises of many of the existing major players who are coming under attack from several new financial technology (fintech) initiatives.
Boulier is not so sure. "The existing banks are responding to this new threat. For example, SocGen set up an internet bank, Boursorama Bank, which is a big success. They have not waited for fintech to come. A number of banks have been investing in fintech for years already." On the other side, Boulier argues, banks are cheap: "We are the beginning of a cyclical change. Banks are progressively getting back to lending. This has been improving for a number of years, but recently the pace has quickened," he says.
The figures for the final quarter of 2015 from the ECB reveal a change, and that has been accompanied by improving sentiment within the banking industry towards credit and financing of capital expenditure within the corporate sector. Banks are not the only beneficiary of that but they benefit as the dominant players."
It is not just the banks, though, that face challenges in Europe's financial sector. Negative interest rates are clearly putting pressure on life assurers with guaranteed returns. But there may be some way to go still before the situation becomes critical: "There was a study last year in Germany indicating that German life assurers could deal with yields where they are for considerably longer than people were expecting before it started to cause significant problems. If you look at Swiss life assurers, they have had to live with very low bond yields for a very long time," says Stephen Macklow-Smith, head of European equity strategy at JP Morgan Asset Management.
European life companies are moving towards products where the policyholder takes investment risk, repricing guarantees, while cutting costs, says Chris Dyer, director of global equity at Eaton Vance: "Due to the long duration of life products, it takes time for the lower yields to fully work their way into net income, which will give the sector time to restructure and reprice."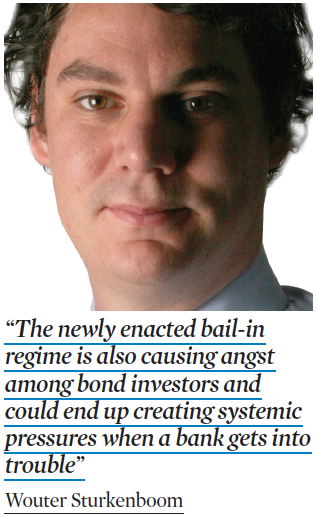 Macklow-Smith would rather be in businesses that are more flow-based where investors can focus on profitability, underwriting and cost structures. His team prefers property and casualty (P&C), as well as reinsurance companies, within the insurance sector. "What has been interesting is that with bond yields compressed, underwriting disciplines have improved, so it has proved to be a cost discipline and as a result, insurance companies have shown a very satisfactory increase in profitability over the past three or four years," he says. "Last year it also became clear that most companies had increased their capital so they would not be affected by a more stringent capital regime."
Dyer is not so positive. "The P&C sector has a slightly unfavourable risk-and-reward profile due to a slowing of premium rate increases and ongoing insufficient investment. In addition, past earnings were bolstered by lower natural catastrophes, which may not prove to be sustainable," he says. Looking forward, he argues that cost control, business consolidation, and technological innovation are key to maintaining returns. By contrast, the reinsurance sector has a negative pricing cycle resulting from overcapacity and the risk/reward does not look favourable. As Dyers says, what makes the insurance sector attractive are its high dividend yields in a low-interest-rate environment, the stable demand for insurance, and barriers to entry on the life/protection side.
Given the polarised views on the financial sector in general and the banking sector in particular, how should fund managers assess risks and rewards? Dyer sees an increasing focus on those banks with stable business models, predictable regulatory frameworks, and proven management teams. "By contrast, fund management teams should seek to avoid those firms with unknown unknowns, markets where the rules are liable to further change, and business models that are unstable," he says.
Sturkenboom argues that managers need to first try to establish whether or not the sell-off has been overdone relative to its causes. "Fund managers have to weigh to what extent the dim prospects for the European banking sector warrant the current price decline. This is really a value assessment," he says.
Second, fund managers can try to establish whether or not the market is driven by fear or fundamentals. This is really a sentiment assessment.
Finally, fund managers can look at the backdrop of the business cycle environment against which the sell-off is occurring. "It makes a big difference whether or not a fund manager foresees growth or a recession," he says. "Based on the combination of those three assessments, value, sentiment and cycle, fund managers should be able to make an informed decision whether or not to lean in or out of the sell-off."
European Equities: More scope for active managers
1

2

Currently reading

Do not bank on another crisis

3

4

5

6

7