The new discount rate to be applied to pension liabilities under German accounting standards simply postpones a serious problem, finds Barbara Ottawa
At a glance
• A new calculation period for German HGB accounting helps reduce deficits.
• Some companies must calculate boh the old and new methodologies for dividend purposes.
• There are demands for a fixed-rate formula.
The extension from a seven to a ten-year-period for the calculation of pension liabilities under section 253 of the German accounting standard HGB (Handelsgesetzbuch) is "a good thing", says Georg Thurnes, managing director at Aon Hewitt German and a board member of the occupational pension association (aba).
He, as well as other observers, would have preferred an extension to 12, or even 15, years but in principle he is glad the period was extended. Currently, companies can only use a seven-year-period to calculate an average discount rate (Rechnungszins). This would have meant the average would soon cease to include any period with a higher interest rate, consequently raising liabilities and accounting deficits.
While the extension is welcomed by experts, Thurnes points out two "annoying" details: First, companies can choose to apply the new calculation method in their 2015 annual report, although this is not required until year-end 2016 unless the company has a non-calendar fiscal year starting after February 2016. Those companies are obliged to change their parameters immediately. "[The extension] should only have come into effect from the end of 2016 to give all companies sufficient time to change their parameters, with optional application until then," says Thurnes.
Second, the difference between the seven and the ten-year-period cannot be applied for calculations of dividend payments based on profits. In this scenario, sponsors must continue to make a parallel calculation based on the seven-year-period. For Thurnes, this is "nonsense" as in around five years' time – assuming rates do not move back towards historical averages – both curves will be the same anyway. He would have preferred a time limit to be introduced on the payout of higher dividends because of the application of the new average interest rate.
Peter Koenig, partner at Delta Management Consulting, agrees. Instead of requiring companies to publish the difference between the seven and the 10-year rate, he proposes reporting the valuation based on the difference between the average rate and the mark-to-market rate under International Financing Report Standards (IFRS). This would "provide adequate information about fair values to the public" because "the difference between the seven and the ten-year average reflects the impact of interest rate changes eight to ten years ago and this is information of hardly any relevance".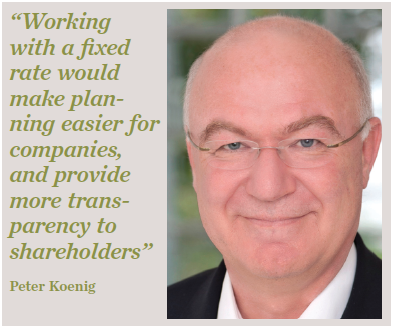 Based on Willis Towers Watson's German Pension Finance Watch, the median discount rate applied by listed companies under IFRS fell from 4.8% in 2010 to 2.15% by 2014. However, it recovered 16 basis points last year, which meant liabilities dropped by almost 5%. Thomas Jasper, head of retirement solutions at Willis Towers Watson in Germany, says the improvement in the interest rates and the comensurate increase in IFRS discount rates are "a positive sign for occupational pensions".
According to calculations by Allianz Global Investors, the new period will mean the discount rate stands at 3.37% in 2018 instead of 2.55%, without any changes. In turn, the new regulation means the increase in pension liabilities will only amount to around 15% between 2014 and 2018 instead of 29%. These calculations are based on a balanced pension plan with equal numbers of active and retired members.
However, Koenig points out, all this is only delaying the problem: "Discounting pension obligations with an average of historical interest rates will only yield fair results over time if one expects the trend to reverse and rates to rise again in the mid-term future, or if one takes the average as proxy for future investment returns, which seems a bit artificial. Without that assumption, funding contributions are merely deferred and must be borne by future generations."
His proposal is for Germany to decouple pension discount rates from market values by introducing a fixed rate taking into account projected future returns.
The German association of accountants (IDW) reasons for an increase of the calculation period to 15 years as this is the average number of years German employees stay at a company.
On the question of whether to introduce a fixed rate, the IDW proposes a 4.5% rate based on an analysis of the return on equity (ROE) of German companies in the HDAX, the meta-index of various German listed indices. Between 2010 and 2014, 80% of the 110 companies in the index managed a 4.6% ROE.
Koenig points out that Germany is the only country to use a simple historic average as other countries either use longer period averages or include return expectations. However, Germany is also the only country with widely unregulated pension promises – direct promises (Direktzusagen) now often funded, but traditionally held on balance sheet as book reserves and support funds (Unterstützungskassen) – which make up around 50% of all pension liabilities in German companies.
"In the absence of regulation it may be difficult to allow companies to use their individual return expectations," Koenig says. "Working with a fixed rate would make planning easier for companies, and provide more transparency to shareholders." His calculations also show that rates would have to increase from 1% to 5% over the next decade under the average system simply to balance out the distortions that have accumulated over the last ten years.
Should rates move back to historical norms then the use of an average interest rate would mean market rates would be above average.
Portability could spur scheme revamps
Barbara Ottawa
Some German companies may have to review a variety of areas related to occupational pensions as they comply with Germany's legislation to implement the EU's pensions portability directive (2014/50/EU).
This could trigger reviews of pension promises and possibly a shift away from defined benefit (DB) pensions, according to Thomas Hagemann, chief actuary at Mercer Germany.
The trigger is the requirement to apply an annual increase to the dormant pension rights of former employees. This 'dynamisation' is standard in modern contracts offering a German-style defined contribution (DC) with minimum guarantees.
But companies with book reserves for non-funded pension promises and those with traditional DB plans will have to find a way to uprate accrued pension rights.
"The way the German law is phrased, an annual increase of 1% should suffice and it does not have to be set up as a guarantee," says Hagemann. Further, it only has to be applied for employment periods after 1 January 2018, although this poses a challenge in terms of calculation.
It might be easier for some companies to introduce this 'dynamisation' to the whole pension plan rather than just for a certain period, Hagemann adds. In turn, this might lead to some DB plans being converted to DC plans with minimum guarantees. This would be easier for companies than calculating another set of pension benefits.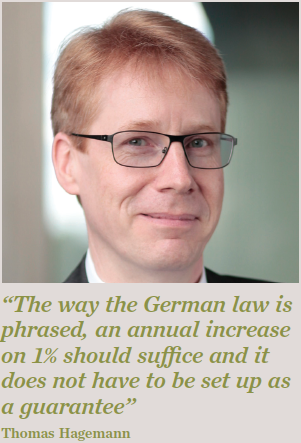 Further, it will have to be clarified what constitutes a 'closed pension plan' as only those open to new members after May 2014, when the portability directive was adopted at EU level, are subject to the new regulations. However, Hagemann points out, it is not clear whether an amendment to existing pension plans "should be treated as a closure of one scheme and an opening of another or whether this is actually the continuation of the same pension plan".
A special case is individual pension promises made for single employees, which by definition could be said to be closed for any other members.
As all these questions require a case-by-case analysis, Hagemann calls on companies to start looking at their pension arrangements now, even though employers are only required to comply by 2018.
Restructuring of a pension scheme will take time. Hagemann believes some may use this review to overhaul their entire pension provision, possibly taking the opportunity to assess legacy pension plans together with new acquisitions or old arrangements.
Other parts of the portability directive require less consideration, such as the cut in the vesting period to three years for employees above the age of 21. "Although the directive only applies to cross-border employee mobility, Germany chose to apply the new regulations to all employees to avoid questions about equal treatment and to simplify calculations," notes Hagemann.
One other provision that will have to be tested in application is regarding employee information. Under the directive, employees may demand information on the value of their pension plans at any time. This is not something many employers offer.
Pensions in Germany: The joys of negative rates
1

2

3

4

Currently reading

Domestic Accounting: Discounting the future

5