Global institutional assets invested in passive products topped €8trn at the end of 2016, according to IPE's research. Meanwhile, the Index Industry Association (IIA), which represents 14 providers, finds that there were 3.2m investable indices globally at the end of last June. The number of equity-based indices (95% of the total) vastly outnumbers the total number of listed equities worldwide – by a factor of 70 to one.
These figures show how powerful providers of financial market indices have grown to be. The three market leaders – FTSE Russell, MSCI and S&P Dow Jones Indices – and a plethora of smaller, but growing, providers effectively make portfolio decisions on behalf of thousands of investors and thus determine the performance of their portfolios.
This is a paradox that passive investors must accept. Index providers make active decisions about which stocks enter passive portfolios.
However, index providers cannot unequivocally show that their decisions are completely objective.
Although they use strict rule-based methodologies to calculate their indices, a degree of discretion is always involved. For instance, there are several ways to factor-in the impact of dividends. There is also ample space for subjective judgement on whether certain countries should be considered frontier or emerging markets.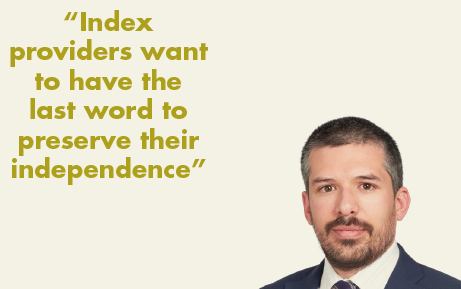 Thankfully, index providers consult extensively with market participants when planning key changes to indices. The decision to add China A-Shares to the MSCI Emerging Market indices was not only flagged well in advance, it was also the result of a long and wide-ranging consultation with investors. Nevertheless, the final decision was taken by MSCI. Index providers want to have the last word, in order to preserve their independence.
However, their approach regarding feedback from market participants shows index providers take their role seriously. They are aware of the effect of their decisions, and that is why they have put in place robust index governance structures. But, investors that use indices for their passive or active portfolios need to consider the effect of decisions taken by their owners. Scrutiny of index decisions must increase. Investors should be familiar with index methodologies and question them as well as monitoring them. This is simply a requirement if they are to carry out their fiduciary duty. It is not possible to relinquish responsibility just because one is investing in the index.
At the same time, investors should get acquainted with the growing number of smaller index providers. Competition in any sector is beneficial, even in one as specialist as financial market indices.
Carlo Svaluto Moreolo, Senior Staff Writer
carlo.svaluto@ipe.com
Private markets, social impetus
1

2

Currently reading

Don't doubt the power of index providers

3