Pension funds in the Netherlands have considerably increased their allocations to high yield bonds over the past two years, according to an overview published by regulator DNB.
Since the outbreak of the coronavirus pandemic in March 2020, the allocation of the Dutch pension sector to high yield bonds has risen from roughly 7% to close to 11% of fixed income portfolios.
According to DNB, the stronger appetite for high yield bonds is a result of the low-yield environment which has made it ever more difficult for pension funds to achieve acceptable returns on their bonds portfolios.
"The lower bond yields have led to a search for yield among pension funds," DNB has noted. This has led pension funds to swap part of their investment grade bond holdings for high yield bonds.
The move has thus far paid off for pension funds as high yield bonds have significantly outperformed their investment grade counterparts over the past two years. Whereas investors have lost money on their investment grade bond holdings because of rising interest rates, high yield bonds have increased in value.
The change in the interest rate environment with rates rising again from their record lows has not materially changed the picture. This is because of high-yield bonds' higher coupon payments and shorter duration which make them less vulnerable to rate rises than investment-grade bonds.
"Today, interestingly, it is investment grade credit that appears particularly risky," said John Mawby, an investment manager at Pictet. High-yield bonds are not without risk either, however, with the spectre of a recession looming large.
After all, if the macroeconomic situation worsens, high-yield default rates are likely to rise gain from its current lows.
"We can indeed see a recession coming," said Andrew Wilmont, a European high yield portfolio manager at Pictet. However, high yield bonds have the advantage of shorter durations, he added. "This makes it more likely for investors to get their money back."

Percentage of high yield bond relative to total bond holdings per sector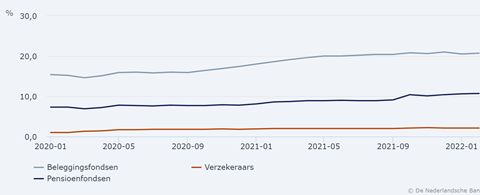 Tjibbe is IPE's Netherlands correspondent. He splits his time between IPE and its Dutch-language sister publication Pensioen Pro. Before joining IPE following a move back to Amsterdam, Tjibbe worked in London for several years writing about fund selection and portfolio construction trends.
View full Profile