EDHEC Risk Institute conducted its ninth survey1 of European investment professionals on the usage and perceptions of ETFs at the end of 2015 with the support of Amundi ETF, Indexing & Smart Beta. EDHEC-Risk Institute's ETF surveys now provide a continuous assessment of practices and views amongst professional investors since 2006.
Our results are based on the responses of 219 European investment decision-makers, among which 180 use ETFs. The survey respondents were from 25 different countries, with more than half (52%) located in the UK, Switzerland or Italy. Institutional investment managers made up the majority of respondents in the study, with 76%, and participating organisations together have assets under management of at least €3.1trn.
For the third year, our survey includes information on respondents' use of products tracking smart beta indices. It appears from the results that investors continue to show high and ever increasing interest in smart beta ETFs. More than a third of respondents (37%) already use products tracking smart beta indices, compared to 25% in 2014, and another third (33%) do not currently invest in such products but are considering investing in them in the near future (figure 1). These results imply that we are likely to see strong growth in the usage of smart beta ETFs in the future.
In addition, ETFs based on smart beta indices top respondents' concerns with regard to developments in the future, with 38% of respondents desiring further developments. This broad use of ETFs based on smart beta indices, as well as the wish for additional development, may be explained by the favourable perception that respondents have of smart beta indices as tools for improving their investment process, as shown by their answers to further questions.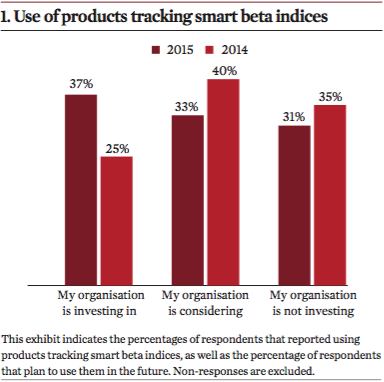 As displayed in figure 2, three-quarters of respondents (75%) think that smart beta indices provide significant potential to outperform cap-weighted indices in the long term and more than four respondents out of five (81%) think that they avoid cap-weighted indices being concentrated in very few stocks or sectors. About the same proportion of respondents (79%) thinks that diversification across several weighting methodologies allows risk to be reduced and adds value, while 87% of respondents agree that smart beta indices allow factor risk premia, such as value and small-cap, to be captured. Thus, respondents agree strongly with research conclusions on the potential benefits of smart beta.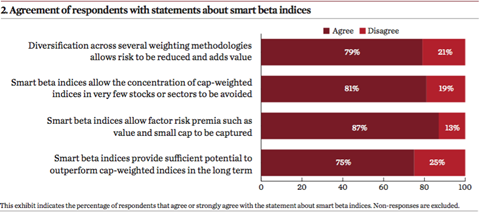 In addition to showing strong interest in smart beta ETFs, survey respondents have strong quality requirements for such products. A notable requirement is transparency. A vast majority of respondents (94%) agree that smart beta indices require full transparency on methodology and risk analytics (figure 3), a percentage even higher than the 88% obtained in 2014. Further, almost half of the respondents (49%) strongly agree with this statement, which represents a considerable increase on last year, when more than one-third of respondents (37%) strongly agreed with the proposition already.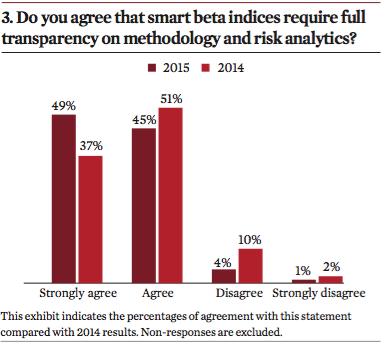 These results confirm earlier research on index investors' need for transparency in general. In particular, in a survey of European investors regarding their perception of index transparency, Amenc and Ducoulombier (2014) found strong conviction among respondents that the transparency offered by index providers in general is insufficient. Moreover, their results show that the rise of strategy indices makes transparency even more important and that opacity undermines the credibility of reported track records, in particular for new forms of indices. The results in the 2015 ETF survey are also consistent with earlier results from Amenc, Goltz, Le Sourd and Lodh (2015) who found similar strong evidence of severe shortcomings of alternative equity beta strategies in terms of the transparency they provide to investors.
Information requirements for smart beta (importance versus accessibility)
Transparency is a general requirement that may concern different types of information items. Our survey investigates which types of information on smart beta strategies are seen as most important by investors, and which items are seen as easy or difficult to access. Among a list of 10 items proposed, we can see that all of them received a high score in terms of importance. On a scale from 0 (lowest importance) to 5 (highest importance), the lowest score observed is around 3, and a large share of propositions receive a score around 4 (figure 4). At the top of the list of information considered as crucial by investors, we find all information concerning the construction, composition, strategy, and exposure to factors of smart beta products, while at the bottom of the list is information regarding historical performance.
At the same time, respondents were asked whether they consider that this information is easily available. Thus, it is interesting to see the spread between the importance of the information and the accessibility of this information. Information about portfolio holdings over the back-test period and about data mining risk are crucial information for respondents, with scores of 4.03 and 3.81, respectively. It is also the information that appears to be the most difficult to obtain for respondents, with scores of 2.16 and 2.07, respectively, for their availability, leading to a large gap between importance and availability of information. Even relatively basic information such as the index construction methodology is not judged to be easily available (score of 3.07) relative to its importance (score of 4.28). On the contrary, information about recent performance and risk over the past 10 years, is among the least important for respondents with a score of 3.35 in terms of importance, but it is also the one the most easily available, given that it exhibits the highest score (3.16) in terms of availability.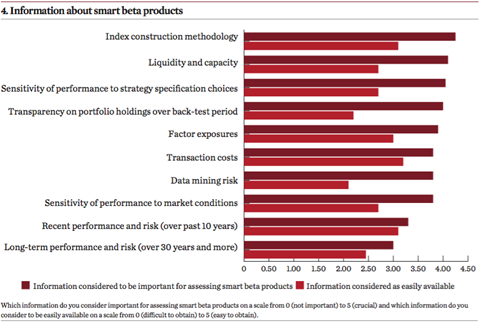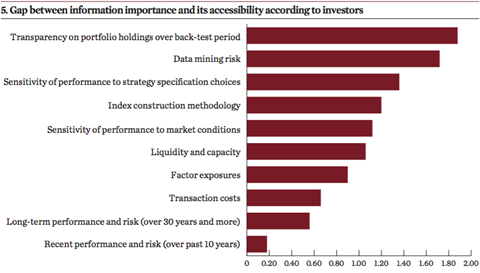 The gap between information importance and its accessibility, as seen by investors, is shown in figure 5. A high spread reflects a shortfall of providers when they do not give easy access to crucial information.
The fact that information that is regarded as important is not considered to be easily available clearly raises questions about the practices of smart beta providers in terms of providing information on their strategies. In fact, the only area where no pronounced gap exists between the importance score indicated by respondents and the ease of accessibility score is for performance numbers, especially recent performance. Performance and risk information are judged to be moderately easily available and moderately important.
Other areas show pronounced gaps between the importance of information and its ease of availability. The two items that are judged to be the least easily available are holdings over the back-test period and data-mining risks. Interestingly, both these items rank much higher on the importance score for investors than, for example, past performance. Moreover, there is a pronounced gap on average between the importance of information items and their ease of accessibility, as shown by the mean of their respective scores (3.82 and 2.75, respectively), showing a gap of 1.07, on average. Overall, these results thus suggest that investors consider that important information on evaluating smart beta strategies is not made available to them with sufficient ease.
Felix Goltz, Head of Applied Research, EDHEC-Risk Institute, Research Director, ERI Scientific Beta
Véronique Le Sourd, Senior Research Engineer, EDHEC-Risk Institute
The research from which this article was drawn was produced as part of the Amundi ETF, Indexing & Smart Beta ETF and Passive Investment Strategies research chair at EDHEC-Risk Institute.
1 Amenc, N., F. Goltz, V. Le Sourd, A. Lodh and S. Sivasubramanian (February 2016). The EDHEC European ETF Survey 2015. EDHEC-Risk Publication produced with the support of Amundi ETF, Indexing & Smart Beta.
References
Amenc, N., and F. Ducoulombier (2014). Index Transparency – A Survey of European Investors' Perceptions, Needs and Expectations. EDHEC-Risk Institute Publication (March).
Amenc, N., F. Goltz, V. Le Sourd and A. Lodh (2015). Alternative Equity Beta Investing: A Survey. EDHEC-Risk Institute Publication (July).
Amenc, N., F. Goltz, V. Le Sourd, A. Lodh and S. Sivasubramanian (2016). The EDHEC European ETF Survey 2015. EDHEC-Risk Publication produced with the support of Amundi ETF, Indexing & Smart Beta.