The past 18 months have provided a laboratory for testing the style biases of active emerging market debt managers. Through much of 2013, in response to the US Federal Reserve's quantitative easing 'tapering' plans, the market experienced extreme volatility – but also remarkable dispersion. Local currencies were the focal point, with countries nursing large current-account deficits suffering particularly heavily. Hard-currency bonds were hurt by the big move up in US Treasury yields, but outperformed, thanks to US dollar strength.
The situation almost completely reversed through 2014. Currencies recovered strongly, led by those of the so-called 'Fragile Five' that had the weakest current accounts in 2013. Country correlation has risen. Meanwhile, US Treasury yields have retraced and the US dollar has wandered aimlessly. No wonder it is difficult to find local-currency portfolios posting good numbers through both periods, and so easy to see the difference between local and hard currency returns.
"The current-account theme has now totally disappeared and we have the familiar old carry theme back again," says Thorben Velling, portfolio manager at Jyske Invest, which has been whipsawed the most out of our three featured strategies. "Our process is based on a philosophy that the markets converge back to fundamentals – and right now the market isn't looking at fundamentals at all. All anyone is interested in is how much yield they can get from Turkey, Brazil and South Africa."
At PineBridge Investments, what senior portfolio manager Anders Faergemann describes as a "flexible" implementation of its process appears to have helped it navigate some of the reversals of sentiment. In particular, a top-down element of the strategy that draws on expertise from across the firm's fixed income and macro teams has informed the amount of overall portfolio risk being run as the market environment changed through 2013-14.
"Our decision to dial down tracking-error risk earlier in 2013 came from our perception of increasing probabilities of tail scenarios," says Anthony King, PineBridge's regional CEO for Europe. "As we became more confident with the benign global environment in April [2014] and realised that the idiosyncratic stories we have seen this year haven't led to outflows from the asset class, we increased the tracking error and the carry in the portfolio."
In particular, Faergemann says he has rotated back into the 'Fragile Five', particularly Turkey and South Africa. Today's independent and orthodox central banks were always set to act to help economies absorb currency adjustments, he argues. "What we saw was that, as soon as the central banks became nervous that the currency adjustments could have a negative impact on the broader economy, they stepped in and started raising interest rates."
At Prudential Fixed Income, the consistency of return through 2013-04 was partly due to hard-currency portfolios experiencing less volatility, and partly due to this strategy's 'barbell' approach to markets over recent years. Issuers like Argentina, Venezuela and Ukraine, and some riskier corporates, are in the portfolio as short-dated positions, picking up yield with limited volatility – at almost 7%, the portfolio yields 1.5 percentage points more than its benchmark.
To keep duration neutral, these are balanced by longer-dated bonds from what the firm considers stable-to-improving credits such as Mexico, Peru, Indonesia, Kazakhstan and Russia. This has been working particularly well recently as both the US Treasury and emerging market credit spread curves are steep: these are decent carry positions as well as offsets for the short-duration bets inherent in the higher yielders.
During 2013, while the long-dated bonds picked up a lot of underlying US Treasury volatility, the shorter-dated positions exhibited virtually no downside from duration and presented very limited default risk. The US dollar exposure clearly limited any sensitivity to the local currency sell-off, and where there was some correlation, again, it was in names that Prudential holds at shorter maturities.
"Net-net, the portfolio did pretty well," says David Bessey, head of the emerging markets team. "In 2014, we've seen the longer-dated securities recover, so this year we've been firing on both cylinders."
Name of strategy
Inception date
Portfolio manager(s)
Key positions

Jyske Invest - Nye Obligationsmarkeder Valuta

September 2005

Jens Christian Thellesen; Thorben Velling; Jacob Elbækgaard Jensen

Local-currency bonds; maintaining a focus on long-term fundamentals; long-dated
Mexico, Indonesia

PineBridge - Global Emerging Markets Local Currency Bond Strategy

November 2006

Anders Faergemann; Anthony King

Local-currency bonds; rotating back into current-account deficit countries during 2014; South Africa, Turkish lira

Prudential FI - Emerging Markets Debt

July 1996

Cathy Hepworth; David Bessey

Hard-currency bonds; 'barbell' of short-dated high-risk issues and long-dated low-risk issues
Reform
Let's begin by comparing our two local currency strategies before turning to the Prudential portfolio. PineBridge's higher-risk, pro-carry positioning for 2014 comes through in its top three currency exposures – TRY, ZAR and BRL – as well as the fact that South Africa, Turkey, Brazil and Indonesia are the portfolio's top country weights (and overweights). Tracking error tends to be twice that of the Jyske Invest strategy, with much higher volatility.
"We are aware of the underlying risks to some of these economies, but when we look 12 months ahead we see forward-looking real interest rates being positive," he says. "I'm not sure the markets have adjusted to this yet – stable inflation in Brazil, much lower inflation in Indonesia, and we expect to see the same, eventually, in Turkey. Add Russia to the mix, where there has been an adjustment due to political factors, and we were looking at reward that outweighed the risk."
By contrast, while Jyske Invest is overweight Brazil and neutral on Turkey, it is generally steering clear of the rest of the 'fragile five'. Much more characteristic is its top overweight, Mexico, where PineBridge is slightly underweight.
The team at Jyske Invest note that President Enrique Peña Nieto's reform programme is expected raise growth expectations from 3.5% to 5% and that the opposition is behind the reforms. In terms of positioning, they see the best value at the long end of the yield curve.
"Mexico is a good example of how our focus on structural developments works," says Velling. "Over the last couple of years it has started a very impressive reform programme, covering nearly all aspects of the economy. We have been overweight duration for a long time, for that reason."
Explaining PineBridge's underweight, Faergemann argues that the entire market owns the story, which means stronger growth prospects are required to justify the attendant risk.
"Last year the new government worked a lot on the reform side but didn't give so much attention to the growth side of the equation – and the economy underperformed as a result," he says.
Jyske Invest regard positioning as "above average but not extreme" and argues that, while growth is set to revive, its weakness has benefited bond investors via low inflation.
The Jyske Invest portfolio tends to be quite active in taking top-down duration risk and its global rates view suggests a position slightly short of the benchmark. That means long-dated exposures in Mexico (and, for that matter, Russia and Indonesia) need to be balanced by short duration elsewhere. Those places are chiefly Thailand (where Faergemann is put off by the political uncertainty surrounding the latest military coup), Hungary and Poland.
Jyske Invest took a position in Hungary for a few months in early 2012, looking past the fact that negotiations with the IMF were going badly to see the improving current account and the improving debt-to-reserves ratios. Since then, it simply hasn't considered the spreads on offer in Hungary or Poland to be enough to compensate for weak growth in trade balances, foreign-liability risk and, in the case of Poland, high beta to US Treasuries.
"Hungary and Poland have both been painful underweights for us because of their impressive performance," concedes senior portfolio manager Jacob Elbækgaard Jensen.
The story of Hungary in the PineBridge portfolio was similar, until more recently: today it is a slight underweight, but quite a big contributor of duration (as is Poland). This almost precisely reverses the situation with Mexico: PineBridge believes Mexico to be over-owned and over-valued, while Jyske Invest saw its steady-but-weak growth as a reason to sit at the long end of the curve. Now listen to Faergemann explain PineBridge's position in Hungary.
"We do believe that the curve in Hungary is too steep," he says. "The market underestimates the new central bank regime, which we believe is now more credible. There is weak growth and low inflation, and while there will not be many more rate cuts at this stage, the potential for more ECB accommodation makes it difficult to see rates going up any time soon. On that premise you'd want to move."
Holdout
There are points of consensus – some real and some more apparent. In the 'apparent' column one might put Jyske Invest's neutral position in South Africa: the team dislikes the risk long-term, but wants to limit tracking error and it's underweight to 'Fragile Five'-type risks while there is this pro-carry mood in markets. PineBridge does not dispute the poor fundamentals, but remains confident that its "contrarian" position is technically under-owned and that the "credible" central bank will shore up both the bonds and the rand.
Both portfolios are overweight Russia, and both teams took the view that the annexation of Crimea marked the high point of crisis in tensions with Ukraine because Vladimir Putin has little to gain from a further escalation that would risk higher-level economic sanctions. If anything, the incident involving Malaysian Airlines flight MH17 only reinforces this view.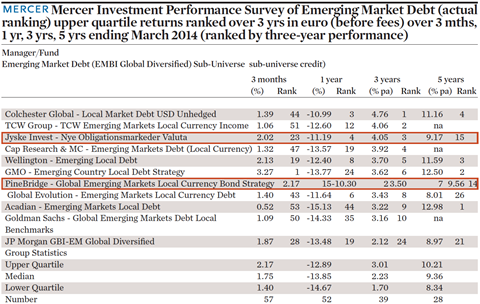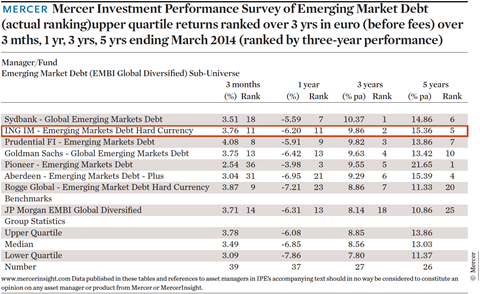 "With the recent tragic plane crash, the situation escalated to the point that it is no longer just a localised conflict between Russia and Ukraine," as Faergemann puts it. "We think the current developments are a game changer and will ultimately lead to an accelerated end to the conflict."
At Jyske Invest, as well as the short-term value opportunity opened up by the Ukraine crisis, which Velling stands by, even in the light of the MH17 outrage, the team points to the longer-term positive impact of the decision by the central bank to focus on inflation-targeting. Rate hikes in the face of political crisis and fairly weak growth have backed this up.
Turning to political risk in Asia, both portfolios steer clear of the turmoil in Thailand, but both run considerable overweights in Indonesia where Joko Widodo and Prabowo Subianto were still contesting the result of a presidential election in August – with the latter taking legal action.
At Prudential Fixed Income, portfolio manager and emerging markets strategist Cathy Hepworth agrees. This reflects fairly broad agreement on the other major political risks – for example, Russia is the Prudential portfolio's top holding and top overweight.
"We were comfortable adding to hard-currency spreads and local rates when the market sold off," says Hepworth. "Recent events make it difficult to predict the extent to which tougher sanctions might be imposed but our assessment is that Russian sovereign debt is still attractive from a medium-term perspective."
Another politically-sensitive overweight held by Prudential is Argentina where, at the time of writing, the issuer had just defaulted on its New York-law bonds after failing to come to terms with 'holdout' creditors that do not accept the outcome of a 2010 debt restructuring.
"I believe very strongly in the country's willingness to pay, notwithstanding what we are reading about right now," says Hepworth. "Not only has Argentina taken steps to normalise its relations with external creditors at large, including the Paris Club and Repsol; once we get past the elections of October 2015 my base case is that the next administration will be much more orthodox. With this background, I think the yields are just very, very attractive."
The portfolio mostly holds local-law sovereigns, complemented by some corporates. As Hepworth says, this illustrates the importance of security selection within country-selection decisions: both account for 40% each of the Prudential investment process. This can be a useful source of flexibility. Some country-selection decisions are simple, whether that is an underweight due to valuation concerns (as with the Philippines or Colombia) or more fundamental worries (as with South Africa). In other instances the hard-currency team may perceive clear opportunities in countries where the hard-currency curve presents little value. Brazil, the portfolio's second-biggest country overweight, is a good example.
"From a fundamental perspective we don't think there is a ton of value in the hard-currency sovereign bonds, but we see value in some hard-currency corporates, but also in local rates," says Hepworth.
The position agrees with Jyske Invest's, which, although it runs a local-currency mandate, chooses to take currency-hedged local-rate risk at the 3 to 5-year part of the curve.
"We have a structural view that Brazil needs a weaker currency but, at the moment, they can't afford it because they have inflation running high," says Jensen. "So we are neutral on the BRL but we also see that low growth will probably take out some of the expected rate hikes after the election, making it attractive to own the short end of the curve."
Flexibility will almost certainly continue to be important in emerging market bonds, both when it comes to making security-selection decisions and when it comes to managing the changing face of the asset class as we move through the process of global interest-rate normalisation.
Hard-currency sovereigns have enjoyed a new lease of life after 2013, despite the fact that the epicentre of that year's sell-off was US Treasuries; and they continue to enjoy the greater share of flows after some months of rebound in local-currency issues. Corporates are becoming ever more important issuers in the market. And, overall, there is a growing perception of central bank orthodoxy alongside a widespread view that growth and inflation will remain subdued in most markets. This unites all three of our featured managers in arguing that their asset class represents one of the few sources of value for investors today.
Emerging Market Debt: Bonds and the ballot box
1

2

Currently reading

Emerging Market Debt: Carry through the crises

3

4