Determining sovereign ratings can be as much art as science, with judgement of qualitative factors playing a crucial role alongside quantitative analysis. That can also be an excuse for prejudice.
In his recently-published book, Emerging Markets in an Upside Down World, Ashmore Group 's ex-head of research Jerome Booth argues that rating agencies "do not invest enough of their own resources to enable them to assess sovereign risk in poorer countries and they overestimate sovereign risk in developing countries." He suggests emerging markets should follow the example of China, which established its own agency in the form of Dagong Global Credit Rating. "Dagong's ratings frankly look more realistic to me," he writes.
"There has been a historical bias for lower ratings for emerging markets relative to what we would see as their credit quality," explains Michael Gomez, head of emerging market debt at PIMCO , who found the bias most prominent prior to the 2008-09 financial crisis.
Tony Stringer, a managing director in Fitch's sovereign ratings team, points out that the convergence of emerging market credit ratings with those of the developed world has been a theme for the best part of at least a decade – with emerging market ratings improving while developed market ratings deteriorated (figure 1).
"That trend accelerated through the global financial crisis and, more explicitly, the euro-zone crisis, when we saw a reasonable number of developed market sovereigns coming down the rating scale pretty significantly," he says.
For Gomez, that adjustment reflected some catch-up from the rating agencies in recognising the structural reforms undertaken since the crises of 1997-98. "As a result of those reforms, emerging markets were much more able to weather the 2008-09 crises," he says.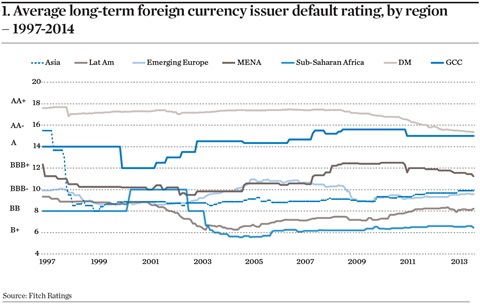 But the rating convergence trend has lost momentum in the past two years (figures 2, 3).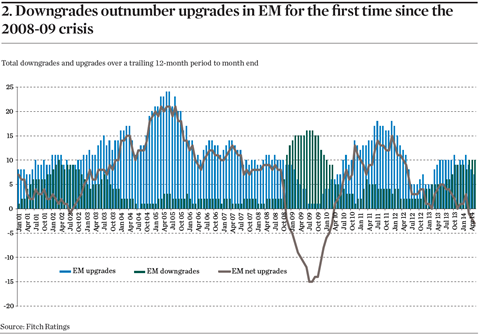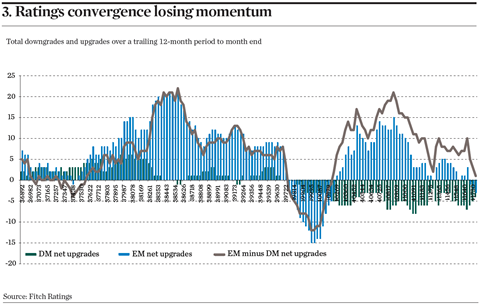 "We have seen a greater stabilisation of ratings in the developed economies following a number of positive actions in the euro-zone, whilst the upward momentum of the emerging country ratings has dissipated," says Stringer.
Does this represent a return to old anti-emerging markets biases, or actual fundamentals? "We are at the point now where emerging market ratings are relatively fair," says Gomez.
Five of the sovereigns with the largest commercial debt stock outstanding – India, Turkey, Venezuela, Russia and Argentina – have a negative ratings outlook, and there is none with a positive outlook, according to Moritz Kraemer of Standard & Poor's. This suggests that there is a negative tendency to the likely direction of emerging market ratings over the next year.
"Brazil, for the first time in a decade, had its upward rating trajectory cut off and we saw the first downgrade in over a decade," Gomez observes. "Turkey, after getting upgraded to investment grade by two agencies, has seen its momentum stall because of some of the problems of its institutions and its unorthodox economic and monetary policy."
Gomez thinks the agencies are now reflecting reasonably these kinds of institutional and developmental problems in emerging markets.
"Russia is another example," he says. "From a fundamental viewpoint, it is a very solid, single-A credit. But from a geopolitical and institutional basis, its ratings are constrained. By contrast, for a long time, Mexico was seen as a low single-A credit. After the structural reforms were announced, the rating agencies were very quick to upgrade Mexico on the back of that."
What is driving these ratings adjustments? The key risks are not directly connected with the possible effect of the tapering of the US Federal Reserve's quantitative easing programme, widely seen as the main cause of the massive outflow from emerging markets in 2013. Rather, S&P sees mounting downside risks to domestic policy choices and implementation.
"We think vulnerability and suboptimal policy choices can reinforce each other," says Kraemer. "Inadequate policies, such as running unsustainably expansionary macro policies, will, before long, lead to increased vulnerability to external shocks. At the same time, once a degree of vulnerability has built up, the room for policy mistakes will have shrunk and policy uncertainties will weigh more heavily on our ratings."
As Kraemer argues, in times of growing uncertainty about external liquidity provision, prudent economic policies become more important than ever to protect sovereign creditworthiness. Some sovereigns are better prepared to confront the potentially sustained outflows either because their floating currencies provide an automatic shock absorber, or because they can fall back on a large stockpile of reserves.
"The larger the economy's dependence on external funding is, compared to its own stock of and capacity to generate foreign reserves, the more vulnerable it is to the change in the extraordinarily loose monetary conditions currently prevailing worldwide," Kraemer adds.
Emerging Market Debt: Bonds and the ballot box
1

2

3

4

Currently reading

Emerging Market Debt: Grade deflation