Most emerging markets are regarded as reasonably placed to handle the impact of the winding up of quantitative easing in the West
Key points
• Recent turbulence reflects concerns about countries like Argentina and Turkey and risks to the economic outlook
• Some EMs are more vulnerable to monetary tightening in advanced economies but overall fundamentals are stronger
• The drivers of uncertainty have shifted from monetary policy to global trade
• Selectivity and diversification is key
Emerging market (EM) equities have suffered a torrid time recently. After a significant outperformance for over two years, this asset class experienced a challenging period recently. Most EM equity indices declined since their peak in January, reflecting, to a certain extent, concerns about imbalances in countries such as Argentina and Turkey, and rising downside risks to the economic outlook amid lingering trade tensions.
As pointed out in a recent report by CrossBorderCapital, a specialist investment advisory firm, the attack from the usual bears "stems from the widely accepted belief that EMs are adversely affected by a stronger US dollar and by Federal Reserve monetary tightening". The conventional wisdom was expressed in the International Monetary Fund's (IMF) Global Financial Stability Report. Several emerging economies "have taken advantage of an extended period of benign external financial conditions to improve their fundamentals," the IMF said in April. "However, they could be vulnerable to a sudden tightening of global financial conditions or spillovers from monetary policy normalisation in advanced economies, resulting in an increase in risk aversion and capital flow reversals."
The IMF reiterated its warnings about EMs in its World Economic Outlook Update in July: "Tighter financial conditions could potentially cause disruptive portfolio adjustments, sharp exchange rate movements and further reductions in capital inflows to EMs, particularly those with weaker fundamentals or higher political risks."
Thanks to the painful memories from the crises in the 1980s and 1990s, it might seem natural that some investors fret again about EM exposure. The vulnerability of these markets also came into the spotlight after the 2008 global financial crisis and the 'taper tantrum' of 2013 when global markets took fright at the Fed's first hint that it might 'taper' its monetary expansion policy (that is, gradually reduce its quantitative easing, or bond buying programme).
"You have to distinguish between the stronger and weaker players"

Talley Léger
Following this 'tapering' talk, financial conditions in EMs deteriorated – their exchange rates depreciated, bond spreads increased and equity prices fell.
During this period, some EMs seemed to be on the verge of a full-fledged balance of payments crisis. India, Turkey, South Africa, Indonesia and Brazil, which were then dubbed the 'fragile five' because of their imbalances and reliance on foreign investment flows to fund their current account deficits, experienced capital outflows and a marked depreciation of their currencies.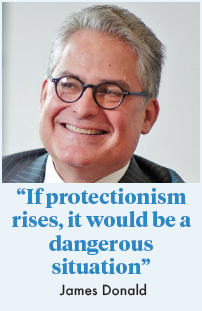 EM equities have also been affected by shifts in the US Fed policy during previous rate hike cycles, but analyses on the US monetary policy spillover became particularly popular after the 2013 taper tantrum. For example, a World Bank policy research working paper published last year showed that US monetary policy surprises have a significant impact on EM exchange rates, equity prices, and bond yields.
This is more pronounced in the case of tightening and "disproportionately larger for large surprises, implying that EMs are relatively insulated from anticipated policy announcements". The spillover effects of policy announcements of other advanced economies, such as the euro area, Japan and the UK, are much weaker than those of the US, according to the same paper.
Is it different this time?
The recent EM jitters raise several questions, even as monetary policy normalisation in the large advanced economies continues its uneven progress, reflecting different stages of recovery from the GFC. For example, the Fed is expected to continue its gradual and well-communicated rate hikes, whereas the European Central Bank (ECB) looks set to maintain its accomodative monetary policy until at least September 2019 as it has no plans to raise interest rates before then.
How vulnerable are EM equities to monetary tightening in the West after years of 'easy money'? Is elevated investor anxiety reminiscent of the 2013 'taper tantrum' and is it justified?
Even though dollar strength and trade-related uncertainties are widely acknowledged as headwinds for EM stocks, the consensus among fund managers and strategists is that the recent market turbulance is a temporary setback that is not justified by fundamentals.
Shoqat Bunglawala, EMEA and APAC head of global portfolio solutions at Goldman Sachs Asset Management (GSAM), explains why his firm feels more sanguine about the impact of rising interest rates: "EMs are at an earlier stage of their growth cycle; the current account deficit has been falling [across EMs] so it's less of a case now; and there has been a systematic response from the Fed regarding interest rate hikes, so a repeat of a taper tantrum-style episode, we feel, is overstated."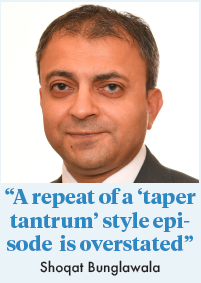 Casey Preyss, emerging markets portfolio manager at William Blair, agrees. "Current account balances today are much stronger in EMs relative to previous periods of market volatility."
Indeed, most EMs are better placed to confront financial stress. But some are more vulnerable to US monetary tightening, so "you have to distinguish between the stronger and weaker players", says Talley Léger, Equity Strategist at OppenheimerFunds. His view is echoed by Jin Zhang, deputy portfolio manager, emerging markets equity strategy at Vontobel Asset Management who says: "EMs are not the same."
Turkey, South Africa, and Argentina are highlighted as being more vulnerable owing to the continued weakness in their external positions. Meanwhile, for China, which has seen its currency weaken and stock market slide in recent months, the vulnerability is perceived as primarily trade-related. "We don't think the currency effect was there for a while but then it started to change. The real worry is about trade," James Donald, head of the emerging markets platform at Lazard Asset Management says.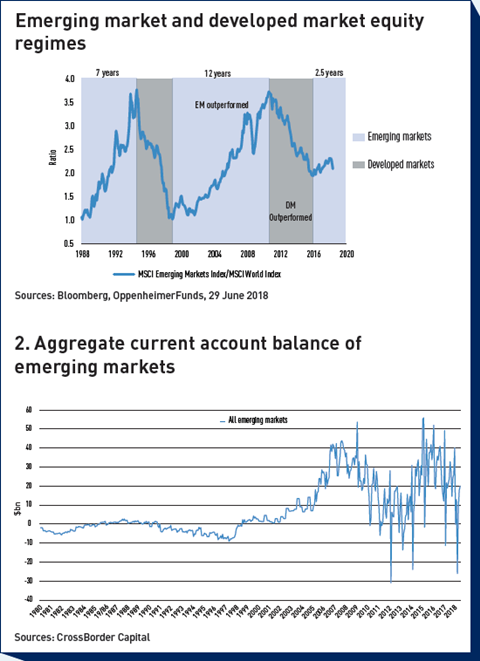 Renminbi influence
Although the depreciation of the renminbi has led some to draw comparisons to August 2015 – when the People's Bank of China (PBoC) devalued the currency in a surprise move that rippled through global markets – there is no need for a similar action this time, according to Michael Howell, managing director at CrossBorder Capital.
"China's capital account is in a better position than it was in 2015. Probably it won't devalue," he says. Howell sees limits to the dollar's rally and argues that it is the monetary policy of the People's Bank of China that matters more to EMs than the Fed. "The further we move into the future the less impact [from the Fed] we'll see and the role of the yuan will be bigger."
According to Lazard's Donald, while dollar strength is a big issue, trade is "still the single biggest risk" in the world. "If protectionism rises, it would be a dangerous situation," he says.
Arno Lawrenz, global investment strategist at Ashburton Investments, says a potential escalation in trade wars would be short-lived, particularly in the US – a view shared by many. "[US President Donald] Trump's trade tariffs might be pulled back as a result of political dimensions relating to mid-term elections [due in November], so we don't see this completely getting out of hand," Lawrenz says.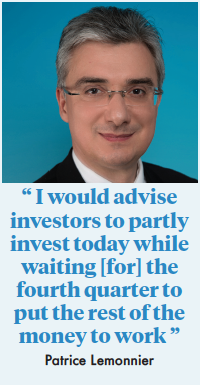 Xavier Hovasse, head of emerging equities at Carmignac, agrees. "A full-blown trade war would be detrimental to both [the US and China] so they wouldn't do it. But we have to prepare for more negative headlines, particularly towards the mid-term elections."
The widespread expectation is that the fallout from heightened uncertainty around global trade will continue despite the agreement between the US and Europe to work together to reduce tariffs on industrial goods. This view was also expressed by the Institute of International Finance (IIF), a global association of financial institutions, in July: "Incoming data suggest that the decline in trade volumes has been even sharper in EMs than in mature economies," it said, highlighting the former's sensitivity to further escalation in trade tensions.
The IIF added: "The downturn has been across the board, but EM Asia and Africa/Middle East have been particularly hard hit. Given the importance of trade in EM Asia, persistent strains – even if centred mainly on US-China trade, represent an important downside risk for EM exports and corporate earnings and thus for global growth," The risks associated with rising debt levels are significant, according to the IIF which predicts foreign exchange (FX) denominated debt in EMs (ex-financials) reached $5.5trn (€4.7trn) in the first quarter of this year.
"A continued slowdown in global trade would weigh on EM exporters' FX revenues, with the stronger dollar making refinancing still harder for EM corporates with high levels of FX debt – including in Turkey, Chile, Hungary and Israel," the IIF said.
Against this background of rising uncertainty, there is still a case for investing in EM equities, but selectivity and diversification is key. Patrice Lemonnier, head of emerging markets equity at Amundi, says EM valuations are attractive in general, "with around 25% discount on both PE [price to earnings ratio] and PBV [price to book value]." He notes that the growth differential between EMs and developed markets is likely to continue. "It's [currently] a good entry point but I would advise investors to partly invest today while waiting [for] the fourth quarter to put the rest of the money to work, as the trade situation should then be clearer," he says.
Similarly, OppenheimerFunds' Talley Léger argues that the fundamental thesis for investing in EMs has not changed despite the challenging second quarter. Attractive valuations coupled with strong economic growth and short-term weakness could prove to be a buying opportunity for long-term investors, according to Léger
Brian Wolahan, senior portfolio manager at Acadian Asset Management, says he is "guardedly optimistic about EMs as there is always an element of surprise in these markets".
Emerging Market Equities: Resisting a tantrum
1

Currently reading

Emerging Market Equities: Resisting a tantrum

2

3