The US energy high-yield sector should not be written off, according to Joseph Mariathasan
Despite the size of the energy sector – the largest in the US high-yield market, and the diversity of issuers, the oil price collapse has certainly scared away many high-yield investors from investing in companies that have anything to do with energy. Indeed, as Greg Hopper, head of global high-yield at Aberdeen Asset Management, notes, yields in the US energy sector range from 6% to 60%.
"We have hardly anything in the energy sector," says Alex Veroude, head of credit at Insight Investment. "If oil stays below $45-50 a barrel, we take the view that there is not really much value in the energy sector, as most of the existing high-yield bonds rely on a high oil price in years to come. If the average price is $20-45, more than 50% will default."
But are there opportunities for those brave enough to look and willing to differentiate between winners and losers? While few mainstream managers have the courage or the expertise to go down this path, the energy sector should not be written off completely.
Leaving aside the emerging market issuers Gazprom and Petrobas – which, as quasi-sovereigns, are seen by many as plays on sovereign risk – the energy sector represents the largest component of the US high-yield market but is essentially absent in Europe. With bonds trading at 1,000bps over US Treasuries classified as distressed, around 75% of the US high-energy market is in that category, with average spreads around 1,500bps, says Mike Weilheimer, head of high yield at Eaton Vance Management: "We believe there is little or no value in the distressed energy space."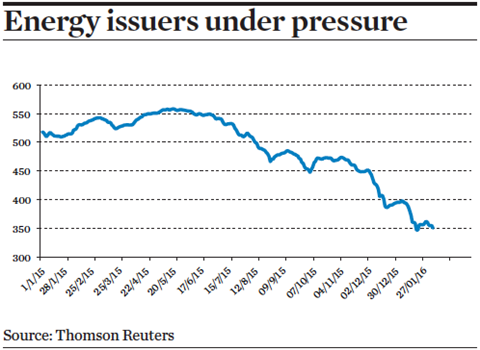 The reason, he explains, is that energy companies are different in nature from traditional manufacturing companies with debt problems. "In a manufacturing company that on an unleveraged basis can generate enough cashflow to pay for capital expenditure and operating costs, it is worth buying distressed debt and waiting for business conditions to improve. The debt turns to equity and investors can get a return. In the energy space, with oil prices so low, a lot of distressed debt companies will require additional capital to be able to do further drilling.
"In that situation it will not be the distressed debt holders who would receive equity in exchange for debt. Instead, it would be new debt providers in the form of banks and new investors. It makes no sense to buy existing unsecured debt if you are not willing to put up new capital, as all debt will essentially be extinguished in a restructuring."
For investors, it has been a painful experience. "The average institution holding them last year decided to sell and found no takers at 90, then 80. Some dedicated funds bought them at 70 but those bonds fell to 50 and, so far in 2016, we have not seen any change," says Veroude.
Yet, while the outlook may appear grim, companies paradoxically seem to be adjusting to the new environment, according to Fabrice Jaudi, fixed income CIO at S&P Investment Advisory Services. "Revenues and earnings have deteriorated but companies have adjusted very well, so far, by cutting their operating expenses and capital expenditure very rapidly so that their operating performance and leverage has remained stable." As Jaudi says, the remaining question is how long the sector can offset the decline in revenues.
Eaton Vance also sees value in certain components of the energy sector. Energy, which accounts for about 10% of the US high-yield universe, can be broken down into four components – exploration and production at around 4%; midstream gas distribution at around 4%; oil field equipment at 1.5%-2%; and the remaining 0.5% or so being refineries, explains Weilheimer.
Eaton Vance itself does not own any service companies. "A lot of high-yield service companies will not be able to make it through the cycle. Refining, in contrast, is a different story. Their bonds have held up better. Midstream companies were thought to have been fairly impervious to oil price fluctuations, but that view is being challenged. The bonds have taken a precipitous downturn along with the entire exploration and production (E&P) space.
What Eaton Vance has focused on for the last several years is to find the best quality E&P companies. "This is not based on ratings but on the quality of the assets – how cheap is it to get oil out of the ground, leverage, liquidity quality of the management, bank borrowing base, access to public equity markets?" continues Weilheimer. "The way we look at it is whether the companies can survive and prosper with oil at $50 for an indefinite period. At $40, it is difficult and at $30 and below, it is much more difficult. Around half the producers have a good shot at surviving a $30 oil price."
Jaudi is also positive on finding value in the better quality companies. "Corporate bonds rated within the BB- to BB+ range are looking very attractive with yields of 9-10%," he says. "To play the energy sector, investors need to focus on companies that are well-established, with leading positions in the market, good assets and competitive operating costs, no significant debt maturing in the near future and strong liquidity. It leads us to focus on high-rated companies in the high-yield sector. Those companies are the ones that could be targets for investment-grade companies if conditions deteriorate further."
"Around half the producers have a good shot at surviving a $30 oil price"
Mike Weilheimer
As Weilheimer argues, if oil prices are still $30 a barrel in a year's time, a lot of producers will default. Those producers that can still find equity will increase their share and low-cost producers will fill the gap.
"Some of the large international companies do not have relatively low-cost production and attractive development opportunities," says Weilheimer. "It is a good opportunity for them to acquire assets cheaply, but as they are so wedded to maintaining their dividends they do not have the free cashflow to do so. Assuming M&A events start occurring and these companies take over some of the E&P companies, their high-yield bonds will become investment grade and investors will see a 30% return in a day. The opportunity for us is to find those quality companies that can create long-term value for themselves, or larger companies with a lower cost of capital."
Investing In High-Yield Bonds: Does fortune favour the brave?
1

2

Currently reading

Energy: Not quite meltdown

3

4