---
Key points
• A new EU Shareholder Rights Directive is designed to promote shareholder engagement and stewardship
• SRD I was the first EU law to establish minimum shareholder rights although laws existed in member states that met some or all of the requirements
• Governance experts disagree on the new directive
• Numerous barriers obstruct its effectiveness
A new EU directive could weaken hedge funds. The Shareholder Rights Directive II (SRD II), amends an earlier directive adopted in 2007, aiming to shine a light on the less visible activities within the investment supply chain for listed companies, and to encourage long-term shareholder engagement and stewardship.
"SRD II adds a layer and goes further, covering areas not in SRD I on shareholder rights and general meetings. SRD II is very ambitious", says Thierry L'homme, counsel at Linklaters. Most notably, SRD II pays attention to the role of proxy advisers; intermediaries; asset managers; institutional investors and Related Party Transactions (RPT).
SRD I was notable as the first EU law to establish minimum shareholder rights, although laws existed in member states that already met some, or all of the requirements. A key requirement is the facilitation of shareholder voting across national borders. It also states that the threshold required for shareholders to set an item on the general meeting agenda should not exceed 5% of share capital, and that shareholders should be allowed to ask questions at general meetings, which means identifying them. It says that companies should face no obstacles to offering shareholders electronic participation; proxy holders should be bound to observe any instruction received from shareholders; and that shareholders have a right to appoint proxy holders to attend and vote in their name. It also bans share blocking.
SRD I's successor extends into the investment process and is motivated by the short-term risk taking observed during the 2008-10 financial crisis, described as "excessive" by the European Commission. Its core elements include shareholder say on pay; the identification of shareholders and provision of information on shareholder identity from intermediaries; and a minimum threshold of 0.5% of share capital for requesting holder identification. Intermediaries have to facilitate the exercise of the rights by the shareholder; while a 'comply or explain' rule applies to investors and asset managers to disclose their policy on engagement. Proxy advisers will be subject to a code of conduct.
Finally, it states that material related party transactions should be submitted to approval by the shareholders or the administrative or supervisory body to provide adequate protection for the company. Companies will have to announce publicly material transactions at the time of the conclusion of the transaction at the latest, with all the information needed to assess fairness.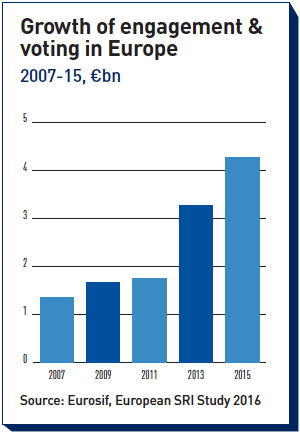 Clearly, some of these laws already apply in certain member countries. Belgium, the UK and France, for example, are among the countries that already have laws in place covering shareholder votes on remuneration. Meanwhile, the UK has a Stewardship Code, which affects institutional investors and asset managers, requiring them to disclose policy on stewardship, monitoring and engagement.
Long-term asset owners sign up to the UK Stewardship Code but hedge funds do not. However, the stewardship disclosure requirements of SRD II are more far-reaching than the UK Stewardship Code, covering thousands more asset owners, such as hedge funds. "High-frequency traders and hedge funds will now be brought into the sphere of the directive and have to explain investment activity", notes David Styles, director of corporate governance at the Financial Reporting Council.
By contrast, the UK rules on RPT, which affect shell companies that may be formed for illegal purposes, for example, are stringent. In France, such transactions have to be approved by a general meeting, but not in Belgium. Across the EU, the new RPT rules would reveal shareholders not on the register but still exercising an influence, such as untraded private companies. Directors may not know or wish to disclose the nature of ownership.
SRD II punches a hole into the tangle created by proxy advisers. Proxy advisers are not regulated at present in the UK – the EU's most significant financial market – and the new measures will need to be transposed into UK law during the Brexit transitional period. Owing to their role, asset managers do not always make their own decisions and the voting process on remuneration reports, for instance, may be a tick-box exercise.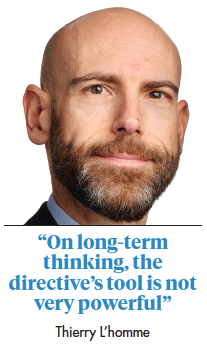 But SRD II seeks to redress this through a disclosure provision for proxy advisers that increases transparency and may discourage short-term share ownership. It requires member states to ensure that proxy advisors effectively report on their application of that conduct code. They should also disclose information relating to their research, advice and voting recommendations and any conflicts of interests that may influence the preparation of the these.
Governance experts differ on their view. However, it is commonly viewed as a step in the right direction, especially on encouraging longer-term stewardship. Comparing it to French laws, L'homme suggests the directive could have gone further. "On long-term thinking, the directive's tool is not very powerful. When a shareholder in France has shares for two years or more, for example, they have double the votes – a fidelity vote. That's not in the EU directive but would have been a powerful instrument", he says.
Despite its ambition, numerous barriers obstruct the effectiveness of SRD II. For example, differences still exist on the definition of shareholders, which affects consistent identification. Some of these concerns date from SRD I and are still being resolved. Secondly, cross-border voting practices continue to be complex owing to ICT data obscurities and technical barriers. "In some countries, power of attorney is needed to vote from abroad in that country. In some cases, one country has been allowed the vote in second country, but a third country has not", says Valentine Bonnet, deputy director for governance at Association Française de la Gestion Financière (AFG).
Commenting on the directive, the European Fund and Asset Management Association (EFAMA) says some parts overlapped with other legislation such as the UCITS directive and MIFID. "We believe this will lead to incoherence of legislation and unnecessary duplication of duties for asset managers", says its director-general Peter de Proft.