Strategists claim a 'covered-call' or 'buy-write' approach to equities can enhance income without assuming the risk of chasing high dividend yields. David Turner explores its potential both as equity-income enhancer and bonds proxy.
Among the many solutions touted by asset managers to boost income in a world of low yields, 'covered calls' or 'buy-writing' – buying equities and writing call options on them – is both one of the more exotic and, arguably, one of the safer choices.
"This type of product was designed to attract people who are yield-starving – who wanted to have higher yield in a very-low-interest-rate environment," says Piergaetano Iaccarino, head of thematic and disciplined equity at Pioneer Investments in Dublin.
As a measure of this increased appetite, Pioneer's Global Equity Target Income fund, which writes call options on holdings in dividend-paying stocks, rose gradually to €250m assets under management (AUM) in the year after its December 2012 launch, but the total has since jumped to €850m. The fund achieved a net yield of 7.5% in 2014, based on a dividend yield of 5.1% and premium income from writing options of 2.4%.
For many investors, an equity-income strategy based on the single pillar of dividend investing is not safe enough. Buy-writing provides a second pillar – steady income from writing calls.
"Low volatility and income generation are the two main drivers of this product," says Iaccarino. "For investors coming from the lower-volatility fixed-income market, it presents them with a good opportunity to familiarise themselves with equities – a good bridge into the equity world."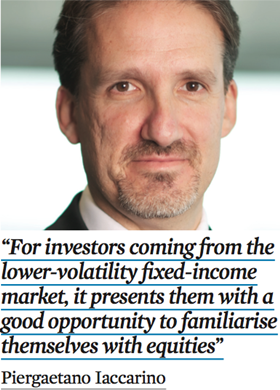 The notion that income funds incorporating buy-writing provide the acceptable face of stock investing is echoed by Rupert Welchman, London-based equities fund manager at Swiss private bank and asset manager Union Bancaire Privée (UBP). In 2011 it launched the UBP UBAM Dividend Plus fund, which uses buy-writing.
"At the time, it was extremely difficult to find private investors in Europe who wanted to invest in equities at all," he recalls. "We thought that the fund would be attractive to risk-averse investors."
On a total-return basis, stock funds that use buy-writing tend to be less volatile than stock funds that do not. This is because they forego much of the uncertain upside of stock price gains in return for the options premia.
"If you sell one-month at-the-money call options for 100% of the notional value of a stock holding, achieving an average rate of 2% a month, you'll collect 24% a year," explains Willem van Dommelen, head of systematic strategies at ING Investment Management (to become NN Investment Partners in April 2015), which manages €1.5bn in funds that use buy-writing.
This is considerably higher than the gross income target of 8.5% (2.5% from dividend yield and 6% from options) and net target of 7% for one of its buy-write funds, the €150m ING (L) Invest Euro Income fund, to take an example, but that's because the fund writes call options against only about 40% of its value, so that it can benefit from rising equity markets. The 'coverage ratios' are continually adjusted above and below 40% of the portfolio's notional value in response to implied volatility, with a higher coverage ratio needed during times of low volatility to achieve the same options prices and premia (the strategy does not tend to adjust option strike prices – it always writes options at-the-money or close to it). Unlike Pioneer, this ING strategy also buys put options to protect 50% of equity exposure at 95% of its value.
Aside from the high-income return and low volatility, buy-writing funds offer another attraction in the volatility risk premium: it has long been observed that the implied volatility priced into equity options tends to exceed the volatility that is actually realised. In other words, because of high market demand from the volatility-averse, funds can sell call options for more money than they should be able to in a perfect market.
Van Dommelen calculates that the historical spread between the implied volatility of one-month at the money options on the S&P 500 index, versus the realised volatility, has averaged about 2.5% over the past 10 years. This translates into an excess return for these options – an extra premium beyond what efficient pricing would suggest – of about 30 basis points, or 3.6% a year.
On the face of it, there ought to be a case for adjusting the amount of call writing you do, or adjusting the strike prices, based on perceptions of value in the underlying equity market.
Brad Berggren, Westport, Connecticut-based CIO at options overlay manager Parametric Risk Advisors, a subsidiary of US investment manager Eaton Vance, argues against such tactical approaches in favour of highly disciplined, systematic approaches to buy-writing.
"There are investors who say that if they believe their market is richly valued, they will sell call options because we're the top of the cycle, and if their market is cheap they won't, or they'll sell them further out of the money," he says. "But if you really think equity markets are overvalued and there's a high chance of a decline in a particular stock, perhaps you shouldn't be long in it at all."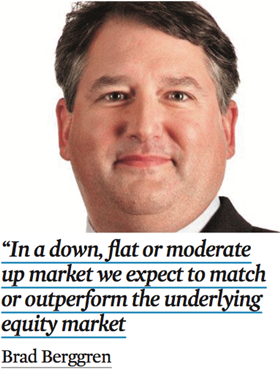 Pioneer, however, has a less systematic stance. It is prepared to write at-the-money call options for 100% of the notional value of a stock at points "when this stock is on its way out of the fund anyway", as Iaccorino puts it. It also takes a highly discretionary approach to the selection of options for individual stocks, applying technical and fundamental criteria to give a sense of the upside potential for each stock over the four-to-six-week time periods of its options.
Companies that have a "specific catalyst", including quarterly earnings results, are excluded, because of the greater risk that the option will be exercised.
The conflict between the intellectual case for a systematic posture and investors' tendency to think tactically creates a tension.
"In a down, flat or moderate up market we expect to match or outperform the underlying equity market. But in an extremely strong up market we would, without a doubt, expect to underperform with buy-write options," says Berggren.
Since 2009, therefore, US buy-writing strategies have underperformed the S&P 500. A tactical investor might decide to stay away if it thinks equities are still in a bull run. A buy-writer with a systematic approach would invest throughout the cycle.
Bull markets clearly tempt some investors away from buy-writing. Welchman of UBP says clients have switched money into long-only UBP funds. However, for Pioneer's largely Italian clients, buy-writing is part of a long-term journey away from bond-heavy portfolios.
Equity buy-write strategies: A bridge into the equity world for the yield-starved
1

Currently reading

Equity buy-write strategies: A bridge into the equity world for the yield-starved

2

3

4

5