---
At a glance
• The European bull market might be coming to an end.
• The European economy is improving although global macroeconomic conditions are still turbulent.
• The big divide in European equities is between value and growth.
• Views on valuation are mixed.
The European equity market has surged in market capitalistion since 2009, but not necessarily because company earnings have increased. As Barry Norris, CEO of Argonaut Capital Partners, points out, although European corporate earnings recovered spectacularly in 2010 (rising by over 40% in aggregate), from 2011-15 they have, at best, tracked sideways, meaning that most of the return generated over the bull market (and all of the return since 2011) came from a re-rating – from a price/earnings (P/E) ratio of eight times to a P/E ratio of 15 times. "This is not illogical given the more eye-watering valuations in the bond market," he says. "As bond yields have fallen this has increased the relative attractiveness of equities and the willingness of investors to pay higher multiples for the same corporate earnings."
Norris would have been more comfortable if the European equity market had been generating more of its return from rising corporate profits rather than just more expensive valuations. The stock market roared ahead during a period of economic stagnation in Europe, but now that the economy is showing strong signs of recovery, what does it mean for the equity markets?
As Norris points out, apart from cheap money, the main economic news has been mainly negative during the bull market, with the euro-zone sovereign debt crisis, doubts over the sustainability of Chinese growth, collapsing commodity prices, deleveraging of balance sheets, and anaemic economic growth. "There have been few areas of the stock market, perhaps with the exception of the airline industry, which have experienced a profit boom," he says. "In the absence of a positive narrative, simply holding a portfolio of stocks with consistent and predictable earnings – 'bond-type equities' – has been rewarded in this cycle to an uncommon degree."
Future economic prospects for Europe do look more positive. Jean-François Boulier, head of Aviva Investors Europe, says: "The exports outside the euro-zone are not that important. It is good to see that Spain is out of the woods now with its economic growth prospects showing strong momentum. The lower euro is enabling the north of Italy to sell more products in Europe and outside. Despite the difficulties elsewhere in the world, the conditions for firms within Europe and the euro-zone in particular are pretty good."
In Boulier's view the beneficial impact of the oil price collapse should not be underestimated. "Europe as a whole pays half-a-trillion dollars a year for energy. Any reduction of that amounts to a sizeable benefit, much greater than the impact of any central bank actions," he says. "It is unbelievable that people might think that the oil price crash will hurt the European economy. The situation may not improve immediately, but in Europe we are seeing the beginnings of an increase in spending as energy costs are lowered significantly".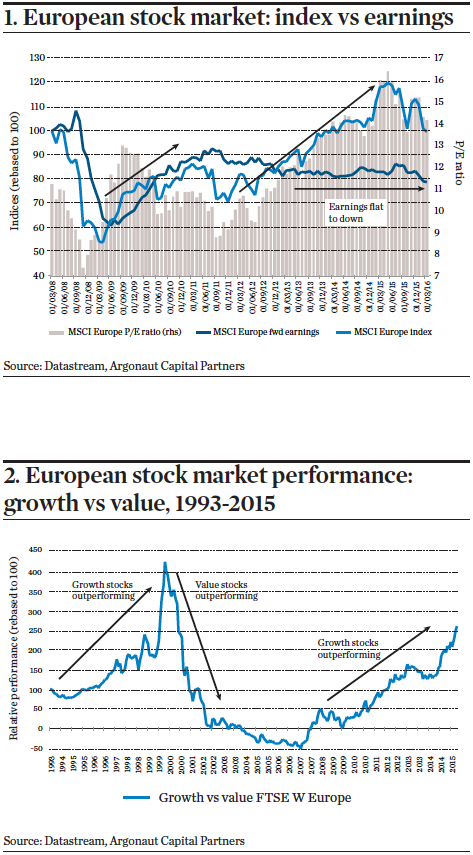 The positioning of fund managers as they shift towards more consumer-oriented sectors has relected that change. Marcus Ratz, partner at Frankfurt-based Lupus Alpha, says: "For the first time in the last 10 or 15 years, we are seeing more opportunities in the consumer space in personal household areas, retail, travel and leisure, rather than industrials." In contrast, as he says, industrials are producer assets and a lot of that growth has been driven by China and emerging markets during the last decade.
For many managers, 2016 is proving to be a difficult year to take a strong stance. Ratz says: "At the end of 2015 everything looked positive. The oil price collapse was a great benefit to European stocks in general, the euro itself had come down, which is also positive for Europe's competitiveness. During 2015, credit lending also started, which is another positive sign. From a European perspective, all lights are on green."
But despite this, the markets have seen turmoil and increased volatility with the global economy facing some significant headwinds. "The strength of the US dollar has had a negative impact on the US – especially on the multi-national companies, as the 2015 Q4 figures showed, and also on emerging markets where many entities found themselves with dollar loans which became much more expensive to service," says Ratz. "The shift in China from a producer to a consumer economy is causing a lot of volatility and uncertainty. It is a difficult cocktail of macroeconomic ingredients that we now face."
The most toxic ingredient, according to Laurent Ducoin, head of European equities at Amundi Asset Management, has been the fear of deflation. He sees the maintenance of a stable renminbi (RMB) as critical, not only to enable China's growing middle-class to import consumer goods, but also to ensure that there will not be stronger capital controls imposed on currency outflows. "The danger was that a series of rate hikes leading to a stronger dollar would put pressure on the RMB, with China exporting deflation if the RMB had been devalued," he says. "That looks less likely now with the likelihood of only one more rate hike this year by the Fed."
While the outlook for the European economy is looking better, Boulier is also optimistic on prospects for European equities. He says: "A number of European companies are in good shape. Since the start of this year, we have had a number of better-than-expected profit announcements. Profitability has increased more in Europe than in the US."
Stephen Macklow-Smith, head of European equity strategy at JP Morgan Asset Management, points out that European earnings fell in 2015 by 2% and that UK earnings fell because of energy and commodities, Swiss earnings fell because of the appreciation of the Swiss franc and Norwegian earnings fell because of lower oil prices. For the euro-zone, there was high single-digit growth. "The closer you get to the euro-zone economy and the further away you get from internationally oriented companies in the UK and Switzerland, the higher the earnings growth," he says.
Macklow-Smith says European equity valuations are still attractive on the basis that cyclically adjusted earnings are below their long-term average and dividend yields look attractive with an expected growth in dividends. "As credit takes hold, you will see some operating leverage coming out from industries which have been subject to domestic restructuring," he says.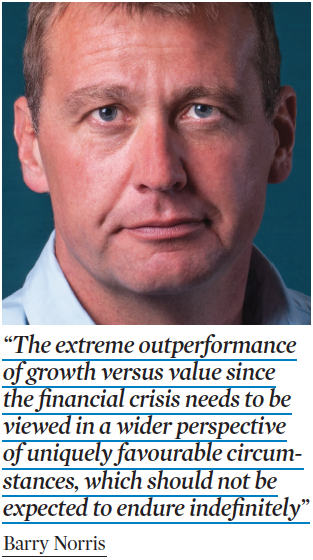 Ducoin concurs and argues that with a robust outlook for earnings, equities look cheap. "The economic environment has improved thanks to a lower oil price, low interest rates and the weak euro." Post-crisis, there have been several reforms in Spain, Italy and France with small but meaningful changes, which Ducoin says are making a significant difference compared with the position of some other countries. "You can see that Europe is changing, with a good backdrop for equities," he says. "There is also scope for operating leverage in Europe, which is still there because profit margins are far from the peak, which is not the case in the US."
While Europe's more favourable growth scenario may contrast with the world at large, breaking down European equities between domestically focused and global is not the best framework for analysis, says Ducoin. Rather, it is between value and growth. "In value, you have very domestic companies in the form of the banks and very global ones in the form of energy and global resources. The dislocation between the two is very strong now, particularly as GDP growth in Europe is increasing. There is a rally of value which could be very painful as the main opportunity is still in growth."
Norris argues that the type of characteristics that growth investors always look for (competitive advantage, strong balance sheet, high return on equity) have been more important in this cycle than normal. By contrast, value investors have commonly found that 'cheapness' has been based on estimates of profitability, which have subsequently collapsed. "The extreme outperformance of growth versus value since the financial crisis needs to be viewed in a wider perspective of uniquely favourable circumstances which should not be expected to endure indefinitely," says Norris.
Despite the optimism of many fund managers, Norris is more circumspect. "It is difficult to get more enthusiastic after seven years of a bull market about the overall direction for global markets in 2016." The recurring theme of the equity bull market has been cheap money and the main source of global liquidity the US Federal Reserve. "The first tightening of US monetary policy is therefore highly significant and can only be a negative market event," he says. "We should realise this is a mature bull market in global assets."
While the European economy may be recovering, it suggests that investors will not be able to extract much more beta return from the European markets. But, given the turmoil, there may be plenty of scope for alpha, providing they can choose the right managers.
European Equities: More scope for active managers
1

2

3

Currently reading

Equity markets slow down

4

5

6

7