There is growing concern that the overuse of antibiotics could have great human and financial costs. Susanna Rust takes a closer look
Something serious is afoot: the rise of anti-microbial resistance (AMR). Last May, Jim O'Neill, the economist who coined the term BRIC (grouping Brazil, Russia, India and China), delivered a report to the UK government that spelled out the global problem of rising drug resistance and proposed solutions to tackle it.
In the foreword to the final report of the Review on Antimicrobial Resistance, O'Neill gives some insight into how his thinking has evolved to the point that "it is now clear to me, as it has been to scientific experts for a long time, that tackling AMR is absolutely essential".
There are two main strands to the problem of declining antibiotic efficacy: first, the human health impact; and second, the economic impact. Alarming figures go with each of them.
Concerning the global health impact, O'Neill's research team suggested that if AMR continues unchecked, by 2050 it could be responsible for 10m deaths a year.
This does not include secondary effects that would come from entering what the World Health Organization has called a "post-antibiotic era", where relatively straightforward medical procedures, such as Caesarean sections or hip replacements, become much riskier.
In terms of the potential economic cost, O'Neill's report values this at $100trn (€93trn) from lost global production between now and 2050 if no action is taken.
"It needs to be seen as the economic and security threat that it is, and be at the forefront of the minds of heads of state, finance ministers, agriculture ministers and, of course, health ministers, for years to come," wrote O'Neill.
It is also on investors' minds.
Fiona Reynolds, managing director of the Principles for Responsible Investment (PRI), says: "Based on conversations we've had with investors, they [too], are becoming increasingly concerned about the material risks posed by antibiotic misuse, which is why the PRI is continuing to monitor this issue very closely."
The reasons for anti-microbial resistance are complex, but one main reason stands out.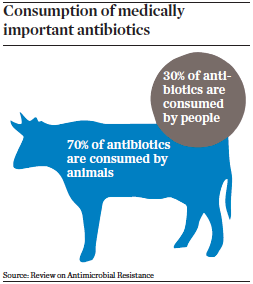 "One thing we do definitely know," says Mark Fielder, professor of medical microbiology at Kingston University in London, "is that the inappropriate use of antibiotics in both human and animal medicine is not helpful. We've used them in many sectors in perhaps a way that might be termed as 'less responsible' and we should have used them differently. To say that it's the fault of one sector or the other, I think is hard to do."
Picking up a recommendation in the O'Neill review, Fielder says better diagnostic tests are needed to facilitate the responsible use of antibiotics for targeted treatment in humans and animals.
The overuse of antibiotics in animal farming is the focus of one of the most visible examples of investor interest in antibiotics.
In April 2016, a coalition of 54 institutional investors with about £1trn (€1.2trn) of assets under management was formed to launch an engagement campaign with US and UK restaurant chains to call for an end to the routine use of antibiotics important to human health in their meat and poultry supply chains.
"The investors are concerned that a failure to confront irresponsible antibiotic use poses significant risks to their investments," according to a launch statement announcing the campaign.
Investors such as Actiam, Aviva Investors, Coller Capital, Natixis, Mirova, and Strathclyde Pension Fund are involved. The coalition was brought together by the Farm Animal Investment Risk & Return (FAIRR) Initiative, which was founded by Jeremy Coller of Coller Capital, a private equity firm, and responsible investment campaign organisation ShareAction.
Asked how Aviva Investors got involved in this area, Abigail Herron, its head of engagement, says: "When we first began researching this topic we fully expected to find that the cause was doctors prescribing antibiotics indiscriminately. However, our investigations took us from the farm to pharma, from livestock to life sciences.
"We found the widespread complacency in the administration of our invaluable antibiotics, especially in intensive farming, has led to dangerously high levels of anti-microbial resistance that risks wiping $100trn off potential global output by 2050."
A few months after the launch of the coalition, Aviva Investors, in conjunction with the FAIRR Initiative and Alliance to Save our Antibiotics, published an investor briefing about the investment risks associated with farm antibiotic misuse.
It argues that "the implications of antibiotic misuse for the investment sector are substantial" and that "excessive use of antibiotics in intensive farming, and the corresponding human health impacts, creates systemic risks across the food, farming and pharmaceutical industries due to the potential for sudden regulatory change and sector-wide reputational damage".
Herron says: "Asset owners and asset managers who ignore the threat of AMR to asset valuations do so at their peril."
More specific arguments in the investor briefing are, for example, that the availability of antibiotics for veterinary use is likely to diminish, which poses the risk of operational disruption for intensive livestock farming businesses, or that rapidly growing consumer awareness about antibiotics in the food chain and antibiotic resistance can change purchasing habits and affect food companies in that way.
With respect to the pharmaceutical sector, the briefing argues that forthcoming regulatory limits and changes to licensing of veterinary medicines "will have material implications for the pharmaceutical industry" and that the market for veterinary products is "uncertain".
At MSCI ESG Research, Julia Giguere, senior healthcare analyst, says the current view with respect to the pharmaceutical industry is that AMR is "a key emerging risk for companies and a substantial public health threat" but "at present the issue is not considered to have a material impact", although MSCI is closely monitoring the risk.
Farm animal welfare is closely connected to the issue of antibiotic overuse and anti-microbial resistance. Perhaps growing awareness about antimicrobial resistance could be a conveyor belt for the pursuit of a values-based agenda about animal welfare.
Engaging with companies and policymakers on the issue of the misuse of antibiotics would seem the right thing for investors to do, although they would have to decide where it ranks in terms of the issues competing for their attention.
Louise Dudley, a portfolio manager on the global equities team at Hermes Investment Management, makes the following point: "Where we draw the line in terms of values versus value is an important consideration, but I think increasingly we are seeing the line almost being blurred," she says, referring to changing public awareness and consumer preferences and how that is putting pressure on food companies "to use the weight of their supply chain" to ensure certain standards are maintained.
"There are many moving parts in this, but certainly at Hermes it is an important consideration for how we look at companies, and whether they are thinking long-term enough," she says.