Smaller companies are realising they must keep up with ESG and impact-investing standards to remain successful
Key points
Smaller companies generally provide less ESG-related information than larger ones
The information gap is narrowing
Small-cap management is becoming more ESG-aware
Moving beyond ratings requires impact measurement
Incorporating ESG criteria into stock selection in a systematic manner is fraught with difficulties. Investors in small and medium-sized companies face the additional problem that publicly available information has been far harder to obtain than for large firms. However, the combination of rapidly increasing demand for ESG criteria to be incorporated together with developments in technology is reducing the ESG information gap between large and small-cap companies.
Montanaro Asset Management, a specialist small-cap manager, prides itself on incorporating ESG information into all its stock-selection decisions. It sees a positive correlation between how well a business fares on ESG grounds and the value it creates for long-term shareholders. However, while third-party providers such as Factset and MSCI are the obvious source of ESG data, Montanaro does not, as yet, buy any third-party data. Mark Rogers, head of research, says: "We have to do all the ESG analysis and data gathering ourselves as the quality of data falls quite sharply for small and mid-cap companies. When we looked at coverage of our companies versus the data you could get from third-party providers, there were lots of gaps everywhere for small-cap companies."
That creates a big challenge, particularly in emerging markets, where, as Chris Varco, head of ESG and impact investing at Cambridge Associates, points out, 30% of stocks can be state-owned enterprises, which have a poor record on ESG. Moreover, as a lot of ESG data is self-reported there is a bias in favour of large companies.
Small-cap companies often employ the same standards as large-cap firms with remuneration linked to ESG key performance indicators. But fund managers have to work harder to uncover them, says Trevor Green, head of UK institutional equity funds at Aviva Investors. More resources are given to fund managers by large-cap companies to produce corporate governance and environmental reports and they will probably have larger teams able to deal with the data. What does speak in favour of smaller companies, though, is that they do tend to be simpler and are often single-product companies.
For active managers with an ESG bias, getting ESG information has meant regular meetings with management to quiz them. Attitudes to such questioning have changed over the years. "If I were to ask an ESG question 10 years ago to a company, I would have felt embarrassed asking it and I don't know what sort of answer I would have got," says Rogers. "Today it seems to be more accepted and you get a professional response."
While small-cap managers may be frustrated with the quality of ESG data available from third-party providers, that is changing. MSCI, for example, which has been collecting ESG data for over a decade, is working its way down the market-cap spectrum. "We are getting more and more smaller companies," says Linda-Eling Lee, global head of ESG research for MSCI. "Our goal within the next year is to cover all the MSCI All Country World index."
Developments in technology do make information gathering easier. "There is an assumption that ESG ratings and analysis are highly reliant on aggregating company volunteered disclosures. That is increasingly not the case as we gain greater and greater access to alternative sources of information on company performance," Lee continues.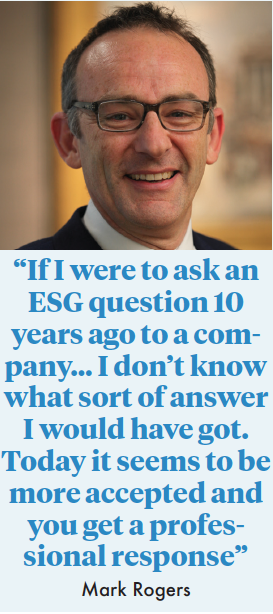 MSCI can access information on, for example, product liability and health and safety from government databases. Last year MSCI expanded into China A-shares, which are not information-rich companies but which have ESG-related information on them accessible in government databases. MSCI also uses NGOs and consumer complaint bureaux. "We aggressively identify these types of sources that produce information that companies won't typically disclose themselves," says Lee.
There are also third-party specialist providers of ESG-relevant data such as Reprisk. It analyses and organises information pertaining to company risks for 120,000 private and listed companies on a daily basis using 90,000 sources in 20 languages. Philipp Aeby, its CEO, points out that while a large company such as BP can weather an environmental calamity, small companies may go bankrupt as a result.
The challenge for fund managers, according to Christopher Greenwald, head of sustainable investment research at UBS Asset Management, is trying to filter out the important news from the noise.
UBS uses Reprisk as one source of information to find out negative news items on any specific company. UBS is monitoring many new start-ups that are using web-crawling tools scouring the internet for information. "There hasn't been a clear leader in this space as yet," says Greenwald. The problem he finds with many news sources is that they focus on speed rather than relevance. "That may be of use to a trader getting a few hours' time advantage, but one of the challenges is that I haven't seen an offering as yet that can produce a good longer-term signal on patterns of news over a three to five-year time period."
ESG-focused investors have been recently cheered by the US Business Roundtable, a grouping of 200 or so of the largest companies in the US, issuing a new Statement on the Purpose of a Corporation, explicitly committing to serving all stakeholders rather than the previous objective of just maximising value for shareholders.
How popular would that approach be with smaller companies? "I don't think you will get highly incentivised, hard-nosed CEOs to change strategy overnight," says Frank Manduca, head of the pan-European small and mid-cap team at UBS Asset Management. But he adds: "More recently, we have come across examples of potential acquisitions that were called off because of the low ESG ratings of the potential acquisitions."
To judge whether all stakeholders are being satisfied does require measurements of the impacts a company is making, both positive and negative. While that would have seemed an impossible task in the past, it looks potentially possible within the foreseeable future. As Lee explains, macro-level data sets enable investors to measure and compare the risk levels of companies just based on knowing what types of businesses they have and knowing where they are located.
In the case of impact on water resources, for example, depending on the type of business activity, firms such as MSCI would know how water intensive that would be and, given the location of business facilities combined with water stress maps enables an analysis of whether those facilities are in competition with other types of demand for water resources.
"For the past 15 years, the ideas behind ESG ratings and impact assessments have been developing in parallel. Regulators and investors in Europe are now about to flip from an ESG integration focus to impact assessment, but the debate in the US is still laying to rest the ESG materiality question and is about five years behind," says Emily Chew, global head of ESG at Manulife Investment Management.
Over the past decade there has been a dramatic shift in the amount of ESG information available on small companies. Management are also more aware of the nature of the information demands of investors which makes them able to deploy limited resources more effectively. That is just as well since, as the ESG and impact-investing bandwagon gathers momentum, smaller companies will have to take notice.
Small & mid-cap equities: Public or private markets?
1

2

Currently reading

ESG awareness grows

3