---
Key points
In December, Chinese senior officials announced the imminent 'launch' of a national emissions trading scheme
The system will initially cover the power generation sector but it is not yet open for trading
The system will be the world's largest emissions trading scheme and aims to cut China's emissions
Among the great and the good gathered by French President Emmanuel Macron in Paris for a climate change summit in December 2017, Chinese vice-premier Ma Kai announced that China would be launching its national emissions trading system (ETS) "in the coming days".
Telling delegates that the country would "steadily advance the building of a national carbon market" as an example of important work to "leverage the catalysing effect of market mechanisms", Ma's announcement met with applause from the meeting in the French capital.
Congratulatory statements were quick to follow. The European Commission, for example, said it welcomed the launch of China's carbon market.
Miguel Arias Cañete, the commissioner for climate action and energy, said: "This announcement sends a very strong signal: the world is changing with new, broad climate leadership.
"With both the EU and China committed to emissions trading, two major international players are championing carbon markets to meet their commitments under the Paris Agreement and curb emissions cost-effectively."
Arguably, however, saying the ETS has been launched is somewhat misleading, in that the system is not yet open for trading to begin.
Instead, according to the China Carbon Forum, the development in December that Ma's speech appears to have captured was the State Council's issuing a high-level planning document for introducing the national ETS.
"They are becoming the intellectual leader on carbon trading"

Paula DiPerna
It set out a three-stage approach for implementation. The first two would involve capacity building and preparation, while the third would usher in trading of carbon emission allowances.
According to Huw Slater, research manager at China Carbon Forum, a Beijing-based platform established in 2007 to exchange information, best practices and engage with China's climate-change stakeholders, some confusion may have arisen from translations.
The Chinese word that was used by Ma in his speech in Paris, and by President Xi Jinping in a 2015 announcement about the ETS was
启动 (qi dong). It can be translated as either start or launch in English. President Xi's 2015 announcement was translated as him saying the system would 'start' in 2017, while many, including Chinese state media, used the word 'launch' when translating the recent speech by Ma.
At a minimum, December's move by the State Council – China's executive – and related activity by the National Development Reform Commission (NDRC), China's top planning agency, means that mo e information about the national ETS has been revealed.
The system will initially cover the country's power sector before being rolled out to further sectors, such as cement, iron and steel and aluminium.
The initial system, only involving the power generation industry, will already be the world's largest carbon trading system, according to Energy Foundation China, the Chinese arm of US-based Energy Foundation.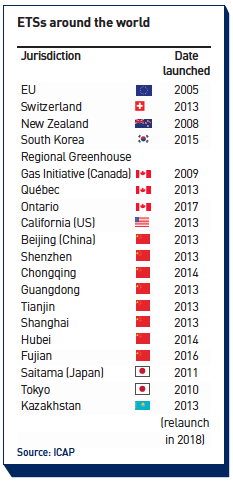 It has said the initial ETS will cover about a third of China's total carbon emissions – about 3.3bn tonnes annually. That compared with 2bn tonnes for the European Union's ETS, it said, and 394.5m tonnes for California's carbon market.
According to the International Carbon Action Partnership (ICAP), emission allowances are expected to initially be handed out for free, based on sub-sector benchmarks, with detailed allocation rules yet to be published. The NDRC will operate the national carbon market jointly with the provincial governments, according to the ICAP.
When China's ETS will be operational is not entirely clear. According to some, the timeline indicated by the State Council's planning document would suggest trading could begin by 2020. A survey carried out by China Carbon Forum last year found that respondents on average expected that it could take until at least 2020 before the national ETS is fully functional.
Overall, the Chinese national ETS is therefore still some years away from being launched in the strict sense of the word. But the amount of time it will have taken to get to that point should not be seen as a failing, according to at least some commentators.
"It is an immense challenge to build a carbon market of the scale and complexity necessary to suit China's national circumstances," noted Qian Guoqiang and Huang Xiaochen of SinoCarbon Innovation & Investment, a low-carbon consultancy and think tank, in a 2017 report from the ICAP.
Commenting on China's December announcement about its ETS, Fred Krupp, president of the Environmental Defense Fund, a US non-profit environmental organisation, said the Chinese were taking a "smart" approach.
"Chinese leaders have drawn lessons from the experience of other countries, and they're moving in a gradual and sure-footed way to make sure they get this right," he said.
The Chinese are being patient, says Paula DiPerna, special adviser to CDP, a UK-based environmental data NGO.
"They are building a system for the next decade or two," she told IPE. "There's a huge amount of understanding – academic and practical – now in China on how to cap and trade works, how trading would work.
"They've studied it, they've been all over the world interviewing people, learning.… they are becoming the intellectual leader on carbon trading."
Plans to gradually develop a national carbon trading market were laid out in China's 12th Five Year Plan, covering 2011-15. Several cities and provinces were directed to independently develop and implement pilot ETSs as part of the preparation for a national scheme. These were set up during 2013 and 2014.
Preparations for a national scheme intensified after President Xi announced in 2015 that China would launch such a system by 2017, according to China Carbon Forum. For example, requirements for high carbon-emitting companies to report their historical emissions data were introduced.
The point of emission trading systems is to lower greenhouse gas emissions. There are 19 such systems in force in the world, with the EU's the oldest, according to the ICAP. The EU's ETS is in its third phase, with changes agreed in 2015 designed to put it on track to deliver the EU's Paris Agreement goals during the next phase. It has been suggested that it is impossible to create a perfect ETS from the start. China's decisions and experience will be closely watched.