---
Key points
Investors say they struggle with a lack of standardised, comparable ESG data
In June the European Commission is due to publish guidelines for climate-related reporting by companies, which integrate the TCFD recommendations
Its proposal has been welcomed but there are calls for more specific binding requirements in the Non-Financial Reporting Directive
This month, the European Commission is due to release guidelines on climate-related reporting by companies.
These are to supplement existing guidelines on non- financial reporting that the Commission published in 2017 in connection with the EU's Non-Financial Reporting Directive (NFRD). This came into force in December 2014, with EU member states having until the end of 2016 to incorporate it into national law.
Publication of the new climate-focused guidelines is part of the Commission's sustainable finance action plan adopted in March 2018.
The guidelines have generally had a lower profile than new laws that are being thrashed out as part of the plan, but, as the Commission says, the latter "depend to some extent on companies disclosing adequate sustainability-related information".
"Without sufficient, reliable and comparable sustainability-related information from investee companies, the financial sector cannot efficiently direct capital to investments that drive solutions to the sustainability crises we face, and cannot effectively identify and manage the risks to investments that will arise from those crises," the Commission says.
The guidelines are not explicitly binding but they could still achieve their goal.
However, the record so far is patchy. The original general guidelines published in 2017 to accompany the NFRD were also non-binding. Yet many investors indicate that the state of current non-financial reporting by companies leaves something to be desired.
In a recent responsible investment primer, the Alternative Investment Management Association (AIMA) states: "One of the greatest challenges managers face when implementing ESG is gaining the necessary data."
AIMA continues: "Issuers are generally not required to disclose information on their performance on most [environmental, social and governance] factors; such data is even more difficult to source for private assets. Third-party ESG data, meanwhile, can be expensive, limited, and inconsistent. As such, it can often be very difficult to gather the data necessary to reliably integrate ESG into investment decisions."
According to the Principles for Responsible Investment (PRI), the quality of corporate reporting on ESG and sustainability emerged as "the number-one issue of concern for PRI signatories who are practising responsible investment" when the organisation surveyed asset owners last year.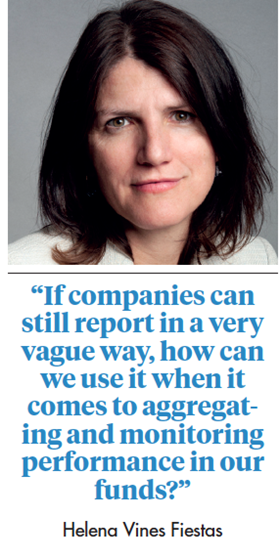 The EU's financial markets supervisor has observed that "the area of non-financial reporting, most notably in relation to environmental matters, is gaining momentum at European and international level, as investors and the public at large ask for more relevant and reliable information to support investment decisions in the context of sustainable finance".
Earlier this year, the European Securities and Markets Authority (ESMA) told the Commission that its proposal for the climate-related reporting guidelines went in "the right direction of helping issuers improving the comparability and quality of their non-financial disclosures".
However, ESMA also said the non-binding nature of the guidelines "falls short of ensuring comparability and enforceability of non-financial information".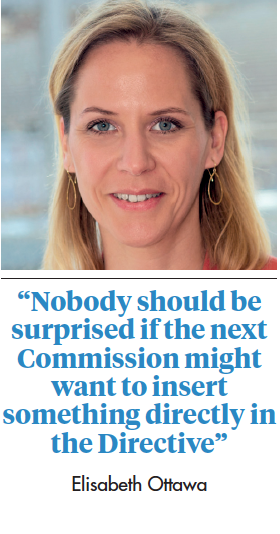 It added: "In particular, questions have arisen in practice as to whether the extensive requirements in the guidelines are consistent with the minimum required by the NFRD, thus resulting in their limited use by issuers."
Investors point out that there is a mismatch between upcoming EU requirements for them to disclose certain information in relation to ESG matters and the voluntary nature of most non-financial reporting today.
Helena Vines Fiestas, global head of stewardship and policy at BNP Paribas Asset Management, says: "The Non-Financial Reporting Directive is excellent but if companies can still report in a very vague way and there's no standardisation and no KPIs that are compulsory and so forth, how can we, as investors, use it when it comes to aggregating and monitoring performance in our funds? How can we then report on the impact of our funds and so forth?"
She says the manager would like the guidelines to become compulsory.
In March, the EU law-making bodies reached a political agreement on legislation that would require investors to report on environmental and social risks to their portfolios and, in certain cases, on their approach to investments that have an adverse impact on the environment and society.
Vines Fiestas expects the guidelines will become mandatory, although she suggests this will depend on the composition of the new European Parliament and its support for "this agenda".
Others are also anticipating a move towards compulsion.
"My assessment, from the conversations I have here in Brussels, is that the Commission will not stop at non-binding guidelines," says Elisabeth Ottawa, deputy head of public policy at Schroders .
"There's a strong push, in particular from NGOs, to go beyond and I think nobody should be surprised if the next Commission might want to insert something directly in the Directive," she says.
Her colleague Andy Howard, head of sustainable research, stresses that "the last thing one wants to do is create more boilerplate language".
He says: "It comes down to what you are trying to achieve. If the goal is to make information available on which investors can make better informed decisions and on which investors can implement more credibly the rest of the sustainable finance package, which does require information that isn't always readily reported by a lot of companies, then the whole value chain has to come with that."