• Lenders see an apparent correlation between energy efficiency and lower defaults
As they examined US mortgage accounts in 2017, Barclays Bank analysts unearthed a fascinating nugget: an apparent correlation between mortgage holder loan performance and home energy efficiency ratings. That discovery has since provoked a wider quest to extract finer statistical evidence to overcome barriers to mainstreaming green property.
In a cut-throat market, what is needed to achieve that objective is data hard enough to compel underwriters to systematically integrate energy efficiency performance into mortgage assessments. If such evaluation were to become commonplace, green mortgages might be released from the narrow niche in which they currently rest, while generating new types of opportunities for investors.
"By bringing energy efficiency into the conversation between banks and consumers by means of a standardised approach to the financing of energy-efficient buildings/renovation…. it could be possible to respond to increasing demand for 'green' on the funding side of the mortgage business by delivering a new asset class," says Luca Bertalot, secretary general of the European Mortgage Federation/European Covered Bond Council (EMF-ECBC). Taking the form of an energy-efficient mortgage, the asset would be used for the purposes of green bond and green covered-bond issuance.
Inspired by that possibility, and incentivised by the urgent requirement for climate-friendly buildings, the EMF-ECBC, alongside a group of financial and property activists, is piloting a new scheme that could help fulfil this potential. Known as the Energy Efficient Mortgages Initiative (EEMI), it will both assemble and analyse more data as well as developing a green mortgage design.
One noteworthy feature of the pilot is the participation of about 30 European banks or their subsidiaries. They include, for example, some German mortgage banks, a few large Dutch banks and large players in the French market. Nevertheless, one clear purpose of the scheme is to convince many more banks to join.
"We need to get close to the market and change the mentality of the market," says Bertalot.
As a financial association, which also benefits from an overview of the mainstream mortgage creation cycle, the EMF-ECBC may be uniquely placed to do so, using the knowledge of its partners to build a blueprint for wider replication. "If you go to a bank, changing everything is a huge cost. But if you offer a gradual set of steps, they can do it. Our role is to follow the value chain from consumer onwards. If you create a set of benefits along the value chain, every link in the chain will move," Bertalot says.
Berlin Hypothekenbank (Hyp) is one of the organisations spearheading the project. Already active in the green mortgage arena, the bank's involvement is connected to a growing green bond programme. In October, for instance, the bank, which specialises in large-volume real estate finance for professional investors and housing societies, issued a seven-year green Pfandbrief (bond) – its sixth green bond since 2015. In total, the bank's green bond issuances amount to €3bn.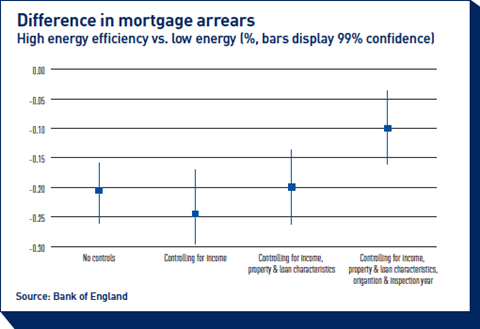 Its green mortgages are based on energy rankings identified through Energy Performance Certificates (EPCs) – mandatory documents for buildings across the EU. "If the building meets our criteria for the green loan, we provide a 10bps discount, that is to say 0.1% off the normal mortgage rate of 2% – which amounts to 1.9%," explains Felix Zillmann, a spokesman from Berlin Hyp's treasury department. "For loans of €5m-100m, which we provide to our customers, all of whom are commercial, that makes a big difference".
The bank's motivation for doing so extends well beyond environmental concerns, however. When in 2014 the European Central Bank (ECB) began to buy covered bonds, some private sector banks became uncomfortable. "We were afraid the ECB policy would lead to a crowding out of the investor base, so we needed to deliver additional value to investors," says Zillmann. The green bond programme evolved in response.
Notwithstanding these persuasive arguments and a leading position in the field, Berlin Hyp's standpoint is specific and not necessarily shared across the sector. Other players, such as large and mainstream banks lending to the general public, might wish to improve the evidence base for greener mortgages supporting increased green bond issuances. However, some of these banks are absent from the pilot. They include, for instance, several large UK banks. Nevertheless, there is growing interest in renewed investigations into green mortgage criteria.
For example, the Bank of England has also applied its experts to the matter, publishing a paper in October. This concluded that the energy efficiency of a property is a relevant predictor of mortgage risk (see figure). But to push more lending bulk towards greener buildings, research findings may need to satisfy a particular hypothesis – that a causal relationship exists between higher energy efficiency and lower mortgage payment arrears.
Clearly, banks prioritise more obvious lending criteria such as credit history and income stability, and it is likely that some of the correlation between energy efficiency and lower default has a straightforward explanation: lower-income people, who are more likely to default, cannot afford insulation. "The challenge is to isolate it as a variable. Is it simply that more creditworthy people are more likely to buy energy-efficient buildings?" asks Stephen Richardson, technical lead at the World Green Buildings Council, which is also involved in the pilot.
The reverse conclusion– that more energy efficiency in a bank's portfolio leads to lower default – could drive further lending towards greener properties.
These investigations may be based on a fragile premise, and much of the data yet to be collected in the EEMI project, whose research is funded by the European Commission. However, that in itself is not holding back the creation of greener mortgage products. As EEMI kicked off, several new schemes were already emerging. For example, Barclays – which is listed as a stakeholder rather than a pilot member – launched a green mortgage in April. This incentivises buyers through preferential interest rates on new-build properties with high EPC rankings. ABN Amro and BNP Paribas – both in the pilot scheme – are others.
Clearly, Barclays is working on a project of its own. Differences between banks, based on their own competitive considerations, may be a positive sign for this germinating segment. But to cultivate new shoots, EEMI is keen to avoid fragmentation. "Part of what we want to address is commonality because of the investor need for consistency and confidence, so that a green bond packaged up in Spain is compatible with one in the Netherlands," says Richardson.