Active managers will find it increasingly difficult to argue stewardship is their preserve
Key points
• The free-rider problem is at the heart of the debate about active management
• Critics claim that passive investors can benefit from the shift to active engagement without having to incur any of the associated costs
• Some passive managers are themselves becoming more involved in corporate governance
• The evidence showing corporate engagement leads to better performance is not definitive
Much ink has been spilt about the shift towards lower cost passive asset management strategies, the magnitude thereof and the implications for active managers. These, according to a dominant narrative, are under siege from this industry-reshaping development.
At the heart of much of the tension between active and passive is the free-rider problem, says Gavin Ralston, head of thought leadership at Schroders.
The logic of the free-rider problem is that by allocating its money to an index-tracking strategy, an investor can reap the benefits of the price discovery and stewardship of active management but at a lower cost. All reasonable investors would follow this path in this scenario. Passive managers would win and active managers lose.
Two debatable claims in relation to stewardship are embedded in this argument. First, passive managers would, by definition, fail to carry their weight as stewards. Second, they would benefit from stewardship in the market in any case.
Talk about stewardship has become commonplace. Regulators, asset owners, and interest groups increasingly expect it and asset managers increasingly position themselves as stewards.
Asha Mehta, senior portfolio manager and director of responsible investing at Boston-based quantitative active manager Acadian, has been following active ownership – to use another term – for some time, and says that in many ways she did not expect it to take on its current level of importance.
"There's no doubt that today active ownership has become a very important part of the [environmental, social & governance] ESG movement, equally important to the integration side," she says.
Passive investors, however, have tended to be seen as passive owners.
Ralston at Schroders puts it this way: "Passive managers have a similar duty to act as stewards of their investments, and indeed they have a stronger incentive to do so since they have no other levers to pull. However, in practice, they have been found wanting."
And yet, although arguably late to the game and having come under pressure as a result, they are increasingly positioning themselves as stewards.
Take BlackRock, the world's largest asset manager. In March, it published its investment stewardship engagement priorities for 2017-18, stating it had developed them in light of "an increased level of interest in our team's work".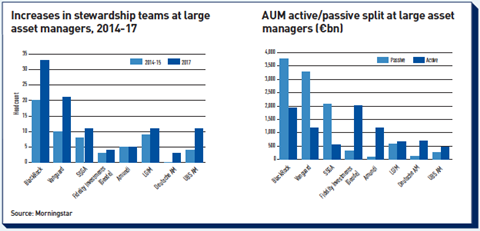 It added: "As a significant number of our clients invest through index-based strategies, engagement is an important mechanism to provide feedback or signal concerns about factors affecting long-term performance, absent the option to sell."
BlackRock has increased the headcount of its corporate governance staff in recent years. In 2012, the manager's investment stewardship team consisted of 20 corporate governance professionals, while in November there were 32.
A similar awakening has occurred at Vanguard, the world's second-largest asset manager and leading force in index-tracking. In 2016, a strategic assessment led it to conclude that it "could better articulate its investor stewardship views and work", and it has taken steps to do so. Its first was to produce a 2017 investor-stewardship report.
For Thierry Bogaty, head of SRI at Amundi, managers managing stocks against an index still have the responsibility of ownership, and practise this.
"Engagement by passive investors can be very effective since company managements know they won't sell the shares and go away," he says. "There is weight in numbers too."
Companies have recognised passive investors for their engagement. In November, ICSA: The Governance Institute, the professional body for company secretaries, gave Legal & General Investment Management, a large index fund manager, an award for 'best investor engagement'.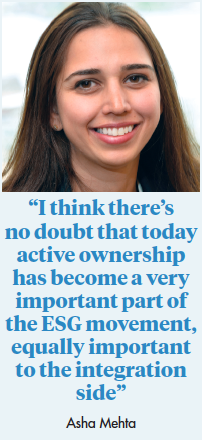 Highlighting that large index managers pronounce a commitment to stewardship or win awards for engagement does not, of course, have to mean that they cannot be found wanting with respect to stewardship, or do not piggyback off more resource-intensive efforts made by active managers.
Morningstar, however, has carried out research which it says shows "index investing does not lead to an abdication of stewardship responsibilities". Hortense Bioy, director of passive strategies research for Europe at Morningstar, says: "Our research shows the largest index managers have stepped up their efforts in the areas of voting and engagement, as they seek to influence investee companies and help improve ESG standards across the board."
All in all, Morningstar said, it was fair to say that most index managers have no intention to free-ride with respect to engagement.
And yet the benefits stemming from engagement are not that well substantiated.
Mehta says Acadian engages with companies because it assumes it will improve performance. The claim is widespread among institutional investors.
When pressed about what evidence there is about the link between active ownership and performance, however, Mehta says it is limited, "simply because we haven't been tracking this for so long".
Joey Alcock, director, public markets investment advisory at Bfinance, makes a similar point. He says the investment consultancy has yet to see definitive and comprehensive evidence that improving corporate governance always generates a meaningful performance advantage for active managers.
This is despite multiple examples from active managers indicating such causality, he adds, but these were typically based on limited and/or specific data pertaining to that manager's approach.
Mehta points to a piece of academic research providing some evidence, however.
'Active Ownership' won the Moskowitz Prize for Socially Responsible Investing in 2012 and was written by Elroy Dimson, emeritus professor of finance, London Business School; Oğuzhan Karakaş, assistant professor, Carroll School of Management, Boston College; and Xi Li, assistant professor, Fox School of Business, Temple University.
In the paper, the academics say they found that successful engagements on ESG issues have been followed by 'positive abnormal' returns, while there was no market reaction to unsuccessful engagements.
They state that active engagement by universal owners on ESG issues differs in motivation from traditional shareholder activism by institutions such as pension funds, and from hedge fund activism and entrepreneurial activism in general.
"Traditional shareholder activism and hedge fund activism typically focus on issues related to the interests of shareholders only," they write, "whereas ESG activism focuses on issues related to the interests of a broader range of stakeholders, including employees, customers, and creditors."
More evidence of a causal link between stewardship and better financial performance would no doubt be welcome given the importance being placed on the former. But it is also arguably because of this that evidence may not be essential. The fact is that, for now at least, more and more asset owners are expecting asset managers to actively engage with investee companies. The train has left the station and passive investors are buying tickets to join the ride.
Active Management: The best of both worlds?
1

2

3

4

5

Currently reading

ESG: Sharing stewardship

6