ESG is still an unpopular investment strategy in Switzerland. How will it overcome this lack of enthusiasm?
Key points
• ESG investing is not highly developed among Swiss pension funds
• Many funds invest passively via indices and exchange-traded funds
• Engagement with investee companies is a popular way to pursue goals
Environmental, social and governance (ESG) investing is still to make its mark with mainstream Swiss pension funds.
A recent poll by consultancy Complementa found that pension funds see ESG products as too expensive and their targets too vague, while specialist mandates are burdened with extra fees. However, over half of the funds surveyed thought ESG could help them achieve higher performance over the long run and reduce risks.
"There is still uncertainty about returns from ESG stocks," says Peter Zanella, senior director at Willis Towers Watson Switzerland. "In my opinion there is not a clear picture that ESG returns are at least as good as returns from 'normal' stocks. And studies show that so-called 'sin stocks' are doing very well. As a company, we currently do not actively float ESG ideas."
Thierry Bertheau, head of institutional client relations at, Robeco Switzerland, says: "It is steadily gaining awareness. But one hurdle to overcome is the lack of understanding, as well as clear definitions and standards. This could be helped by continuous education and insights. Another frequently mentioned reason is the focus on other priorities, such as funding ratios or performance."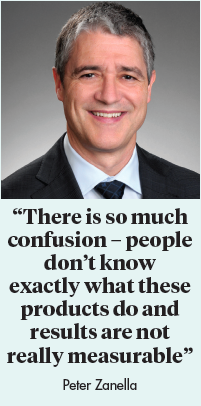 For those pension funds without access to sophisticated screening systems, a readily available list of possible stocks to be excluded is provided by SVVK ASIR (Swiss Association for Responsible Investments).
Many different ESG approaches are offered by asset managers, from standard benchmark-based exclusions to best-in-class or thematic investments.
But engagement is another way to tackle the issue.
Vincent Kaufmann, CEO, Ethos, the Swiss Foundation for Sustainable Development, says: "Currently, active ownership such as engagement and voting is the solution chosen by a vast majority of pension funds. Ethos' engagement programmes include over 130 members demonstrating a growing interest in such a strategy. Interest in excluding sectors such as controversial weapons and coal is also growing among public pension funds."
Zanella says it is more the bigger pension funds – those with portfolios over CHF1bn (€900m) – for which ESG investing might be an option.
"For me, the products are still not available," he says. "There is so much confusion – people don't know exactly what these products do and results are not really measurable."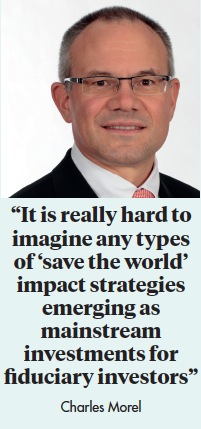 He would like to see new indices covering areas such as corporate governance and pollution within say an ETF, created by managers such as BlackRock, and with total expense ratios on a par with non-ESG indices.
"The Swiss would likely be willing to pay higher expenses, but not two or three times the usual cost," he says.
Meanwhile, Kaufmann says: "We see growing demand for ESG portfolio screenings and the use of ESG filters for defining the investment universe. Passive investment replicating specific ESG indexes is also emerging, thanks to pension fund demand."
While for some investors, ETFs are a natural ESG fit, Daniel Signer, head of multi-asset sales at Vontobel, says his company does not believe they address ESG.
Signer says: "Investors need to understand that index-based vehicles turn ESG investing into a 'computer says no' exercise, where money flows into companies that meet only the most rudimentary of index inclusion criteria, whereas clients expect much more from their investments. I don't believe such products have a chance to fly."
According to Signer, products actively using ESG criteria to improve the risk/return characteristics of investments will be in the position to offer real benefits. "In addition, products which are flexible enough in their design to address the varied requirements that different pension funds have for their ESG investments will be successful," he says.
Bertheau says products with credible sustainability profiles are expected to do well. "We see growing demand for sustainable ETFs, indices, and sustainable enhanced indexing," he says. "These provide a combination of sustainability solutions and low tracking error at low cost. Solar and wind-related sustainable infrastructure also seem to be gaining in popularity. Another candidate could be microfinance, which has been popular for quite some time and might gain further momentum in future."
Charles Morel, head of institutional sales, Switzerland at Lombard Odier Investment Managers, says it will take time for standards to emerge. "This may never happen, as the sensitivity of board members, reflected in their house-specific sustainability policy, might widely differ from pension plan to pension plan," he says. "However, if the current prominence of indexed investments lasts over time, we see more traction in the coming few years for portfolio tilts within a controlled tracking error range, than in high conviction exclusion strategies or theme or impact investments."
If the Swiss pensions regulator were to introduce specific ESG policies this might change pension plan strategies, he says.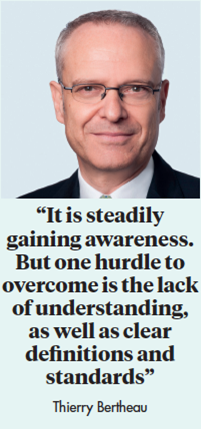 "But at the moment, it is really hard to imagine any types of 'save the world' impact strategies emerging as mainstream investments for fiduciary investors," he says. "Performance and costs are – and will remain – the top priority in the foreseeable future for these investors in Switzerland."
ESG would seem to be an area where pension funds themselves can shape demand by working with asset managers.
Bertheau says: "We see more and more dedicated institutional conferences where sustainable investment is among the most prominent topics. Demand for more information and education in this field has been growing, with the need to raise awareness and new insights coming more from boards of trustees, political parties, NGOs and beneficial owners."
And he adds: "We also perceive some sort of a generation gap with regards to sustainable investing. While elderly pensioners seem to be less sensitive to it, younger beneficial owners seem to be open and socially more sensitive."
Signer says: "Pension funds play an important role in terms of shaping the product offering of asset managers. Asset managers who haven't taken ESG criteria into account up until now will face significant challenges when responding to the changing needs of pension funds."
Corporate governance key to long-term returns
Asked which of the three factors in ESG investing was the most relevant, respondents to a recent Complementa survey voted for 'governance' rather than 'environment' and 'social'.
"Corporate governance criteria, in particular, play an important role in safeguarding solid long-term returns for the investor, since poor management choices and complex corporate structures may have a negative impact on a company's long-term profitability," says Daniel Signer, head of multi-asset sales at Vontobel.
Pension funds wishing to reduce corporate governance risk may use the Ethos Swiss Corporate Governance index, calculated by the Swiss Stock Exchange. This takes into account corporate governance best practice criteria in order to arrive at optimum weights for the different constituents.
The index aims to:
• Reduce corporate governance risks by underweighting or excluding companies that do not apply best practices;
• Reduce the carbon impact by underweighting companies with significant carbon emissions;
• Avoid overweighting companies that are involved in controversy;
• Avoid overweighting companies making up over 15% of the Swiss Performance Index;
• Overweight companies that do not fall into one of the above categories.
About CHF500m of pension fund money is at present invested in funds replicating the index. But engagement is also an important strategy.
"Excessive remuneration schemes for the management of companies remain an important concern for Swiss pension funds and the most contested resolutions during AGMs," says Vincent Kaufmann, CEO of Ethos, the Swiss Foundation for Sustainable Development. "Pension funds are also increasingly looking at the climate change strategy of their investee companies, requesting more transparency and reduction targets of their emissions. Divestment is not the priority, as pension funds are often indexed investors, and currently prefer voice over exit."
Switzerland: In need of a reformist zeal
1

2

3

Currently reading

ESG: Still the ugly duckling

4

5

6

7