An advisory body to the European Commission has set out a vision for sustainable finance
Last September, the European Commission announced it would establish a High Level Expert Group (HLEG) to advise it on developing a comprehensive EU strategy on sustainable finance.
The group was established in December 2016 and comprises 20 members of the public, the finance sector and academia. It released an interim report in July, with a well-attended public hearing held shortly after in Brussels.
In terms of concrete measures, it presented eight early recommendations.
• Develop a classification system for sustainable assets;
• Establish a European standard and label for green bonds and other sustainable assets;
• Clarify that fiduciary duty encompasses sustainability;
• Strengthen environmental, social and governance (ESG) reporting requirements;
• Introduce a 'sustainability test' for EU financial legislation;
• Create a dedicated organisation to help channel finance towards infrastructure projects;
• Enhance the role of the European Supervisory Authorities in assessing ESG-related risks;
• Unlock investments in energy efficiency through relevant accounting rules.
However, arguably more noteworthy are the 'two imperatives' for Europe's financial system the HLEG has articlated.
The first has to do with ensuring that ESG factors are at the heart of financial decision-making. This has echoes of the ESG integration approach at the level of individual investors, but the HLEG report assigns it a larger significance, linking it to greater financial stability and improved asset pricing.
This would be achieved through better assessment and management of "long-term material risks and intangible factors of value creation", including those related to ESG issues, according to the report.
The second imperative is to direct more capital towards "sustainable and inclusive growth".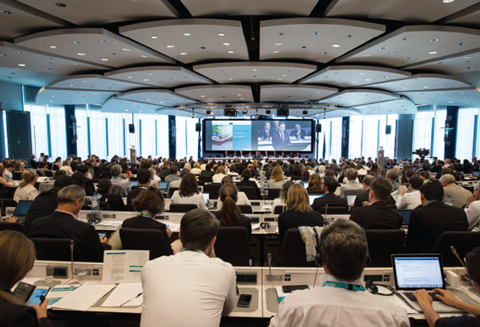 The report referred to mobilising capital "to help solve society's key challenges that require long-term finance", such as creating jobs – especially for young people – improving education and retirement finance, tackling inequality, and accelerating the shift to a decarbonised and resource-efficient economy.
This vision of the role of finance is significant. The implications, from an investor perspective, would seem to go far beyond the idea of ESG integration to protect or increase financial returns.
Presenting the group's interim report at a Eurosif– the European sustainable investment association roundtable on the day of its release, Christian Thimann, chair of the HLEG and group head of strategy, sustainability and public affairs at AXA Group, said: "Of course sustainability is ESG. But it is also so much more, it is really the vision of an economic model that is sustainable in an economic sense, as well as socially and environmentally."
Flavia Micilotta, executive director of Eurosif said the expert group's report showed an understanding that there is the need for a "fundamental paradigm shift".
She continued: "The paradigm shift that sustainable finance entails means reconnecting finance with society and reconsidering the basis for productive investments."
The idea that finance should in part be geared towards ensuring social and environmental sustainability has become more important to some asset owners.
Rob Lake, independent responsible investment adviser, says the angle taken by the HLEG is not surprising and does not "stand on its own". It is, however, particularly significant that the HLEG has demonstrated this thinking given that the group is an official advisory body to the EU, he adds.
"I think it reflects and amplifies, and takes a step further some things that are going on in various places around the world," says Lake. "You can see a pattern emerging of people thinking increasingly systemically about sustainability and finance and the role of the one in promoting the other."
In going beyond the idea of ESG as a portfolio management tool, however, the HLEG's conception of sustainability and finance may pose a challenge to many asset owners, particularly in the UK where many pension fund trustees are concerned about the bounds of fiduciary duty.
The group's report says: "Many people, when asked, say that they do not want to exploit their fellow citizens or the planet in an unsustainable way. But fiduciaries currently tend to ignore these interests, and few beneficiaries are asked about their preferences at the time of investing.
"This leads to capital allocation that exacerbates market failures and undermines society's collective interests and, over time, the economy itself."
Lake continues: "We've lost sight of an inspiration and a vision, which to some extent is coming back to life with this EU group. It goes a long way beyond 'we must integrate ESG because it is financially material'."
Solution or problem?
The Commission welcomed the HLEG's work. At the public hearing on the interim report, vice-president Jyrik Katainen, a former Finnish prime minister, described it as a "powerful and clear manifesto for change".
The solution to funding the investment needed to tackle challenges such as climate change was "essentially the capital markets", he said.
Not everyone agrees with this take. John Kay, chairman of the 2012 review on short-termism in UK equity markets, disagreed with Katainen's suggestion that capital markets were the solution to the problem of sustainable finance.
Focusing on the need for effective long-term decision-making, Kay said he thought capital markets were "much more part of the problem than they are of the solution". Short-term time horizons were not the time horizons of the underlying investors, but were introduced by intermediaries, he added.
"Our financial system over the last 40 years has been characterised by a growth of intermediation that has taken finance further and further away from meeting the real underlying needs of the users of finance," Kay said. "Market-based capital allocation and long-term decision-making are not things which fit very well together."
Many have tried to solve the problem of short-termism before. What becomes of the HLEG's ideas remains to be seen. It has only a few months to put together its final report, which is due in December.
The European Commission has already started working on some measures the HLEG mentioned in its report, but it should decide on the concrete follow-up to the HLEG recommendations by the end of next year.