The Danish government is keen to employ tradeable green certificates, which are designed to broaden the appeal of environmental debt, in its initial green bond issuance
Key points
New ideas for green bonds have emerged with bond and green certification unbundling
Denmark could issue its first green bonds, using a format where the green premium is traded separately
Top Danish pensions funds are positive about environmental debt
Academics say concept leads to lower effective cost of debt for green projects
The story of all financial derivatives begins with an obstacle to trade, and the opening lines of the tale of green certificates is no different.
Thinkers at the Danish central bank and Erasmus University Rotterdam have come up with a solution to an important green bond problem – particularly for smaller and medium-sized issuers – that the creation of green bonds leads to fragmentation and a reduction in overall liquidity.
Unbundling is a simple concept. Instead of issuing a green bond, a sovereign or corporate sells a certain volume of standard bonds and green certificates that certify the earmarking for green purposes. Market participants wanting to finance green investments subscribe to both components, and those with no such need or preference simply sell the certificates to buyers seeking to improve the environmental credentials of their portfolio.
Danish conundrum
Last December, Danmarks Nationalbank, the central bank, announced with the Ministry of Finance, that it was investigating the possibility of such green issuance. The bank said this kind of innovative sovereign debt instrument were being devised as a way to issue green government-backed paper, while at the same time ensuring "a continued well-functioning and liquid market for Danish government bonds."
Though the problem of green bond issuance to some extent drying up liquidity is widespread, it is perhaps in Denmark that the conundrum is most urgently in need of a solution. This is because the country – which has yet to issue sovereign green bonds – is facing higher-than-average pressure on both demand and supply sides.
On the one hand, Denmark's wealthy Solvency II-regulated pensions and insurance sector is thirsty for green investments – thanks in part to the ambitious climate goals of the government under Social Democrat prime minister Mette Frederiksen – and crave long-dated AAA-rated bonds to back pension guarantees. On the other, Denmark does not require an extensive government borrowing programme.
Frederiksen, who took office in June, has set a goal of reducing greenhouse gas emissions in Denmark by 70% relative to 1990 levels by 2030.
Explaining the idea of unbundling green issuance, Danmarks Nationalbank noted in December that sovereign green bonds had already been issued by countries which had bigger funding needs than Denmark. But these sovereigns had done this in ways that, it said, may "challenge liquidity for small sovereign issuers".
Such models either fragmented government issuance programmes, the bank said, or put demands on the amount of green spending. "A liquid government bond market is essential, as a high degree of tradability means that investors are willing to pay a higher price for the bonds, implying reduced funding costs for the Kingdom of Denmark," the bank said.
The central bankers have been talking to stakeholders including Danish pension funds about green certificates, and most funds seem positive about the concept.
Danica Pension, a subsidiary of Danske Bank, took part in several green bond issuances last year, buying swathes of this kind of debt from Ireland, the Netherlands and the World Bank. Poul Kobberup, Danica Pension's investment director, says that investors will have to see how the market reacts now the government and the central bank have found a way to get liquidity into a potential green bond issue.
Much will depend on the pricing, he says: "If someone thinks it's worth 10 basis points [above standard government bonds] then that could be a problem."
At Sampension, deputy CIO Jesper Nørgaard says: "We believe the idea is well thought out – it's a transparent pricing of the issuers 'green' efforts and it retains the liquidity of the overall bond issuances."
Academic thrust
In May 2019, a paper written by Dion Bongaerts, associate professor of finance at Erasmus University Rotterdam (EUR) and Dirk Schoenmaker, professor of banking and finance at EUR's Rotterdam School of Management, proposed unbundling green bonds into a standard bond and a green certificate to take care of the green earmarking of bond revenues. In The Next Step in Green Bond Financing1 the academics wrote that while green bonds let issuers capture a clientele-induced yield discount, they fragmented bond issues, which was bad for liquidity and came at the expense of expected returns.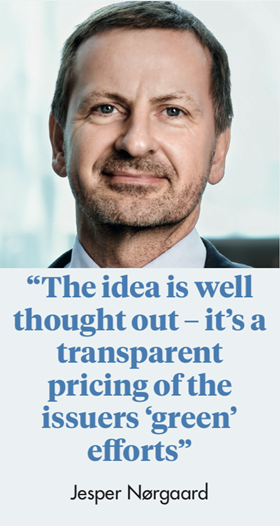 The paper showed that theoretically, in the context of a bond market with search frictions – obstacles to matching supply and demand – separating the two elements of green bonds not only had the effect of leading to higher liquidity for the bonds used to finance green projects, but boosted liquidity for all bonds.
Together, these effects led to a lower effective cost of debt for green projects, which meant that green projects would be more likely to be undertaken, Bongaerts and Schoenmaker argued.
The academics list other advantages in their paper that their concept has over the use of green bonds. For one, the certificates would make it possible to get exposure to a large volume of green financing with a small capital base, because dedicated green investors could buy more certificates.
Also, having a separate price for the certificates makes the financing benefits of green projects transparent for CFOs, which makes it easier to incorporate such benefits into corporate investment decisions.
Another advantage is that by virtue of their prices, the certificates could be used in executive pay packages, thus linking environmental performance to financial compensation.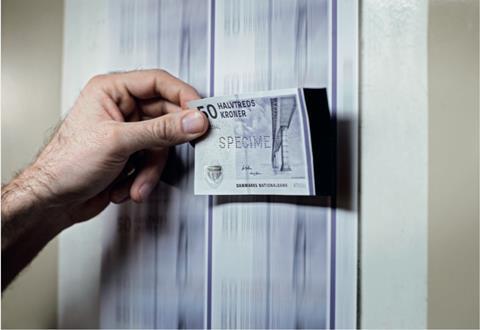 Bongaerts is confident the Danish issuance proposal will succeed, as long as the Danes are willing to ride out any initial bumps.
"They are large enough to generate critical mass, which is needed to get going and do an issue. Eventual adoption will depend on willingness to sit out difficulties associated with immature markets and whether in the first few issues there are no major problems," he says.
Enthusiastic response
Danmarks Nationalbank has indicated there is sufficient interest in the proposed securities from the buy-side, he says.
For such a market to succeed, there needs to be a supportive environment in terms of dealers willing to underwrite, advisers suggesting the instruments, and regulations that facilitate. "Sovereigns would be in a unique position to push this, since sovereign debt is in such high demand," he says.
However, in the conclusion to their paper, Bongaerts and Schoenmaker concede an unintended consequence. Even though the certificates are conceptually superior to green bonds, they say, the instruments could come with some practical limitation – for example, making the costs of green investments more explicit could make it harder for asset managers to sell.
Although this was one of the criticisms the academics heard most often, Bongaerts says he sees this as part of more honest reporting to investors.
"I see it as a tool to curb window dressing in two ways – firstly by facilitating increased performance transparency through more informative prices, and secondly, by the certificates being a signalling tool for investors who really care about the environment, and are not solely interested in box ticking," he says.
1 https://papers.ssrn.com/sol3/papers.cfm?abstract_id=3389762
To read the latest IPE Digital Edition click here
Private and green: Non-listed sustainable debt
1

2

Currently reading

Green bond issuance: Denmark's split offering

3