Ambitious 'net-zero' carbon reduction goals are the latest in the evolution of asset owners' engagement with climate change
More and more asset owners are declaring net-zero goals. Launched in September 2019 with 12 founding members, at the time of writing the UN-convened Net-Zero Asset Owner Alliance (NZAOA) counted 33 members, but there are further investors with net-zero goals that are, for now at least, operating outside the framework of the NZAOA. It is also clear that other pension funds are, or will be, looking to set a net-zero target. Asset managers are also increasingly committing to net-zero, and in December 2020 announced a network of their own, the Net Zero Asset Managers Initiative.
The concept of net-zero refers to achieving an overall balance between emissions produced and emissions removed from the atmosphere. Some worry about too much reliance being placed on the 'net' aspect. Indeed the degree of offsetting pursued by investee companies is one of the difficulties to which at least some investors pay attention.
The momentum around net-zero can be traced back to a 2018 report from the Intergovernmental Panel on Climate Change (IPCC) on the impacts of global warming of 1.5°C above pre-industrial levels and related global greenhouse gas emission pathways.
The report was specific about emission levels, and provided a "stark warning" about the impact even of keeping temperature rises to 1.5°C, the more ambitious Paris Agreement target, says Claire Jones, head of responsible investment at UK-based pensions and investment consultancy LCP.
"Although we've talked about net-zero for quite a long time, we'd tended to focus on 2°C," she says. "The IPCC report gave more clarity on what 1.5°C actually meant, and that if we are to have a realistic chance of keeping temperatures that low we need to reach net-zero as soon as possible, and no later than 2050."

A year after the IPCC report, the UK became the first G7 jurisdiction to announce a commitment to achieve net-zero emissions by 2050. The UK holds the presidency for COP26, the UN climate change conference that was postponed from 2020 to this November owing to COVID-19.
The launch of the NZAOA and the work on a net-zero investment framework by the Institutional Investors Group on Climate Change (IIGCC) are both a reflection of, and further fuel for, the momentum around net-zero.
Net-zero is a powerful concept, says Edward Mason, director of engagement and impact reporting at Generation Investment Management.
"It's clearly difficult as well, but it really just encapsulates the climate challenge better than anything else and also the urgency of it."
He also describes committing to net-zero as powerful.
"I've seen the difference it makes, both at an asset owner and asset manager level," he says. "Making the commitment, making it publicly and owning it brings a whole new level of realisation that you can show leadership in asking companies to make net-zero or Paris-alignment commitments and be assertive in public policy and so on.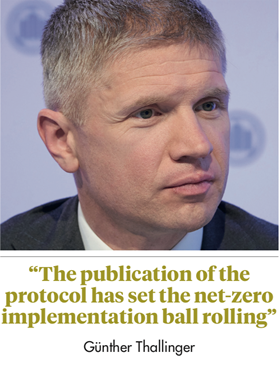 "To go out there and say 'we will get our portfolio to net-zero' just brings a whole new level of reality, urgency and immediacy to it."
Mason was head of responsible investment at Church Commissioners for England before joining Generation in June 2020. The Church of England, which has three national investing bodies, joined the NZAOA in January 2020. Generation Investment Management set a 2040 net-zero goal last year and was instrumental in forming the Net-Zero Asset Managers Initiative.
At PGGM, senior strategist Jacco Koopmans suggests there are governance benefits from setting a net-zero goal, in terms of the focus and direction it provides.
"There are so many different horizons and objectives in our playing field," he says. "You've got Paris, the EU's objectives, you've got the Dutch objectives and they're not different, but they're all framed a little differently. We said let's take it from the longer horizon, net-zero point of view and then everything we do will be aligned with the other objectives as well."
PGGM is the asset manager for €238bn Dutch pension scheme PFZW, which is aiming for net-zero portfolio emissions by 2050. Last November, it set out its policy for the period up to 2025, with 2030 the likely next staging post.
Taking the plunge
Last year, BT Pension Scheme (BTPS), the UK's largest corporate pension fund, received a lot of attention when it announced a 2035 net-zero target. Victoria Barron, head of sustainable investment, says deciding to set a net-zero target "wasn't so difficult" because of the work the scheme had been doing on climate change and the risk it posed. The more challenging part was choosing 2035 as the target date and being confident enough to announce the goal.
She says there were sceptical reactions, which she seems to finds disappointing but also understandable. The problem is data – "not having all the information at our fingertips". She says the concern is shared by other asset owners, but that "the fact is you will never have all the data, you have to make peace with that and go forwards". Still, it is a challenge BTPS spent a lot of time discussing internally, Barron says.
A key data query has to do with the scope of emissions. In some sectors, such as oil and gas, most emissions occur from the use of the company's products – people driving internal combustion engine vehicles, for example. But Scope-3 emissions data is not that reliable.
Another preparatory step BTPS took was to ask its asset managers if there would be a significant impact on returns – the answer was 'no'. Barron also brings up the NZAOA and the IIGCC and says the scheme is working with "the best of the best in the industry". BTPS's new policy draws on the net-zero investment framework being developed by the IIGCC. It is a member of the NZAOA.
Focusing the ambition
Net-zero goals, especially if the horizon stretches out to 2050, are long-term ambitions.
Things are due to get more specific and near-term. In January, the NZAOA published the final protocol setting out how members should set targets for 2025, and these targets should soon begin to surface.
According to the NZAOA, the 2025 target-setting protocol and the subsequent issuing of individual targets represents the first time major investors set and commit to report on interim targets on the way to the 2050 objective.
"The founding of the Alliance and the publication of the protocol has set the net-zero implementation ball rolling," said Günther Thallinger, chair of the Alliance and member of the board of management at Allianz SE, when the target-setting protocol was released.
Udo Riese, ESG integration lead at Allianz Investment Management SE and co-chair of the methods, reporting and verification at the NZAOA, says it is much easier to commit to an "abstract" 2050 target than to a concrete target for 2025.
"With 2050 most reasonable people say we need to do it, it's far away but for 2025 you need to take immediate actions to reach the target."
This has implications for how organisations work, Riese says. "It's a huge change process."
"The main changes are organisational," says Pauline Lejay, head of socially responsible investment at ERAFP, the €37bn French pension fund for civil servants. She explains that in July 2020, five months after joining the NZAOA, ERAFP set up a committee of about 10 individuals, including the CEO, the CIO, heads of asset classes, and herself, to steer the work involved in following through with the commitment it made.
"The goal we have set ourselves is so important we had to modify our way of working," she says.
She also says NZAOA members are confronted with an imperfect situation in regard to data but that this should not be a reason for inaction.
"Not everything is stabilised or settled, but it's not because this is the case that we should not move ahead," she says. "The risks are too present."
The NZAOA is clear that it is out to drive real world change and says it will pursue this "primarily through engagement with corporates and policymakers as well as contributing capital required to finance the transition". For 2025 individual members are supposed to identify either 20 companies with a focus given to the highest emitters, or those responsible for 65% of the investors' portfolio-owned emissions that do not already have Paris-aligned business transition commitments. The investors are then required to set either direct, collective, or asset manager action targets to engage the identified companies.
In their own words
"AP4 supports the Paris Agreement and the more ambitious Swedish environmental objective to reach net GHG emissions of near zero by 2045. AP4's portfolio and investments are to support these goals." - Karoline Hammar, head of communication at AP4
"We had a discussion with the Net-Zero Asset Owner Alliance last fall and got a good impression. But at the time we had to choose where we should focus our efforts (since we have a small staff and try to avoid passive membership) and prioritised the steering group of the Transition Pathway Initiative. We made it clear that it doesn't mean we will not join, only that we had too many engagements at the same time then. We are looking at recruiting and will probably have another look at it sometime after that." - Johan Florén, head of communications and corporate governance, AP7
"KLP is committed to align itself with a 1.5°C emission trajectory that necessitates that we reach net-zero at least by 2050. We announced this commitment in 2019 through an initiative under the UN Global Compact. Following this net-zero commitment, we are now finalising our Paris-alignment framework which details how this commitment translates into aspects such as measuring and scaling our climate finance contribution, calculating GHG emissions from all our investments, how we will assess alignment, and which climate indicators we use for this" - Heidi Finskas, vice president, corporate responsibility at KLP
"The trustee sees climate change as a key financial risk that needs to be mitigated through our investment decisions in order to protect members' pensions into the future. As a result, the trustee will be aligning 100% of the scheme's portfolio to the goals of the Paris Agreement by 2030. This is expected to reduce carbon emissions by at least 50% by 2030 and achieve net zero emissions by 2050." - Spokesperson for Lloyds Banking Group Pension Schemes
"We have not yet committed to a net-zero target. Our ambition is to support and be aligned with the Paris agreement's ambitions. A net-zero ambition could be part of that ambition, but that is not the case presently." - Thomas Kjærgaard, head of investment secretariat & ESG at Velliv
Engagement not divestment
What about divestment? Riese says the common understanding of the NZAOA is that it is not pushing for divestment. In certain circumstances it can be the ultimate consequence of a failed engagement push, "but the idea is that the investee companies need to move on the 1.5°C pathway themselves".
"It's so easy to reduce the carbon footprint of a portfolio, you just reduce your exposure to certain sectors, but that's exactly not the way the members want to do it because exiting those sectors will not reduce any emissions," says Riese.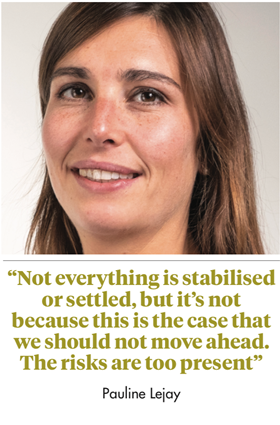 Last December, the New York State Common Pension Fund, valued at $226bn (€186bn), announced a 2040 net-zero carbon emissions target. As part of this the fund will within four years complete a review of investments in energy sector companies. It said divestment was a last resort, but that "where consistent with fiduciary duty," it would take that step if energy sector companies failed to meet minimum standards. The pension fund is not a member of the NZAOA.
Investors can also contribute to change the current warming trajectory by engaging policymakers.
According to Riese, the final NZAOA target-setting protocol contains a strengthened focus on policy advocacy compared with the draft edition. For example, the protocol now says asset owners are to "set action targets on policy advocacy".
Success on this front would appear vital for the cause at hand. In the final 2025 target-setting protocol, the NZAOA states: "A supportive policy environment is critical to the viability of a net-zero transition. Without decisive action by governments to reduce emissions, there will remain insufficient market incentives to allocate capital in line with a 1.5°C trajectory."