The market for non-listed debt with green or sustainability features is growing fast
Key points
Sustainable debt is growing at a remarkable pace
There is a variety of asset classes available, both listed and non-listed
Private debt managers are increasingly embracing ESG and sustainability
EU regulation is pushing for the overall growth of sustainable finance
The sustainable debt market broke several records last year, reaching $1.17trn (€1.03trn) by the end of December, according to BloombergNEF. Issuance during 2019 was $465bn globally, up 78% on the previous year. It was the highest volume ever recorded.
In BloombergNEF's definition, sustainable debt includes asset classes ranging from listed green bonds to non-listed loans. There are narrower definitions of what constitutes sustainable fixed income but, by all accounts, the sector is booming.
Listed instruments represent the bulk of sustainable debt but there is a clear trend of ESG approaches becoming more prevalent among non-listed assets.
Green loans and sustainability-linked loans broke records last year. According to Refinitiv LPC, the volume of green and ESG-linked loans stood at $170bn at the end of last year, having more than doubled since the end of 2018.
Most new issuance took place in sustainability-linked loans. Issuance of such loans jumped 168% to $122bn, according to BloombergNEF.
Even European collateralised loan obligations (CLOs) are becoming green. This young, niche market is worth about €1.5bn, representing a small but growing slice of the €27bn European CLO market, according to S&P Global Market Intelligence.
Sustainability-linked loans are those where the coupon is linked to the overall sustainability of the issuer. The difference with green loans or bonds is that for the latter only the use of proceeds needs to be green.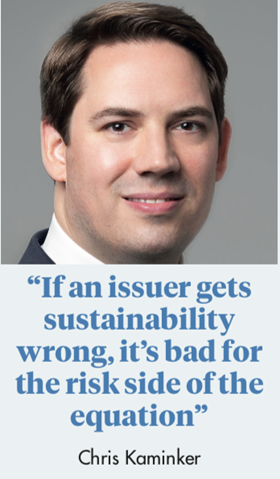 Issuers are also offering innovative types of debt structures linked to sustainability objectives. In the autumn, Enel, an Italian energy company, issued €2.5bn-worth of bonds linked to two of the UN's Sustainable Development Goals (SDGs). If the company fails to meet the SDG targets for clean energy and climate action, investors receive 0.25% extra interest. The bond was four times oversubscribed and highly approved by the investment community.
"We firmly believe that if an issuer gets sustainability wrong, it's bad for the risk side of the equation. That is why we think the Enel bond is an excellent, very positive innovation, as the company's behaviour in terms of SDGs directly influences the outcome of the investment," says Chris Kaminker, head of sustainable investment research and strategy at Lombard Odier Investment Managers (LOIM).
Investors who prefer to hold less liquid assets can seek out non-listed bonds. Kaminker points out that issuers of green bonds often provide additional bonds through private placements. These may be placed at particular points along the curve in response to investors' demand.
Kaminker says: "It's a lively, interesting corner of the market. It is hard to spot these bonds on the terminal, because sometimes they are a tap of an existing bond. They potentially have a secondary market, but they can be considered non-listed because they are placed through club deals."
Green project bonds represent a different opportunity. These are issued by a special purpose vehicle (SPV) or project entity and are often issued to finance renewable-energy projects.
"They are pretty rare, and that's a shame. It's a market that has an important role to play as it increases the velocity of capital formation towards the climate transition. These bonds have many benefits for investors. First, the use of proceeds is very clear. The maturities are longer, so they are interesting for investors who want to hedge both liabilities and climate risk," says Kaminker.
The volume of green project bonds is about $33bn, according to Kaminker. Issuance has grown from $1bn in 2014 to a peak of $7bn in 2017, but then it dropped to $4.3bn in 2018, and was less than $1bn last year.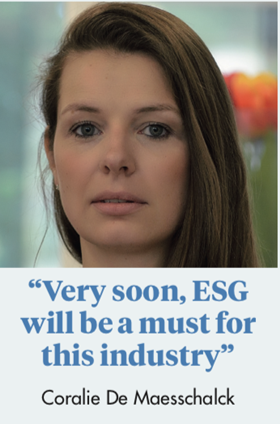 Generally speaking, listed instruments represent the bulk of sustainable debt, although ESG approaches are gaining popularity among non-listed assets.
Private debt goes green
Private debt has also ballooned since the start of the century, from AUM of $42bn in 2000 to over $800bn last year, according to Preqin. Especially in Europe, institutional investors keen to honour their ESG commitments are asking private debt managers to apply an ESG filter.
At Kartesia, a specialist direct-lending manager with €2.2bn AUM, ESG-related questions appear frequently in investors' due diligence questionnaires. Coralie De Maesschalck, head of portfolio and ESG, says: "When I joined Kartesia five years ago, I don't remember receiving any due-diligence questions regarding our ESG approach or our portfolio companies' ESG record. Today, I always expect to receive such questions from most of our potential investors, especially from Europe. Very soon, ESG will be a must for this industry."
Patrick Marshall, head of private debt and CLOs at Federated Hermes, says ESG overlays are becoming more commonplace in private debt strategies. "Progress has been steady in recent years in terms of environmental aspects, but we have started to see growth particularly in the governance and social areas, too," Marshall says.
The greatest challenge when building a direct-lending portfolio that factors in ESG risks is probably the lack of ESG-related data on investee companies, which can often be small and medium enterprises.
Kartesia has partnered with ESG data provider Sustainalytics to build a model that estimates small companies' carbon footprint. De Maesschalck says: "Most companies don't have the data that allows us to estimate their footprint. The model we have built is based on three factors – total revenue, property, plant and equipment and employee count. Based on those factors we will run a peer analysis and estimate the footprint for each portfolio company.
"We come up with estimates and we share them with our investors. We are still monitoring the evolution of these assessments, and are not yet comfortable with making investment decisions based on them. That is the next step."
But when it comes to ESG-proofing a portfolio, the starting point is always due diligence. Kartesia asks prospective borrowers to fill in a questionnaire developed with the UN Principles for Responsible Investment (PRI) network. "The questionnaire encompasses all the aspects of positive ESG behaviour. Based on the answers, we may press for changes with the company's management, or negotiate a change in behaviour," says De Maesschalck.
During the investment-holding phase, the questionnaires are filled in annually. Kartesia's analysts also monitor the press coverage of investee companies.
Marshall at Federated Hermes says his team refuses about one-fifth of loans on ESG grounds. "If we find issues during that vetting process, we will seek to make conditions on the loan, where possible, in order to change the company's behaviour, or we will not partake in the loan. That is key, because, again, we don't feel that our investors would be best protected," he says.
"If we see that an ESG issue arises during the holding phase, we will engage the company to change their behaviour. That adds value to the company as well as reducing risk, putting our investors in a better position as a result."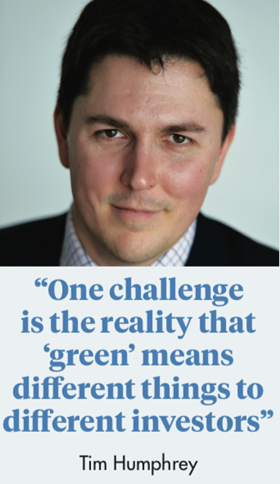 Prospective borrowers, especially in the SME sector, can see the benefit of reviewing their ESG behaviour, De Maesschalck explains. "Small businesses are willing to learn about ESG. They see the analysis as a useful tool. Some of our investee companies have really benefited from our suggestions on both their environmental records and governance structures. A focus on ESG is seen as a sign of a quality lender, and companies appreciate quality," she says.
Private green infrastructure debt is an overlooked asset class, according to Tim Humphrey, managing director and co-head at Macquarie Infrastructure Debt Investment Solutions (MIDIS). But the opportunities are growing.
Humphrey says: "Over the last three years, our analysis of the infrastructure-debt market has shown green infrastructure-debt opportunities to be around a third by volume and around a half by number of investment opportunities.
"This has been driven by the increasing interest and investment in renewable energy, which is set to grow in the coming years, especially as governments strive for carbon neutrality and greater action on climate change. In addition to the credit requirements of renewable energy, there are opportunities in energy storage, transport, agriculture and resource efficiency.
"Green infrastructure debt offers investors the opportunity to earn a higher return than green bonds, due to its complexity and reduced liquidity.
"In other asset classes there has also been an increasing interest in green or sustainable debt. One example is in real estate, where there has been a growing interest in sustainability-linked real estate debt."
The challenge with these asset classes is that placing green debt within a strategic asset allocation can be a challenge, Humphrey says. "Often, absolute returns may not be not as high as direct lending or distressed debt, so it can be overlooked, despite having attractive risk-adjusted returns. Investors need confidence that an investment is green, which requires an understanding of what green actually means.
"One challenge is the reality that 'green' means different things to different investors. Some focus on green to reduce risk, others allocate in order to improve long-term returns, and others allocate for reasons that go beyond pure financial metrics."
Establishing what constitutes green is the ambitious goal of the European Commission's Taxonomy for Sustainable Activities. The initiative seeks to develop a classification system for sustainable economic activities. Coupled with the Capital Markets Union, the initiative should be a catalyst for the advancement of the green and sustainable private debt sectors.
But the role of investors will continue to be key. Thibault Sandret, senior associate in private markets at Bfinance, argues that managers in the private markets have less urgency to show their ESG credibility compared with managers in the public markets. This means the onus is on investors.
"Private markets are mostly under the radar, and that might explain why they are lagging behind in terms of ESG. However, I think investors that truly care about ESG risks can directly influence the behaviour of underlying companies, by encouraging managers to develop better ESG strategies. That is starting to happen, because ESG-focused investors need to report on the impact of their investments."
To read the latest IPE Digital Edition click here
Private and green: Non-listed sustainable debt
1

Currently reading

Private and green: Non-listed sustainable debt

2

3