Simon Klein and Amin Rajan show the reliance of social-related passive funds on equities
Key points
Equities are the preferred asset class for investing in social-related passive funds
Sustainability-linked bonds are set for take-off
Regulators insist that index investing does not exempt pension plans from their responsibilities as shareholders
Stewardship is a key point of competition between index managers, as pension plans are mandated to be agents of change
Last month's article charted the rise of the 'S' pillar of ESG, as COVID-19 exposed the socio-economic inequalities eroding the foundations of key market economies in the wake of globalisation and digitalisation. For now, pension plans' allocations to social-related passive funds are thinly spread and heavily skewed, according to our annual pension survey 'Passive Funds: the rise of the social pillar'.
However, the latest DWS/CREATE-Research Survey also shows that, over the next three years, their asset base is likely to broaden in three respects (figure 1).
Equities will dominate
Currently, 53% of respondents rely on equity-based passive funds to invest in 'S'. This is likely to rise to 62% over the next three years. The implied concentration in a single asset class is driven by several factors.
First, it reflects the current state of the supply of indices for the three pillars of sustainability. These indices reflect a dual hierarchy.
In terms of coverage, they are oriented towards a broad ESG index that mixes all the pillars in a single vehicle. In terms of disaggregation, there is greater coverage of the 'E' and 'G' pillars: the 'S' pillar trails. Additionally, at this stage of their evolution, such indices are oriented mostly towards equities which dominate the broader indices.
Second, the appeal of equities as an asset class of choice has been enhanced by the state of equity markets since the 2008 credit crisis. Quantitative easing programmes have boosted both equity markets and passive funds.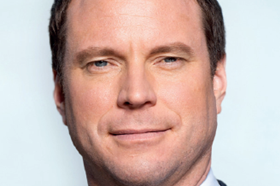 Third, equity investing is especially amenable to stewardship, covering engagement and proxy voting. We shall return to this point.
Fixed income is set to catch up
Only 28% of our respondents invest in the 'S' pillar via fixed income products, a number that will nearly double over the next three years. Most of the current allocations rely on broad ESG indices, while focused thematic funds mostly target 'E' and 'G'.
Supply constraints aside, fixed income instruments tend to rely on a quantitative process that centres on inflation, interest rate, credit quality and liquidity risks. These make it harder to incorporate ESG principles.
As a result, the fixed income indices currently in use pursue multiple Sustainable Development Goals (SDGs) that provide an explicit funding pledge towards specific ends. Issuers are legally obliged to integrate their future intentions in their 'use of proceeds' documentation alongside a framework that earmarks the proceeds towards the target.
However, the transition from 'green' bonds to 'sustainable' bonds and on to 'sustainability-linked' bonds is underway. The latter make coupon adjustments if the issuer does not meet the predefined sustainability targets by a specified date.
Future growth in passive funds is likely to target such bonds as they gain traction. Although they a carry low coupon, they are expected to benefit from price action, as and when they are included in the bond-buying programmes of central banks.
Private markets to see action
An outstanding feature of pension plans' asset allocation over the past 20 years has been an increase in illiquid assets like private equity and real estate. Many plans have developed governance structures and skill sets to venture into these instruments.
However, the rise has yet to be reflected in their allocations to thematic funds relying on indices targeted at private markets because of a current dearth of index products.
Passive funds, by definition, are meant to be liquid. So, creating liquidity around them in private markets has been challenging, especially in areas like private equity and infrastructure; but less so around real estate where real estate investment trusts provide a convenient vehicle. However, over the next three years, innovation is anticipated as appetite for private market indices increases.
For their part, index providers have made progress in devising indices that combine and benchmark various environmental, social and governance components. However, this proliferation of granular ESG indices has been dominated by environmental issues, with fewer indices targeting social issues. So far, there is no industry-wide, singular 'social' benchmark, or key performance indicator, that most investors would agree on.
The main reason is the lack of consistent definitions, standardised methodology and reliable data on the 'S' pillar. Investors have prioritised environmental factors so issuers have developed reporting frameworks on issues such as carbon emissions, fossil fuel reserves and the use of clean energy. On the other hand, few listed companies have the necessary data-reporting frameworks on normative issues such as human rights, community relations and exploitation of child labour. Putting a number on negative externalities of corporate action in the social space has proven a Herculean task.
For now, the best that investors can do is regard available data on the 'S' pillar as a guide, not the truth, while exercising shareholder activism to hasten progress.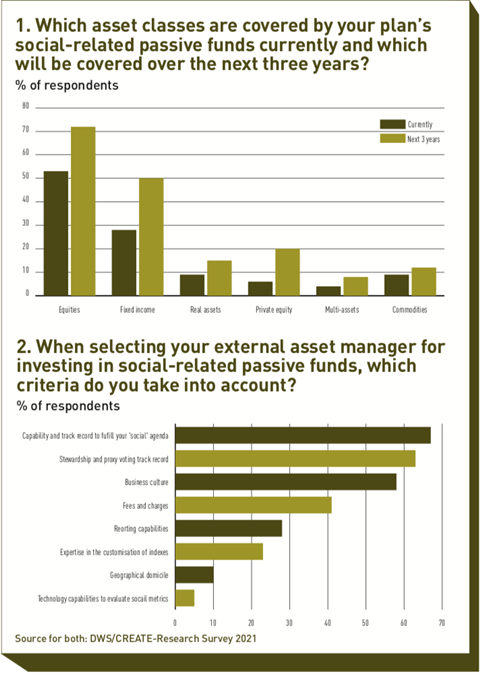 Key manager selection criteria
Accordingly, when it comes to selecting index managers for investing in the social pillar, survey respondents have identified several criteria that fall into three clusters (figure 2).
Sustainability in corporate DNA
The most identified criterion is the manager's capability and track record to fulfil the client's social agenda (67%). Another is the manager's business culture (58%). A less widely identified criterion (23%) is expertise in the customisation of indices. The three are deemed to be closely linked and define managerial pedigree.
Pedigree is vital because the sustainability bandwagon has attracted managers who satisfy none of these criteria, but who have sought to rely on greenwashing.
It is as if sustainability is a flash in the pan: here today, gone tomorrow.
Pension investors are wising up as they see sustainability as an evolutionary journey of experiential learning where ideas beget ideas, talent begets talent, and success begets success. The journey enjoins business leaders at asset management firms to set the 'tone at the top' by doing four things.
First, creating a culture and belief that sustainability is not just another fad but a sea-change in the way investing is done. Second, harnessing the collective memory of the business via joined-up thinking between the investment and stewardship teams. Third, ensuring that portfolio managers and researchers develop the requisite expertise into the dynamics of sustainability factors. Fourth, encouraging regular dialogue with investee companies to monitor progress.
Passively active
Another important, albeit related, criterion is stewardship and proxy voting track record (identified by 63%). This was the subject of the 2019 survey, 'The rise of stewardship'.
As the case study shows, an index is not a fiduciary but that is what investors now expect it to be. With the rise of passive investing since 2005 has come the stigma of ownerless companies that thrive on oligopolistic practices and drain their economies of dynamism and externalise social costs by outsourcing manufacturing to low-cost emerging economies with a poor record on labour standards and environmental protection.
This stereotype sits uncomfortably with pension plans whose fiduciary role is being tilted towards sustainable investing. At its heart sits shareholder activism that targets real-world outcomes at scale.
That apart, activism is also perceived as an instrument of enriching the current infrastructure of data, skills and technology, while it evolves to meet investor needs.
This is all the more pertinent in the case of passive investing where investors cannot cut off the flow of funds to society's corporate 'villains' by dumping constituent stocks in an index – unlike active managers.
The more effective channel for changing corporate behaviours is direct engagement – often in collaboration with other investors to exercise leverage. It is based on the belief that those who are part of the problem can also be part of the solution.
Currently, the top three index managers hold about $20trn (€17trn) of AUM, about a tenth of all global securities. Their potential collective heft gives them a dominant role as agents of change. They and other index managers must strive for positive change, that is the value of patient capital. Clients expect no less.
For their part, clients have to accept that there is no one-size-fits-all tool for social impact. Instead they should expect transparency from their index managers in reporting and a commitment to learn and improve.
Case study of a German pension fund
"By its nature, an index is not a fiduciary, but an opportunity set created by its providers who are not obliged to recognise the interests of its end-investors. A fiduciary, in contrast, is obliged to exercise a duty of care by putting clients' interests above all else.
"For a long time, passive index fund managers have been seen as lazy owners of companies, allowing unaccountable managers to put their own interests above those of shareholders. That stigma of ownerless companies, however, has been fading with the rise of ESG investing, which now enjoins index managers to be active stewards of capital, since they are the forced owners of the shares they hold.
"Unlike active managers, they cannot dump positions in poorly performing companies. With the price of index funds falling over the past three years, stewardship has become a key differentiator in the index world.
"Regulators now expect us to improve our ESG credentials. So, we are enjoining our index managers to actively exercise their voice when engaging with companies in their indices to influence areas that can materially improve the quality of our beta assets. Our ESG investing is becoming more granular as its inherent investment risks are more apparent, more immediate and more consequential.
"Currently, our chosen areas include gender representation at all workforce levels as well as other diversity metrics such as ethnicity and nationality, employee retention, equal remuneration practices and employee well-being programmes to support family and work-life balance.
"The days when stewardship was a box-ticking exercise using a boiler plate narrative are gone. We are mandated to be agents of change. Without active engagement, passive funds risk losing their relevance in the ESG landscape."
Meritocratic fee structures
As competition between index managers has intensified, fees and charges have declined, to the point where they are no longer the key point of competition in sustainable investing. Stewardship is now in pole position.
However, 41% of respondents still see a meritocratic fee structure as a manager selection criterion.
On the one hand, they recognise that, as a value-adding activity, sustainability-based stewardship is expensive, requiring a breadth of knowledge about a company's market environment and regulatory issues, and experience about its business strategy and real-life outcomes.
Multiplicity of skills apart, stewardship requires extensive dialogues over an extended period to achieve targeted goals. Unlike proxy voting, it is not a one-shot exercise. So, fees should factor into its cost.
On the other hand, with the wall of new money now going into passive funds as they advance into the core portfolios of pension plans, the scope for economies of scale remains considerable. This is all the more so as index managers also work with their peers within various global coalitions to influence corporate behaviours towards sustainability goals.
Hence, greater transparency around fees and charges is essential to ensure that the fruits of scale economies are shared between index managers and their clients.
If there is an overriding message coming out of the survey, it is that capital markets alone cannot cure the ills of our societies. Governments need to play a lead role, rather than abdicate responsibility to central banks, as happened after the 2008 crisis. Even so, business leaders today face a choice: they can reform capitalism, or let capitalism be reformed for them by an angry public.
Simon Klein is global head of passive sales for DWS and Amin Rajan is CEO of CREATE-Research and a member of The 300 Club