Euro-zone assets have performed strongly over the past three years despite uncertainty about the region's economy and political tensions. Does a case for investing in the euro-zone still hold, now that an economic recovery seems on track?
The consensus among experts is that the euro-zone remains an attractive marketplace to all institutional investors. This is due to the depreciation of the euro and the lower oil price, two unrelated and welcome factors that have provided strong support to the region's economic recovery.
Florence Pisani, an economist at Candriam, says currency depreciation has the potential to add 1 percentage point to GDP growth over six quarters for every 10% decline against the dollar. Given the 15% decline of the euro, the GDP growth rate could increase by 1.5 percentage points over six quarters. A much-needed increase in business investment, Pisani continues, could be a secondary effect of this growth acceleration. The oil price decrease, she says, "happened at the right time", as it boosted household purchasing power.
On the corporate side, earnings should start increasing, after years of disappointment. Colin Graham, CIO of multi-asset solutions at BNP Paribas Investment Partners, says European corporates will enjoy increased margins, as the weak euro makes them more competitive globally and the lower oil price reduces import costs.
Throw in the quantitative easing programme of the European Central Bank (ECB), which is facilitating access to finance for businesses and households, and there is serious potential for euro-zone assets. Graham says that, if the impact of QE is applied correctly to bond yield mean reversion models, euro-zone sovereign bonds suddenly do not look expensive. He points out that investors who bet on rising yields in the US after the stimulus by the Federal Reserve were caught out.
As the economy strengthens and corporate earnings increase as a result, there is no reason why the region's financial markets should not continue rising. This is especially true for euro-zone equities, given their low valuation compared with their US counterparts.
Against this backdrop, the sectors of the euro-zone that will benefit the most are relatively easy to identify.
Oil producers are clearly not among the winners. Most economists forecast oil prices to be low for the foreseeable future, as global supply continues to outweigh demand.
Filippo Casagrande, head of investments at Generali, sees remaining potential in luxury goods despite the sector performing well during the crisis. Earnings growth for luxury goods companies should be supported by increased competitiveness and by high Chinese demand, where large amounts of wealth have been created. Graham also points out how the proposed easing of import tariffs in China would benefit this and other export sectors.
At a glance
• The weaker euro and lower oil could boost the euro-zone's economic recovery.
• The case for investment in euro-zone assets is strong.
• Export-led sectors are bound to benefit.
• However, structural weaknesses and geopolitical risks should be considered carefully.
They are not alone in this view. Olivier Rousseau, member of the executive board of France's €36bn Fonds de réserves pour les retraites (FRR), is also upbeat on the luxury goods sector, and adds personal goods and aerospace to the list of sectors that should continue performing well.
However, if the economic recovery is robust, it should jump-start some of the sectors that have performed badly recently. Rousseau sees potential in the automotive industry as internal demand picks up.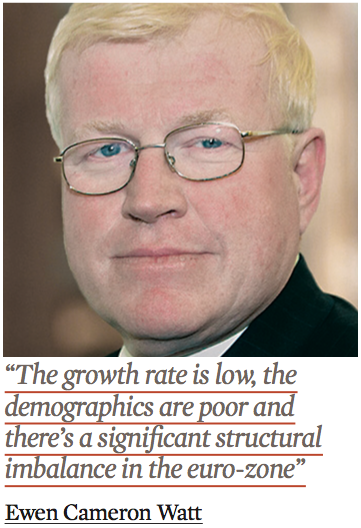 But the real potential might be in less-than-obvious areas of the economy. Maxime Alimi, economist at AXA Investment Managers, says the significant easing of financial conditions brought by QE makes the banking sector particularly attractive. "Banks are a good place to be. If they are able to pass the declines in interest rates on to clients, then lending in the economy should pick up and we could see a recovery of profit margins," he says. He adds that Italian co-operative banks could represent an interesting investment opportunity given the expected consolidation in the sector.
Graham also says that banks are becoming attractive as the deleveraging process comes to an end. However, because that process is not yet over, he says it is better to be exposed to the higher end of the capital structure.
Graham adds that real estate is an area that could generate significant returns for investors, especially in Germany, where the low interest rate environment will benefit consumers and businesses most. "You want to be leveraged into the fact that rates are going to be lower, and you want to be in the area of Europe which is the engine for growth, particularly at this point in the cycle, when growth expectations are still reasonably low," he says.
Aside from sectors, there are more general themes that support further positive performance of euro-zone equities.
Casagrande says there is a strong possibility that the CFOs of euro-zone corporates will engage, following the example of their US counterparts, in large share buyback programmes, thanks to favourable financing conditions. At the same time, easier access to corporate finance could be a catalyst for M&A activity.
Rousseau says that investing in the euro-zone is "mostly a story about earnings recovery". In absolute terms, the region's equities are not cheap but earnings are returning and valuations compare favourably with the US.
He says: "Companies are relatively cautious and will remain so for some time, but the realisation by exporters that business is becoming very profitable may lead them to invest." Rousseau adds that, because business investment was so weak during the crisis, the capital stock for large parts of the industry is old, and businesses will be under pressure to invest.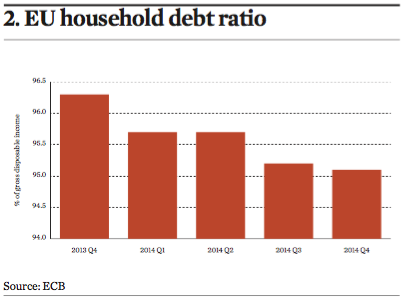 However, the euro-zone's economy must overcome major hurdles if the recovery is to be sustainable. If these risks are taken into account, investing in the region's assets becomes a tough call.
Ewen Cameron Watt, global chief investment strategist at the BlackRock Investment Institute, warns that t he linkage between economic growth and financial market growth is not always straightforward. "The markets tend not to wait for economies to recover," he says.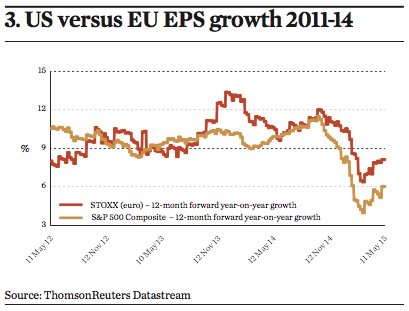 In fact, although new data is mostly positive, Europe's economic recovery has weak foundations. Structural weaknesses, such as fiscal imbalances and poor productivity growth, as well as political tensions, jeopardise the region's attempts to maintain a healthier, and a steadier, rate of GDP growth.
Cameron Watt points to some sobering facts. "The growth rate is low, the demographics are poor and there's a significant structural imbalance in the euro-zone. Germany, the region's strongest economy, is running a huge trade surplus with the rest of the region, where normally the strongest economy inside a single currency block should be the one bringing imports in from the rest of the region."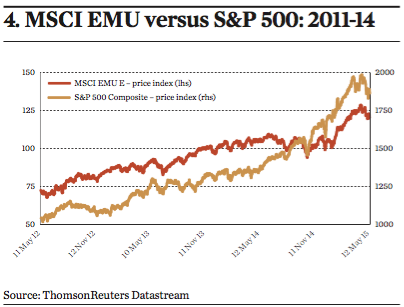 In other words, says Cameron Watt, "the patient is no longer dying, but it is not necessarily fully healthy".
Casagrande says an important caveat to the recovery argument is related to corporate behaviour. "Only if firms choose to exploit the favourable financial environment to invest and gain global market share rather than increase profits will we see an increase in employment, investment and consumer demand", he says.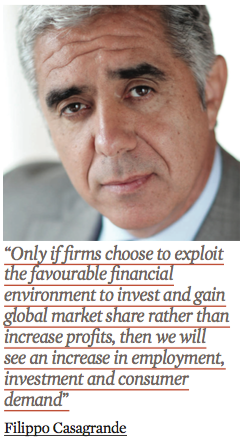 Pisani says the key is in the way the ECB's bond-buying programme transmits to the economy. This, she says, is happening in a "very peculiar" way.
The expectation that monetary expansion will increase household debt, Pisani argues, is being belied. Household borrowing for mortgages and other loans has increased slightly despite lenders' efforts to pass on more favourable borrowing terms to customers.
"If growth has picked up it is not because households are borrowing more," she adds.
And these considerations discount the euro-zone's inherent political risks as well as the performance of the US and Chinese economies, which it is widely accepted Europe cannot do without.