The EU's lack of a common strategy to respond to the rise of China as an economic superpower suddenly came to the fore earlier this year, as Italy joined China's Belt and Road Initiative (BRI).
Italy signed a non-binding agreement that implicitly commits the country to supporting China in international disputes in exchange for investment in Italian infrastructure. Italy decided unilaterally to become the first large European country to join the BRI. Its decision was criticised by EU partners and the US.
However, thankfully, Italy's behaviour prompted Europe to come together and act to strengthen its ties with China. Just before Chinese President Xi Jinping's visit to Italy, the European Commission released a document highlighting the need for clearer strategy to deal with China.
Shortly after Xi's trip to Italy, French President Emmanuel Macron held talks in Paris with him, inviting German chancellor Angela Merkel and EU Commission president Jean-Claude Juncker to participate.
In April, an EU-China summit was hailed as a 'win-win' by both parties, as a joint statement released following the summit established concrete steps to solve trade controversies.
It remains to be seen whether the EU can maintain a united front with China. While the EU-China summit was a success, the path towards reaching a comprehensive China strategy is fraught with difficulties.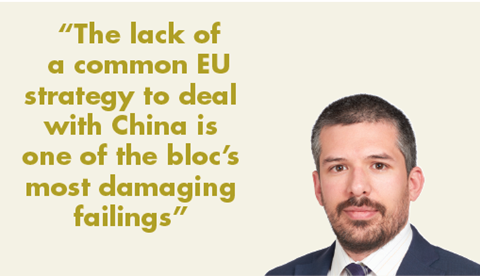 China's 'divide and rule' approach takes advantage of tensions within the EU. For instance, Germany may see Chinese investment in Italian ports as a threat to its dominance of trade.
Competition between EU countries should not be curtailed. However, the lack of a common EU strategy to deal with China is one of the bloc's most damaging failings. Eurosceptic politicians often stoke resentment against the EU for not defending its markets from Chinese competition.
But in the event of an EU breakup, it is hard to imagine how individual countries could apply the same leverage to negotiations with China on trade and other matters.
The significance for investors is apparent. A level playing field for Chinese and European companies in terms of access to both markets would be a huge advantage to both.
However, the EU has more to lose from limitations on trade with China. Finance and trade go hand-in-hand, so better trade relationships should benefit investment.
Let us hope the EU can clearly see the benefits of acting as a unified bloc when dealing with China.
Carlo Svaluto Moreolo,
Senior Staff Writer
carlo.svaluto@ipe.com
Policies needed
1

2

3

Currently reading

Europe belatedly turns eastwards

4