Despite the gloomy assessments there is a positive case for European capital markets
Key points

The prospects for European markets may be better than the figures suggest
There are signs that the European economy is starting to pick up
European consumption remains robust
The region could benefit from a rotation from growth to value
Markets love a believer: you can guarantee that someone somewhere will be recommending 'buy on the dips' as everyone else is resigned to scraping the last bits of that dead cat, which singularly failed to bounce, off the tarmac. For a good half-decade, it has looked like Europe is an example of such misplaced optimism. But there are signs that all may not be as bleak as the headline numbers suggest.
Admittedly there is still a lot to be depressed about in Europe. The euro-zone has lagged behind the US since mid-decade, when it experienced a brief period of outperformance. The German manufacturing sector – Europe's largest – is in the throes of recession. Euro-zone growth dragged along at 1.1% in the third quarter of 2019 compared with the same period last year, its lowest for almost six years. Worse still, October's inflation was 0.7% and falling, so the European Central Bank (ECB) is nowhere near achieving its 2% target. As a result, most pundits have given up on Europe, as the rewards have been slim from the long-awaited mean reversion, and the market seems to have abandoned hopes of a rebound.
"Everybody is negative on European fixed income," says Kaspar Hense, senior portfolio manager at BlueBay Asset Management, given a benchmark return of zero for the asset class.
"We've been bearish on Europe for 19 straight months, for cyclical reasons. Trade conditions have been negative, along with deteriorating data in certain areas. However, recently our view has shifted significantly," says Florian Ielpo, head of macroeconomic research, Cross Asset Solutions, at Unigestion.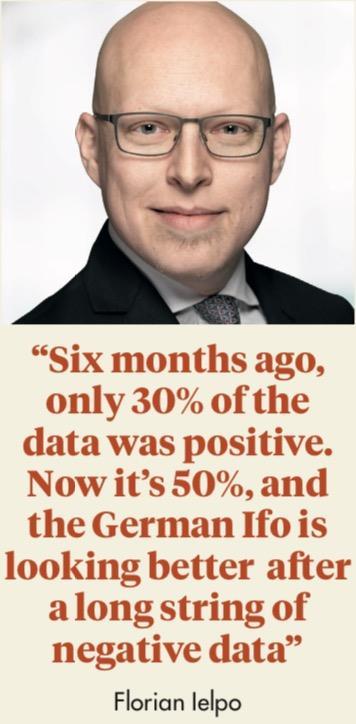 Previously, he says, that negativity had been enforced by 19 months of falling growth indicators, centred around industrial performance, particularly in Germany: "That pushed us away from European equities among others and towards buying European volatility as a hedge." However, today Unigestion notes an increase in positive data, which has been driven by production expectations. "Six months ago, only 30% of the data was positive," says Ielpo: "Now it's 50%, and the German Ifo [business climate index] is looking better after a long string of negative data."
"There have been tentative signs that the European economy may be beginning a bottoming out phase: from a low base, manufacturing data has started to go sideways," says Marc Franklin, head of flexible multi asset at NN Investment Partners. He points to French services activity, which is starting to show signs of activity, and leading indicators such as real money growth looking more positive. While he concedes this will need time to feed through to real economic activity,
"It may be that investors may begin to consider whether pessimism over Europe has become excessive, and this may encourage investment" Marc Franklin
This is reinforced by the expectation that earnings forecasts will increase to the end of the year, sustained by central bank action and improving macro conditions, says Ielpo.
Cash and consumers
Ielpo also sees a positive in robust European consumption, "helped further by the supportive policies of global banks, particularly the ECB". Both consumers and corporates are sitting on cash balances that, if the market's animal spirits are unleashed and coffers unlocked, could prove to be a considerable fillip.
The prime example of supportive central bank policy is the ECB's implementation of TLTRO-III: a series of quarterly targeted 'longer-term refinancing operations', which began in September 2019 and are due to end in March 2021, to help "preserve favourable bank lending conditions and the smooth transmission of monetary policy", according to the ECB.
Steep curves
This has created an (albeit partial) positive environment for fixed income investors, says Hense, as "relative to other G7 countries, Europe has a steeper curve and wider spreads". This, he says, provides opportunities for active credit selection: "And there is less fiscal push in Europe because of Maastricht restrictions, compared to the US or UK. In the latter case, whichever government wins the election is likely to be fiscally stimulative, which is inflationary and therefore bad for fixed income. On the other hand, we don't see the ECB raising rates or inflation being stoked in Europe."
While a steepening of the yield curve is not predictive of economic improvement in any deterministic fashion, it is indicative of market participants' expectation of higher interest rates in the future and of a stronger economy.
Growth, value and tech
Europe could also be a beneficiary of a rotation from growth to value, not least because of developments in the tech sector, says Franklin. The European Commission has been looking intently at where tech companies are booking profits as a means of limiting their tax burden. Globally coordinated regulatory moves on this could negatively impact these companies' earnings, he reckons. The reason this has bearing on the relative performance of the US versus Europe is because tech has performed well until now, which has helped the US, with its heavy tech weightings. Given this, there is a chance that tech might end its run of outperformance and more cyclical stocks might catch up, which would be beneficial for Europe.
"But it's complicated," says Franklin. "As Europe has a heavy weighting towards banks, which are still held back by negative rates. So, alongside cyclicals outperforming tech, deep value would also need to begin to outperform for Europe to take the lead in a sustained way." He emphasises that this is all tentative, and it would also require many investors to even out their positions – "there are a lot of crowded trades out there".
Where's the value?
If, then, Europe does start to outperform, where will this happen – what sectors and countries look best placed to drive this? "Five years ago, Portugal, Spain, Italy and Ireland were a concern," says Ielpo: "Now these economies are performing better, but the likes of Germany and Finland have been in a tight spot. We think that most of the growth improvement will come from these laggards catching up."
From a fixed-income perspective, "there is decent value in European corporates and peripheral sovereigns," says Hense, adding: "We like most of the periphery, and Greece is a particular favourite. Italy has performed well, with a spread of 300bps during the political crisis of last year." To date, Italian government bonds have rallied by 200bps, and political worries still persist, with Salvini's Northern League in power in Umbria and the risk of fiscally expansive budgets, "so we have reduced our position". He says that European corporates also look attractive, where renewed QE is likely to be supportive. In particular, the subordinated banking sector credit is attractive, because spreads are still wide, and regulation will be positive for credit quality, driving tightening spreads.
If Europe's stars align, "this has the potential to be like 2014-15, which was the last time that European equities outperformed the US", says lelpo. However, Franklin adds a note of caution: "This data is very short-term and it's not a foregone conclusion. For example, a negative Brexit resolution, a return to instability in Italy, or an escalation of trade wars could mean all bets are off." For the moment, however, Europe's wheel of fortune looks like it might be spinning once more.