Pharmaceuticals have long been the foundation of Europe's industrial base. Now the sector must fight back against the threat of US biotech companies
At a glance
• Pharmaceuticals are arguably the most valuable part of Europe's industrial base.
• The industry is facing long-term challenges.
• The market is divided into three tiers – pharma giants, mid-sized companies and emerging biotech companies.
• Europe's pharmaceutical sector needs to find ways to emulate the success of US biotech companies.
The European pharmaceutical industry is arguably the jewel in the crown of Europe's industrial base – global businesses that have a larger market cap in total than the US pharmaceutical sector, with a history going back over a century, says Dan Mahony, head of Polar Capital's healthcare franchise. But the fact that over 85-90% of Swiss fund manager BB Biotech's €2.5bn healthcare assets are invested in the US suggests that Europe faces some significant long-term challenges if it wishes to retain its pre-eminence in healthcare.
"We prefer small and mid-sized companies as new investment ideas that have a clear world-class expertise and a focus on specific areas which we hold for upwards of five years. Europe's large pharma companies are solid, good companies, but they are thematically too diversified or even run healthcare conglomerate models. Europe does not see the plethora of small and mid-sized spin-offs and start-ups that we see in the US," says Daniel Koller, head of the investment management team at BB Biotech.
Europe's healthcare industry can be divided into three segments, explains Mahony. "At the top level, there are a handful of giants; the UK's GlaxoSmithKline (GSK), the British-Swedish AstraZeneca, the Swiss Novartis and Roche, France's Sanofi, and you would probably include Danish diabetes specialist Novo Nordisk. These are large, established companies, generally with diversified earnings streams."
Stephen Macklow-Smith, head of European equity strategy at JP Morgan Asset Management, would also include German company Fresenius in that category. He sees a clear-cut division within the group, though. "In the case of GSK and Sanofi, the fact that the market attaches a lower valuation to them suggests doubts about the strength of their future earnings stream. The quality of pharma companies can be seen in the quality of their drugs pipelines and these two are struggling compared to the others," says Macklow-Smith.
Anne-Marieke Ezendam, senior portfolio manager at Amundi Asset Management, concurs: "GSK and Astra Zenecca are facing a number of patent expiries. GSK achieved great success with Zantac and the statins for cholesterol control but after the 1990s, they spent huge amounts trying to find replacements that would give them either greater efficacy or higher safety, which was basically impossible – they were such fantastic drugs. GSK is now in the middle of reinventing their research process to develop a pipeline of new drugs."
The global pharma companies are also facing uncertainties in the key US market as the US healthcare market is in state of flux with the upcoming US elections, according to Ezendam. "Everybody is worried about pricing, particularly given Hillary Clinton's comments. The reality is that everyone in the system benefits from price increases but most of the benefits flow to distributors rather than manufacturers," Ezendam says.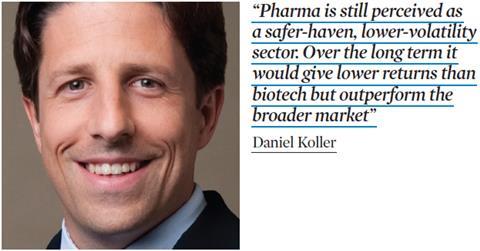 In this scenario, the most important thing is to continue innovating, she argues. "The more specialist a drug or product is, the less it will be facing price pressures. Novo Nordisk, for example, has done amazingly well. Roche has also benefited from a number of drugs such as heparin for breast cancer and Rituxan for leukemia."
The large companies are attempting to adopt more focused strategies to improve their expertise. GSK, for example, passed on its oncology activities to Novartis in exchange for its vaccine business. "Vaccines may not be a rapidly growing business but they generate a lot of cash flow and GSK and Sanofi are the world leaders," says Mahony.
Beneath the pharma giants, Mahony sees a set of mid-sized companies that are owned by foundations or families, such as Danish company Lundbeck, the French company Ipsen, the Spanish companies Rovi and Almirall and Recordati in Italy. "These are businesses that have been around for years, some bigger than others, but they have never stepped up to become global multi-nationals like the top tier."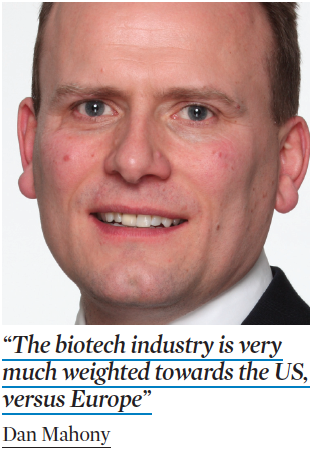 Underneath the mid-sized domestic companies, Mahony sees a string of hundreds of emerging biotech companies of various sizes. "I would say, though, that the biotech industry is very much weighted towards the US, versus Europe. There are many reasons for this, including the availability of risk capital." As Mahony points out, some of the biotech companies are now bigger than the pharma companies.
For Koller, biotech companies are a more attractive investment opportunity than the large European and US pharma companies. "The large pharma companies often lack the disease-specific focus that we would need to have to make them an investment proposition and that drives us always to the small and mid-cap companies, which we can hold for many years. The US biotech company Gilead had a $20bn (€18.4bn) operating cash flow last year. That is a higher cash flow than all pharma companies and a huge success, given Gilead was a $5bn market cap 15 years ago. Very few companies achieve those kinds of stellar growth rates."
The question, says Koller, is how much return do investors expect from their pharma investments.
"Pharma is still perceived as a safer-haven, lower-volatility sector. Over the long term it would give lower returns than biotech but outperform the broader market." As he says, biotech is still perceived as an innovation industry that is more volatile. But the US companies such as Celgene are producing double-digit revenue growth rates with high, sustainable profit margins. "That is why we prefer US biotech over the European opportunities," says Koller.
For Europe, the challenge may not be purely one of generating short-term investment returns. If the jewel in its crown is not to be tarnished over the long term, Europe's pharmaceutical sector must find a way to emulate the success of the biotech companies in the US.
European Equities: More scope for active managers
1

2

3

4

Currently reading

European pharma under threat

5

6

7