Pension Protection Fund was named European Pension Fund of the Year at tonight's IPE Awards 2021 dinner in Madrid.
The UK-based lifeboat fund – which has also bagged the Bronze Fixed Income and the Gold Long-Term Investment Strategy awards – has seen its reserves reach £9bn (€10.7bn) this year, up from the £5.1bn recorded last year.
The PPF, which protects the financial futures of nearly 10 million people from more than 5,300 eligible UK defined benefit (DB) pension schemes, has also this year reported its assets under management grew from £36bn in 2020 to £38bn in 2021 and its growth assets returned 17.6% (£3.7bn), its largest return on this investment portfolio to date.
"I'm extremely honoured and privileged to accept this award on behalf of the PPF, and our members," said Barry Kenneth, CIO of the PPF, in a video message to those gathered in Madrid.
"There's a lot of thought and analysis that goes into setting a business strategy and how we implement it."
He expressed his particular thanks of the PPF board "who've been so supportive of me and what we've tried to build at the PPF over the last eight years".
"I'm so excited and happy to receive this award on behalf of the PPF, so thank you all again."
Denmark's ATP was also a multiple winner, taking home awards for emerging markets, factor investing, pensions governance and administration, alternatives, credit & alternatives, equities, Silver Public Pension Fund and Gold Pension Fund Leader/Team of the Year.
Just last month ATP announced strong investment returns and record results over the past three years, meaning that Denmark's biggest pension fund, was able to increase the pensions of all its members by DKK30bn (€4bn). The increase is the largest in ATP's history and provides all its members – which stand at more than 5 million – a lifelong and noticeably larger pension.
In Spain, GM Pensiones was the country's winner, as it also scooped the award for DC & Hybrid Strategies.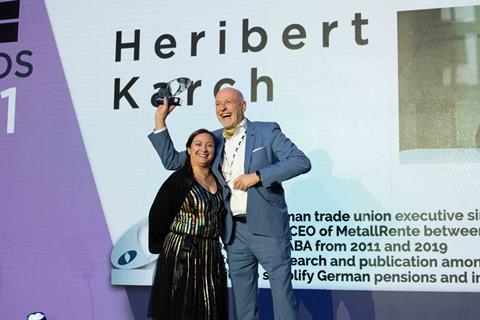 Heribert Karch received the Outstanding Industry Contribution award. Karch is MetallRente's current managing director and will retire at the end of the year after 20 years with the company. A veteran of the German and European pension fund industry, he has also chaired the occupational pensions association Aba.
And the Lifetime Achievement Award went to Bjarne Graven Larsen. The pioneering former CIO of ATP and Ontario Teachers' Pension Plan is the founder and CEO of Qblue Balanced, a Copenhagen-based asset manager, and he has also served as chair of NIO (Nordic Investment Opportunities) and as a board member for Topdanmark.
Gold Awards
European Pension Fund of the Year
Pension Protection Fund
Outstanding Industry Contribution
Heribert Karch
Pension Fund Leader/Team of the Year
ATP
Lifetime Achievement Award
Bjarne Graven Larsen
Long-Term Investment Strategy
Pension Protection Fund
Commitment to Diversity
Fjärde AP-fonden (AP4)
Silver Awards
Active Management
DuPont Pension Plan and Fjärde AP-fonden (AP4)
Passive Management
Enagás
Corporate Pension Fund
Bosch Pensionsfonds AG
Multi-Employer/Professional Pension Fund
PFZW
Public Pension Fund
ATP
Small Pension Fund
MAP Fund
Bronze Awards
Alternatives
ATP
Equities
ATP
Fixed Income
Pension Protection Fund
| Themed Awards | |
| --- | --- |
| Climate Related Risk Management | Brunel Pension Partnership |
| Commodities | APG |
| Credit & Alternatives | ATP |
| DC & Hybrid Strategies | GM Pensiones |
| Emerging Markets | ATP |
| ESG | RPMI Railpen |
| Factor Investing | ATP |
| Impact Investing | Church Commissioners for England |
| Innovation | Brunel Pension Partnership |
| Pensions Governance & Administration | ATP |
| Portfolio Construction & Diversification | Brunel Pension Partnership |
| Real Assets & Infrastructure | APG Asset Management |
| Real Estate | Ärzteversorgung Westfalen-Lippe |
| Risk Management | Amonis OFP |
| Country/Regionasl Awards | |
| --- | --- |
| Austria | VBV Group |
| Belgium | Pensioenfonds KBC |
| Central & Eastern Europe | Swedbank Pension Plan |
| Denmark | PensionDanmark |
| France | ERAFP |
| Germany | Bosch Pensionsfonds AG |
| Ireland | Accenture Defined Contribution Pension Plan |
| Italy | Fondo Pensione Nazionale BCC/CRA |
| Netherlands | PFZW |
| Portugal | Ageas Pensões and Fundo Pensões Banco Santander Totta |
| Small Countries | Almenni Pension Fund |
| Spain | GM Pensiones |
| Sweden | Fjärde AP-fonden (AP4) |
| Switzerland | Pensionskasse Bosch Schweiz |
| United Kingdom | BTPS |
The 2021 IPE Awards attracted more than 330 entries across 44 categories representing 23 countries, with participating investors managing €2.3trn in assets. More than 80 judges were involved in assessing entries, each bringing specialist expertise or knowledge in a particular category.
More than 300 senior pension fund executives attended the IPE Conference and Awards 2021 from across Europe. Video recording of the event can be viewed here.
Find out about all the winners in our dedicated Awards Supplement.