The wide range of uses to which factor investing can be put means investors need to ensure the approach and methodology are suitable for the intended strategy, writes Ian Webster
At a glance
• Despite the surge in popularity, relatively little has been written about the detailed uses of factor investing.
• In essence, there are four approaches – hedging, short-term strategies, long-term strategies and factor allocation.
• Factor investing can be used to allow investors to hedge their exposures more effectively.
• Those who want to use factor investing should consider carefully the construction methodology of any products they are purchasing.
Accurate estimates for the amount of money invested in factors are hard to find. The consultancy firm Spence Johnson estimates that the mutual fund market for factor investing in Europe will increase from €132bn in 2014 to €340bn in 2019, while Lipper has a less optimistic perspective with numbers under €100bn.
The lack of consensus is hardly surprising, because this is a tough figure to calculate. The money invested in exchange-traded products is dwarfed by that invested in swaps, certificates and segregated mandates. And, of course, there are debates on what constitutes factor investing – should 'traditional' growth and value factors be counted?
Even so, there is no disputing the enormous focus on factor investing in the media and in marketing efforts. Growth in factor investing has exploded in recent years.
Yet, while much has been written about factor investing in general, considerably less has been said about more detailed uses for factor investing. As a first step in that process, it is necessary to analyse the impact of a given use on the construction of a factor product. This process ensures alignment between the use and the underlying construction methodology of individual factor products.
Put simply, the use cases for factor investing can be broken down into four generic forms:
• Hedging;
• Short-term strategies;
• Long-term strategies;
• Factor allocation.
This article attempts to provide an overview of all of these approaches and the implications for product selection although, owing to the limits of space, the first – hedging – is explored in more detail.
Hedging
Harnessing factor products for hedging is perhaps their most long-standing use. Many firms take the view that there is a desire to neutralise their book of business to a series of well-known and persistent systematic factors.
Either the individual portfolio manager, or an enterprise risk professional, will decompose the book using factor models and risk analysis tools to understand the 'unintended bets' within the portfolio.
The risk model, much like a blood test for humans, allows users to look at the health of their portfolio by measuring the 'levels' of those bets. And like the doctor prescribing certain pharmaceuticals, so a risk manager can immunise a portfolio by buying a hedging-factor product.
This approach has come in for some criticism: 'How can a standard off-the-shelf risk model possibly analyse the myriad types of portfolios that managers create? It doesn't make intuitive sense.' But that's not really the case. For example, a routine blood test that examines the most basic characteristics, such as red cell count, white cell count, and simple blood chemistry, can be quite revealing.
Similarly, the diagnostics enabled by a generic risk model allow you to examine such bets as size, momentum, leverage and volatility, which may be intended or unintended. The results of that examination deliver considerably greater insights into the 'health' of the portfolio than we had before. Granted, the use of a risk model does not guarantee that there are no hidden risks in a portfolio, but it does tell portfolio managers where they stand with respect to the dimensions that the risk model measures – measures that we have collectively identified over the years as markers of either health or illness.
Yet the story does not end there. Like blood tests, risk models have evolved. Today, just as there are specialised blood tests for specific types of cancers and other disorders, portfolio managers can use customised risk models to gain even greater insights into their own portfolios. It is possible for investors to build customised risk models tailored to a specific investment process – thus overcoming, in one stroke, the main gripe that portfolio managers have had with generic risk models. By more precisely aligning the factors that drive risk and return, custom risk models allow managers to determine if the bets they are taking are properly represented in their portfolios, while also discovering unintended bets.
"Like blood tests, risk models have evolved. Today, just as there are specialised blood tests for specific types of cancers and other disorders, portfolio managers can use customised risk models to gain even greater insights into their own portfolios"
So, in looking at the hedging-use case, what characteristics in a factor product does a portfolio manager or risk professional want to consider? Above we considered two separate risk decompositions: using a standard risk model; and using a custom risk model.
With a standard risk model, the product most aligned with the risk factors will likely provide the most appropriate hedge. In contrast, by more precisely aligning the factors that drive risk and return with a custom-risk model, a specific factor basket could be created to hedge the specific factors within the strategy.
"In a slowing economy, a strategy of protecting against losses might draw an investor to a low-volatility strategy. A converse scenario might drive the investment into growth stocks"
In addition to aligning most closely with the factors identified, it is desirable to obtain as pure a factor exposure as possible. As seen in the February 2015 research paper by Anthony Renshaw, Where Have All the Utilities Gone?, some factor products that claim factor exposure are providing factor bets themselves. In his specific example, Renshaw shows how many low-volatility products are taking large sector bets.
In short, to hedge exposures most effectively, the investor needs factor products most purely aligned with those exposures – getting purity requires optimisation techniques to build the factor, rather than a heuristic approach.
Short-term strategies
As can be seen in figure 1, factor performance of 12-month rolling returns is variable. Each individual factor has distinct characteristics in certain market environments and within particular stages of the business cycle.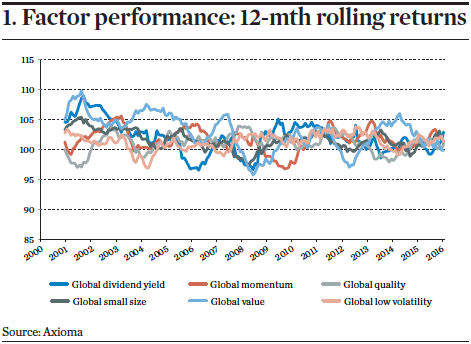 Consequently, factor products can be looked at as a way of taking a position on market conditions or the business cycle. For example, in a slowing economy, a strategy of protecting against losses might draw an investor to a low-volatility strategy. A converse scenario might drive the investment into growth stocks.
Factor investing enables the amplification of a particular view of the business cycle.
Similarly, the factors themselves have certain correlation characteristics that can be traded as a pair-wise strategy. For example, short-term momentum and medium-term momentum are usually negatively correlated; likewise, value and medium-term momentum (although this strategy triggers more debate). However, these strategies need careful review as these correlations are not stable.
When executing short-term strategies, factor construction can play an important part, particularly when executing a pair-wise strategy. Are the pairs constructed using similar methodologies? How different are the correlations between factor products constructed using heuristics versus those constructed using an optimiser?
Long-term strategies
Factor investing is also being marketed as a buy-and-hold strategy. It seems that certain strategies, particularly low volatility, have been able to capture and retain a significant amount of assets. Figure 2 shows strong performance across a series of factors over time. However, as already noted, these returns can be choppy over the business cycle.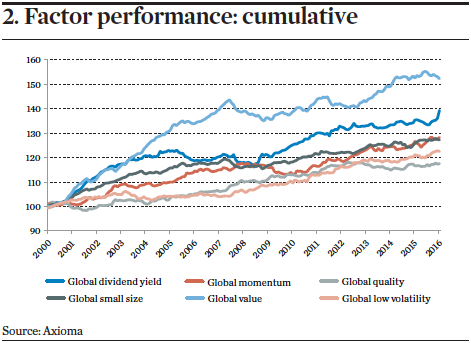 Long-term strategies need to be reviewed as the business cycle unfolds. Performance is not consistent over time. Outperformance of each factor decays at differing rates – this requires either market timing, or looking for factors that have performed consistently over time.
One way to overcome this market cyclicality is by investing in several multi-factor products in the market. These products aim to combine various individual factors to take advantage of their differing performance across cycles. Rather than requiring investors to take timing decisions on which factors perform best in which market conditions, multi-factor products aim to neutralise the impact of market conditions.
Factor allocation
The above discussion focuses on equity factor investing. When moving into an asset allocation use case, there is a need to ensure that the factor-allocation strategy can be aligned across a multi-asset-class portfolio.
Two plans that have received much attention in their use of factor allocation are the Norwegian Government Pension Fund and the Canada Pension Plan Investment Board (CPPIB).
CPPIB describes a total portfolio approach that aims to diversify the portfolio at the level of risk and return, rather than at the level of specific asset classes – the aim being to look through asset class labels to assess risk and make buy or sell decisions accordingly.
The Norwegian Government Pension Fund also looks at factors, rather than asset classes, to better understand risk-return trade-offs, and sees factor exposures as a means of assessing the benefit of adding new asset classes. In addition, the removal of systematic factor risk from active returns allows the funds to pay the appropriate price for 'true' alpha.
Like asset allocation, long-run factor allocation is defined with that exposure being rebalanced just as an asset allocation would be rebalanced.
For pension funds, long-term consistency of performance for factors is key, although the lack of a recognised benchmark for factor allocation is potentially holding back more asset owners from taking this approach. Without the benchmark, the asset owners look to factors with strong academic backing; with long histories of persistent and relatively consistent performance through business cycles; and applicability across asset classes.
As outlined above, the use of factor investing is disparate and diverse. Each use has potential implications for the construction of the specific factor product. Marketers are pitching factors as a single revolution in the investment community. But before buying into the factor-investing revolution it is essential to understand the approach that is being used. It is also necessary to consider whether the construction methodology of the product being purchased is suited to the selected approach.
Ian Webster is chief-of-staff at Axioma