Factor investing might be a relatively new approach but some pension funds are already employing it with success. Others are looking on with interest, finds Gail Moss
At a glance
• Some large European pension funds have adopted factor investing with enthusiasm but many others are still weighing it up.
• The short-term fluctuations inherent in factor investing require careful risk management.
• Denmark's ATP has shifted to a risk factor approach.
• The approach has worked well for SPK, a Swedish pension scheme for the savings bank industry, since completing its shift to the approach in 2015.
Factor investing offers the prospect of higher returns through taking additional risks that are known to be well-rewarded over the long term. Some of that additional risk can be mitigated by diversifying across a range of factors.
As an investment technique that has only recently come into the spotlight, however, factor investing is still being weighed up by most European pension funds, but some pioneers – mainly the larger funds – have adopted it with enthusiasm.
"Interest in factor investing increased after the global financial crisis of 2008, when investors started to question how well-diversified their portfolios really were and what was driving returns," says Simon Lansdorp, a researcher at Robeco, who focuses on structuring client-specific factor investing solutions and developing new investment strategies. "They use it because it is based on a vast amount of academic evidence, and can help them meet their objectives."
For years, factor-investing strategies have been offered by active managers, but what is relatively new is factor investing using indices.
"Compared with active managers, factor investing is more rules-based and transparent than active management, hence significantly more cost-effective," says Eric Shirbini, global product specialist at ERI-Scientific Beta. "Yet it delivers around 85% to 90% of the outperformance of active managers. It also means you don't have to try and find the best active managers, especially that rarity who outperforms the market."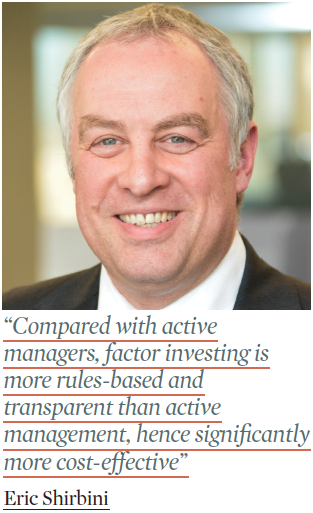 He adds that, while asset managers' fees are all-inclusive, so hard to break down, investors know how much they are being charged for the factor index itself (that is, the intellectual property) and, separately, the trading costs. This, he says, will put downward pressure on costs.
But many pension funds are not yet convinced.
Erik Hulsegge, senior investment manager equities, PGGM, which uses factor investing for its equity portfolio, says: "Some pension funds lack knowledge, so they have to build up their knowledge to understand what factors people are talking about and what they want a specific factor to do. It's about changing the mindset."
Shirbini says: "It's still relatively new, and there's not enough live history of these indices. So pension funds are watching and waiting to see what happens."
He adds: "There are so many different factors out there, it can be difficult for pension funds to choose the right one."
Alexandre Deruaz, head of systematic equities and alternatives at Lombard Odier Investment Managers, says: "Some pension funds prefer not to allocate to factor investing because they consider it 'black-box investing' and believe it is missing the human overlay."
He adds: "Factor-based investment solutions are rather new to the market, and some investors, despite being interested in the concept, require longer track records to be convinced by the results, even if the theoretical foundations of factor investing are decades old."
But Deruaz says market players do not help in spreading the concept, because of their use of imprecise terminology and the numerous variants: "Some investors consider it a simple marketing fad," he says. But he expects increasing interest over time.
Jan Witte, manager of quantitative research, Record Currency Management, says: "Pension funds invest on behalf of pension holders. As such, they have a fiduciary role towards fund members, and are therefore subject to significant government oversight. Considering that conventional performance metrics stem from well-studied and widely appreciated historic ideas, which are now being challenged by factor thinking, many pension funds are, rightly, careful about hastily departing from convention."
But he also expects to see a much more rapid transition in future, as factor investing becomes more prominent and widely understood.
However, Witte is also aware of the potential risks involved. "One possible risk is that short-term fluctuations, in exchange for mid to long-term reward, require careful and skilled risk management," he says. "Also, any new portfolio allocation mechanism, when compared with conventional methods, increases a manager's reliance on their own judgement, which increases the risk of deviation from standard performance measures and benchmarks."
As a whole, pension funds should be natural factor investors, given their long-term investment horizons.
But within this universe, factor investing can also accommodate differences in investment preferences.
"A pension fund where funding-ratio stability is the primary concern would probably be best off with a relatively larger tilt towards a low-volatility factor," says Lansdorp.
"In contrast, a long-term horizon defined-contribution pension scheme with higher growth objectives may favour a tilt towards the value and momentum factors. Beyond this, there are other investors who have no obvious or material factor preferences and wish, instead, to balance and diversify their exposure to risk and factors."
And he says pension funds of different sizes can implement factor investing in different ways. "They can use single-factor building-block strategies, use a core multi-factor strategy or fund, or develop an entirely bespoke factor-driven portfolio," he says.
Hulsegge says that for a pension fund starting out on a factor-investing strategy, the first step is to formulate its investment beliefs, such as: what is the goal you want to reach – is it to improve the Sharpe ratio, or get a higher information ratio? They should then translate this into the right combination of factors.
"Next, they should create appropriate guidelines," he says. "For example, this could be what kind of deviation they want to have at sector or country level. Do they want turnover limits within the portfolio? Or to incorporate ESG [environmental, social and governance] or CO2 limitations? This will help them to set up the right factor guidelines."
Last year, Denmark's ATP completed a thorough overhaul of its portfolio construction, resulting in a risk-factor approach. Each investment is now broken down into four risk factors – interest rate, inflation, equity and 'other'.
'Other' factors include risks from alternative liquid factors (also known as alternative risk premiums) and risks from alternative illiquid investments. Alternative liquid factors are used to isolate niche risks in liquid financial markets, producing a high-risk-adjusted return.
Alternative illiquid factors are used partly to isolate the compensation which must be achieved in return for tying up capital in investment for longer periods of time.
The ATP supervisory board has adopted long-term guideline allocations of 35% of the risk allocated to the equity factor, 35% to interest rate, 15% to inflation and 15% to 'other'.
When embarking on a factor-investing strategy, pension funds usually apply it first to their equity portfolios, but they are starting to look at other areas such as fixed income or across assets.
Shirbini says pension funds are using factor investing to replace underperforming active managers when their mandate expires.
"When they do that, it's important not to invest in a single factor, because losses will hit you at some point in the cycle," he says. "So they invest in a portfolio of factors, using a multi-factor index."
He adds that another popular route is to use low-volatility factors in defensive strategies, investing in stocks such as utilities and consumer defensive stocks.
"Research shows that low-volatility factors don't underperform the market on a risk-adjusted basis over the long term, but in a downturn, you're not hit as badly," he says.
However, he points out the importance of due diligence. "They must make sure they understand the risks," he says. "Factor indices are less liquid than market cap-weighted indices. So pension funds must look at things like liquidity and turnover and choose consultants to help them. Once they have done that, it is relatively straightforward to set up an account with their asset managers."
Deruaz says: "Initially, pension funds invested in specific factors, such as high dividend or low volatility, and the first generation of factor investing provided exposure to single factors."
He adds: "More recently, more attractive solutions are multi-factor strategies, combining the beneficial characteristics of the different factors, delivering better risk-adjusted returns and better stability across the cycle, thanks to the diversification brought by the different factors."
PGGM's clients are using factor investing within the equity sector and, says Hulsegge, capturing not just the equity risk premium, but more stable, higher returns.
He says that minimum variance, value and quality are the most used factors in this area, which includes only developed markets.
"In future, we may see a move towards investing in emerging markets," he says.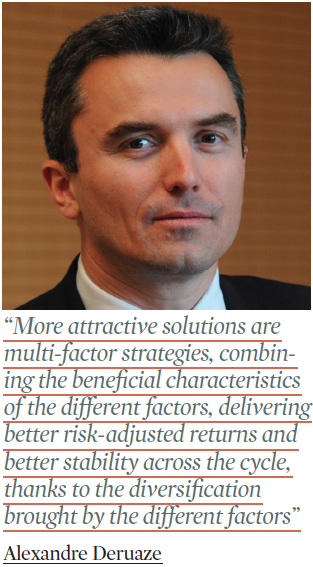 However, some pension funds are still dubious about the concept.
French civil service supplementary pension scheme ERAFP does not use factor investing. It says that if it did, it would want to take into account a variety of factors such as value, momentum and quality to avoid having a portfolio with a unique bias.
The fund said in a statement: "As we are long-term investors, we would have to ask index providers to build indices, or asset managers to create a portfolio which is diversified in terms of factors, in order to have a robust portfolio which can tolerate different market cycles."
And it points out one of the underlying practical problems: "Most of the historical data of those strategies is back-tested. It will be interesting to see how these strategies perform in real life in different market cycles."
This is one of the accepted risks about factor investing. Data mining – examining large pre-existing databases to generate new information – has its weaknesses.
"Factor indices may be based on factors which have been selected because they have performed well over a period of time, without a good economic rationale," says Hulsegge.
He says PGGM takes great care in imposing conditions for investment factors: "They must have a strong foundation in academic research, there must be an economic rationale for the factor, and they must be implementable."
He also points out the importance of keeping a long-term horizon in mind and of monitoring money flows into the chosen factor.
"The greater the money flows, the less appealing the long-term potential of these strategies may be, although that is not happening at the moment," he says.
But he says that one of the ways PGGM protects against potential risks is to have its models validated by the risk department, setting out the right guidelines, and reviewing results frequently.
Case study: SPK's step-by-step approach
SPK is a Swedish pension scheme for the savings bank industry, covering 140 employers and 39,000 beneficiaries.
It started its cross-asset alternative-risk-premia strategy in November 2014, taking about a year to implement it within the whole €2.7bn portfolio.
The aim was to increase portfolio diversification, and also add new return streams.
Stefan Ros, SPK's CIO, says: "We see this strategy as a way to systematically capture sources of return common in hedge funds. Instead of owning some of them implicitly in the long-only world, we now own them in a pure, explicit way by running long or short positions, intended to make them uncorrelated to markets."
Another objective was to reduce expenses and management fees.
In carrying out the project, SPK was after a bespoke strategy, complementary, in terms of risk and return streams, to the rest of the portfolio. It also sought a managed solution.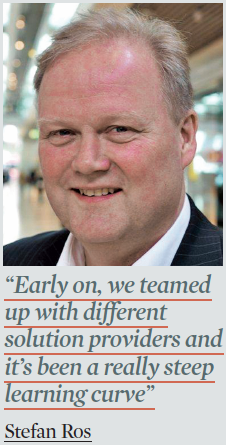 Ros says: "We did not want to trade these premia ourselves or pick and choose between different index providers of alternative-risk premia, so we needed someone who could manage the portfolio and the risks involved for us. Most of our asset management is outsourced to external managers, and we wanted a similar solution."
He adds: "We're a small team and were not experienced in this particular field so, early on, we teamed up with different solution providers and it's been a really steep learning curve."
SPK took a step-by-step approach when setting up the strategy. Ros stresses the importance of being clear about the objectives. He suggests pension funds should ask themselves: "What are we looking for, what risks can we accept and are there particular risks we need to avoid?"
He says one major risk of the alternative-risk-premia approach is from data mining – that is, the existence of historical patterns – for example, in asset price movements – which have no economic basis and which will not apply in future. "To mitigate that risk, you can diversify into many different risk premia, and introduce risk targets to clusters of risk premia, which contain premia that are normally uncorrelated, but in periods of stress will tend to behave similarly, after all," he says.
Although it is only a year since the project was completed, Ros says it is clear the diversification aspect has worked well so far. In January, SPK's alternative-risk-premia portfolio produced a positive return, against huge market falls.
Factor Investing: Navigating the factor maze
1

2

3

4

5

Currently reading

Factor investing: Pension funds in two minds

6

7

8

9

10

11

12