A divergence of interests between creditors and debtors is leading to a reshaping of the European market for leveraged credit
Key points
• A lack of primary market supply in European leveraged credit
• Fundamental credit risks are the main concern
• Financial covenants do not play a specific role in the issuer default rating
• Default rates to remain low as long as low interest rate conditions prevail
An imbalance in the relative bargaining power between debtors and creditors betrays the lack of primary supply in European leveraged credit and raises longer-term concerns about recoveries in the next default cycle. Leveraged credit investors have become price takers, steadily offering higher leverage on looser covenants at lower spreads since the return of collateralised loan obligation (CLO) demand in 2014.
The contradiction of more risk at lower reward has not deterred demand, given low yields. Private equity financial sponsors are struggling to increase primary market first-time leveraged buyout (LBO) credit supply, given high valuations. Instead, they have been paying premium prices for a limited number of secular growth targets. Alternatively, they have recapitalised and refinanced legacy assets into higher leverage profiles at low coupons and extended maturities.
Consequently debt service headroom is stronger, given total leverage levels and default rates are set to stay low. However, the deterioration in covenants in loan and bond contracts has raised concern among leveraged credit market professionals. They are worried about diverging interests between creditors and debtors and potentially poor recoveries for instruments labelled senior secured.
From a credit rating point of view, especially in the single B-category, weak financial covenants are secondary concerns. That is compared with fundamental credit risks – such as sector profile and business model and management execution risks – in producing the positive cashflow that represents the internal capacity of the debtor to address its burden. These risks are often placed in the context of credit metrics such as leverage as measured by debt to EBITDA, debt service and liquidity profiles.
There is little debate that covenants have eroded as the chart on the migration of covenant-lite in European leveraged loan markets highlights (see figure). The terms 'covenant loose' and 'covenant-lite' refer to the absence of financial performance maintenance covenants. These are traditionally demanded by buy-and-hold banks intent on protection from mismanagement. The latter can act in accordance with shareholder-aligned incentives to take undue risks if a leveraged business does not perform as expected.
The migration towards covenant-lite reflects the increasing institutionalisation and diffusion of the investor base. It effectively adopts the incurrence-based template from the high-yield bond market, a diffuse capital market. Incurrence-based covenants trigger only in the event of additional debt rather than deteriorating EBITDA. Such financial covenants minimise the co-ordination problem for debtor managements to explain business fluctuations and request waivers from loan investors.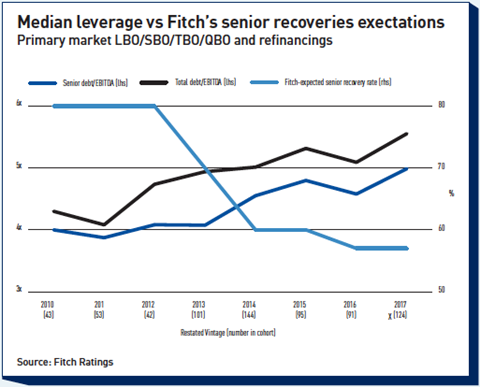 As the chart illustrates, expected recoveries on senior secured instruments in our European leveraged credit portfolio have declined as total and senior leverage levels have increased. Fitch estimates expected recovery and assigns instrument ratings by assuming third-party validated going-concern post-restructuring EBITDA and application of an estimated distressed enterprise value multiple.
After subtracting 10% of the distressed enterprise value for administrative claims, the financial claims on adjusted enterprise value are distributed in a waterfall based on the ranking of each instrument. Higher ranking instruments are notched up given higher recovery, while lower ranking instruments are dropped given lack of residual value.
Note that financial covenants do not play a role in the issuer default rating, referred to as the probability of default. Nor do they play a primary role in the estimation of recovery or assignment instrument ratings.
However, positive and negative covenants – included in the credit contract to restrict cash leakage, protect ranking of an instrument, or prohibit additional indebtedness – can impact corporate governance through financial policy and the debtor's commitment to de-leveraging. They can also affect recovery if they allow shareholder interests to take business risks or circumvent the spirit of instrument ranking.
An example of wide latitude is the UK petrol station operator EG group, formerly Euro Garages. In early 2018, it arranged €2.85bn equivalent term loan B financing to fund the acquisition of 2,000 Esso stations in Germany and Italy to expand its European footprint.
After the arranging banks secured commitments and allocated to loan investors, but as yet unfunded, the company announced its intention to acquire an additional 800 stations in the US from retailer Kroger, representing an additional $2.5bn (€2.0bn) in debt. Despite the impact of increasing the size of the company by 40% in terms of revenue, increasing leverage on the transaction and introducing unforeseen business and execution risk to the credit profile, the debt-funded acquisition was allowed under the terms of its permitted investments and authorised indebtedness covenants.
In demanding and negotiating looser covenant packages, financial sponsor owned companies often highlight their buy-and-build strategies and the need for flexibility to execute acquisitions or disposals. In addition to negotiating flexibility commensurate with business strategy, debtors are also negotiating covenants in anticipation of potential distress. During the 2015 oil price collapse, several US exploration and production loan and bond issues contained definitions of permitted indebtedness that did not exclude the issuance of second lien notes.
Opportunistic managements offered to exchange unsecured notes that traded in secondary markets for new second lien notes. These exchanges were considered opportunistic liability management exercises that were voluntary on a bilateral basis rather than through consent.
Critically, they could reduce balance sheet debt and extend maturity profiles. In successful cases, the unsecured note holders that exchanged into second lien notes still lost from accepting the discount. In unsuccessful cases, the remaining unsecured holders were subordinated to the new second lien holders at default.
In the case of US retailer J Crew, carve-outs in permitted indebtedness and no restrictions on investments in unrestricted subsidiaries, allowed the debtor to transfer collateral in the form of intellectual property out of the term loan B borrowing group and into an unrestricted subsidiary in the Cayman Islands. The new entity subsequently issued secured debt in an exchange offer with holders of maturing subordinated payment-in-kind (PIK) instrument.
European leveraged credit has witnessed a migration of market standards and practices. Financial sponsors, arranging banks and law firms have established precedents in the US that they want to apply globally. So long as the economic recovery and low interest rate conditions prevail, default rates are set to remain low and credit investors will not experience vulnerability to weak covenants. Although they should not assume their interests are aligned with shareholders.
Edward Eyerman is the head of European Leveraged Finance at Fitch Ratings
Private Credit: One ring to rule them all
1

2

3

4

Currently reading

Falling covenants compound risk