Fidelity International has confirmed the pricing for the variable or "fulcrum" fee model to be rolled out across its equity business.
The firm will introduce a new share class for 10 active equity funds in March next year, with a starting asset management charge 10 basis points cheaper than the current price.
Depending on subsequent performance, measured on a rolling three-year basis, the fee will either rise or fall by a maximum of 20 basis points either side of the starting charge.
Fidelity gave the example of a fund costing 0.75% a year at present. Under the new model, the 'base level' charge would be reduced to 0.65%.
If the fund outperforms its benchmark after costs, the fee could rise to a maximum of 0.85%, while underperformance could reduce the fee to a minimum of 0.45%.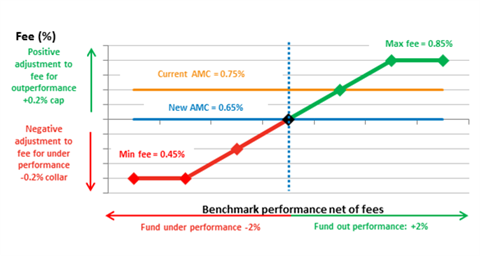 Paras Anand, European CIO for equities, said: "For any client, the returns of active management are realised through long-term investing.
"We believe that this new fee model allows us to demonstrate our value proposition whilst sharing the cost during periods of underperformance which all active managers, even the best, experience from time to time.
"We hope, therefore, that this goes some way to incentivising clients to consider the value of active investing over the long term."
Fidelity is one of the few asset managers so far to have decided to pass on to clients the cost of third party investment research.
In October, when the company first publicised its plans for the fulcrum fee model, it said the reduction in the annual management charge would be greater than the impact of research costs.
In a statement today, Fidelity said this cost amounted to 0.0228% on top of the annual charge. The manager emphasised that the 10 basis point reduction was roughly four times as big as the effect of research costs.