Regulators have eased concerns over competition within the UK investment consultancy and fiduciary management sectors
Key points
• The UK's Competition and Markets Authority (CMA) has released its report on the investment consultancy and fiduciary management sectors
• The findings about competition in the sector are less alarming than originally assumed
• The CMA's policy recommendations are significant but no shake-up of the industry is foreseen
• Standard templates for fee and performance reporting are gaining support in the industry
After nearly three years of intense regulatory scrutiny, the uncomfortable questions around competition within the UK fiduciary management sector have been settled, at least for now. The UK's competition watchdog has cleared the 'big three' investment consultancies – Aon, Mercer and Willis Towers Watson – from allegations that they were benefiting from an unfair competitive advantage.
The report released by the country's Competition and Markets Authority (CMA) in July is a welcome relief to those firms, such as the big three, that offer both investment consultancy and fiduciary management services. The report in essence shows that the competition issues many feared were potentially harming UK pension funds are not as serious as originally thought.
To be clear, the CMA did find evidence of an "adverse effect on competition" due to a number of established features of the sectors in question. However, the nature of the remedies provisionally proposed by the CMA suggests the authority did not think that competition was being distorted to an unacceptable level.
The findings and implications
The CMA's regulatory review, which was prompted by a previous investigation by the Financial Conduct Authority (FCA), analysed issues such as market concentration in the investment consultancy sector. It looked at transparency of fees in fiduciary management services and shed light on the crucial matter of how pension funds hire fiduciary managers. The FCA had previously established that investment consultants would often be hired as fiduciary managers by their existing clients, without clients carrying out a competitive hiring process.
The problem was that the advice to switch to fiduciary management would often come from the investment consultants themselves. This suggested that there was a conflict of interest that was potentially damaging competition in the sector. Firms offering both services would essentially benefit from being the incumbent provider, over firms that offer investment advice or fiduciary management services on a standalone basis.
One way of dealing with this conflict of interest would be forcing investment consultants that offer fiduciary management services to split up the two business lines. This possibility created great uncertainty in the industry.
In the end, the CMA decided that splitting up the businesses would not be "effective or proportionate". The authority thought the potential remedy would diminish the positive effect of economies of scale in the industry and limit the choice for pension funds, thus reducing competition.
The CMA's proposed remedy is to place a duty on pension fund trustees to run competitive tenders when hiring a fiduciary management for the first time. Pension funds that have hired a fiduciary manager without a tender process will also have to run a competitive tender within five years.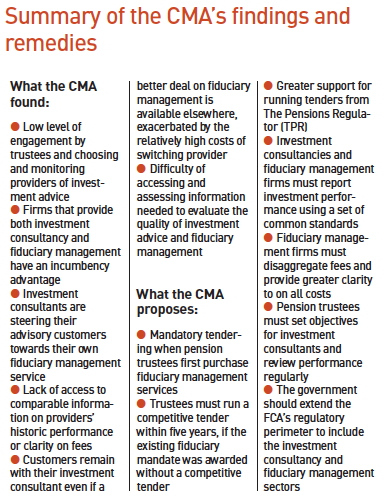 Even a requirement as straightforward as running competitive tenders for fiduciary management mandates could have a sensible impact on the industry. Odi Lahav, CEO of MJ Hudson Allenbridge, an independent investment advisory firm, says: "As a result, investment consultants might think twice before they advise existing clients to switch to fiduciary management, because in a competitive process they run the risk of losing the client. This will probably change the dynamics as well as competition within the industry." The implication could be that adoption of fiduciary management services slows down. The trend that has seen the size and number of fiduciary management mandates grow impressively over the past 10 years could be reversed.
Others have pointed out that making competitive tenders obligatory could have unintended consequences and constitutes an unnecessary burden on trustees. Ed Francis, EMEA head of investments at Willis Towers Watson, says: "If the requirement is for every fund of every size to tender out every mandate of every size, there is perhaps a debate to be had about whether the proposal is potentially disproportionate."
Francis explains: "I just wonder, is it good for customers? Open tenders tend to mean that the bidders have to be very selective on what they bid for, because being an open tender there is large number of firms potentially bidding. I would be concerned that some of the smaller mandates would not generate a very competitive process, because a lot of firms won't bid. So a process involving an intermediary or some other mechanism to get to a shortlist for trustees might be preferable. It's something we want to debate with the CMA." Small pension schemes, Francis points out, could end up spending an unnecessarily large portion of the value of the fund on a tender.
Francis, however, implies that his firm, which was under close scrutiny along with Aon and Mercer, is generally happy with the CMA's work. "The remedies being proposed are all pretty sensible. They are broadly the sort of things an industry body would propose, if there were such a thing as an industry body for the investment consulting industry."
It is easy to see why the mandatory tendering requirement was mostly welcomed as a potential remedy. Mark Hodgson, UK managing director at Gatemore Capital Management, a provider of fiduciary management and investment advice, says: "If you speak to the big consultants, they're probably quite happy with the result, because they are not being asked to do anything drastic, such as splitting out their businesses. They've actually come out of it pretty well. If you talk to the smaller consultants or pure fiduciary managers, they'll probably say it's good for them, because it means they'll see more tenders. Firms such as ourselves that do a bit of both are also happy, we might see more opportunities in the market."
Greater transparency
The other important contribution of the CMA's work is the laying out of a framework for the regulation of fee and performance reporting standards. Transparency over fees and performance is a fundamental ingredient of a competitive market. The industry has been developing standards independently of regulators. Since the adoption of MiFID II, the EU directive, several regulatory requirements are already in place. However, the CMA's work should speed up adoption of shared practices for reporting both fees and performance of fiduciary management and investment advice services.
Again, while the industry is largely in favour of standardised reporting practices, the practicalities are difficult, and there are arguments against it. Robin Ellison, head of strategic development for pensions at international law firm Pinsent Masons and a well-known personality in the UK pension industry, says: "The requirement about reporting investment performance in a standardised way potentially has unintended consequences. Once regulators set down common reporting standards, it is possible that people will invest to meet that standard. This involves certain behavioural consequences that may be unwelcome."
Ellison is also an academic and former chairman of the National Association of Pension Funds (NAPF), now Pensions and Lifetime Savings Association (PLSA), and has served on several trustee boards including that of Carillion. His view is, more generally, that the CMA has exhibited what he regards as a frequent "lack of respect" towards customers on the part of regulators.
He explains: "Regulators often imply that the consumer is always too ignorant or too uninterested to do their homework. This criticism of the consumer isn't warranted. If consumers think there is a solution that is 80% right, and it's not worth their while finding a perfect one, then it seems to me they should be content with that.
"The CMA didn't mention brand in the report, but actually for most consumers, including professional consumers like trustees, there is a trust in the brand of the service providers. Sometimes the brand will let the consumers down, but in the long term it's in the interests of the service providers to avoid that, because they will lose the value of the brand," Ellison adds.
"The remedies being proposed are all pretty sensible"

Ed Francis
He argues: "The CMA devalues brand and personal relationships. They seem to think investment is a commodity, which sometimes it is, but mostly it's not. There is more to investing than just the numbers, and regulators often struggle with that."
On the mandatory tendering requirement, Ellison says: "I find that puzzling. Forcing tenders, which are expensive processes, add to delays and complexity for trustee boards, and seems like a regulatory step too far. The regulator could have instead recommended that trustees should think about it."
Similarly, Ellison says that the CMA's work betrays a preconceived idea. "The CMA is saying trustees do not have appropriate understanding of the conflicts of interest in the industry in order to take a view on them. I think that's largely incorrect," he concludes.
Notwithstanding that, the industry is rallying behind standardised fee and performance reporting. The first is a relatively easy task. The CMA is simply requiring fiduciary managers to unbundle the fee accruing to them from the fees charged by underlying asset managers. The second task, comparing performance, has been one of the industry's biggest headaches. The difficulty lies in comparing strategies based on different liability profiles, actuarial valuations and risk-taking preferences.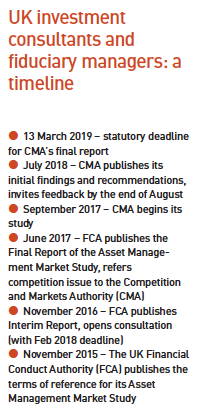 Patrick Disney, managing director of SEI's institutional business, says: "It has been a topic for some years. It has not been straightforward, because we're delivering a customised service to different pension funds that have very specific liabilities. That's the conundrum. We are talking about a service, not a product."
Disney adds: "Initially it was difficult. But the market has grown and there is, quite rightly, a desire to have the ability to provide some form of comparison. So it has to be done, and it is being done."
Indeed, in April, IC Select, an independent research firm, launched its Fiduciary Management Performance Standard, a framework for measuring the performance of fiduciary mandates. Disney adds: "IC Select are getting to grips with the best attempt to try and bring together the numbers from fiduciary managers firms to allow buyers to look at results. As far as we know, most firms, including ourselves, are submitting data to them."
The debate continues
Many have also found important areas that were not addressed by the CMA review. There is at least one such issue, according to Disney. He says: "The point that was never brought up is the conflict of resources within investment consultancies that provide fiduciary management services." The problem with those integrated firms, he says, is who takes priority when recommendations on managers change.
The question, he continues, is whether one set of clients gets priority over another, depending on the kind of service they employ. Additionally, Disney argues, the CMA looked at the market as a whole, which is what led it to conclude that there is no oligopoly of investment consultancies.
"They did not seem to disaggregate the different segments of the market. If you look at the top FTSE 100, you would probably say there was an oligopoly. The smaller the pension fund gets, the less it is able to pay for the services provided by the large firms, and therefore it's forced to partner up with some smaller firms who may not have the resources. Most funds, in order to get economies of scale, will have to make a binary decision to merge with another fund or appoint a fiduciary manager," Disney says.
Finally, some have called for greater scrutiny in the competitive dynamics between fiduciary managers and asset managers. MJ Hudson Allenbridge's Lahav says: "The conflicts of interest that arise from competition between fiduciary managers and asset managers weren't really addressed.
"On one hand, investment consultancies are gatekeepers for their clients towards asset managers, and the latter provide them with lots of information.
"On the other hand, they may be using that information to create a better fiduciary management service, which may very well be in competition with the same asset managers that are providing info them. For now, it seems that the CMA decided to treat fiduciary managers and asset managers as two completely different markets, although they overlap in a fairly substantial way."
So while the CMA has put together a substantial amount of evidence on competition in this key sector, and some welcome recommendations to improve competition, the debate is by no means over.
Gatemore's Hodgson says: "It will be back to business as usual for some time, but there is more to come from regulators and in terms of debate on these issues. First, the industry has to take into account what the CMA has said. If we wind the clock forward three years, and nothing has changed, the industry will be rightly held to account.
"Trustees are going to have to pay attention too. They can't ignore the tendering requirement. It is going to be interesting to see how those boards where there's no professional trustee involved behave. In those cases, consultants may be advising that trustees hire a fiduciary manager and run an open tender. Will they do that, considering it may not be in their best interest?"
Market concentration and conflicts of interests in investment consulting and fiduciary management
Concentration among the largest investment consultants in the UK pension fund industry – Aon, Mercer and Willis Towers Watson – was one of the biggest issues drawing the attention of the country's Competition and Markets Authority (CMA).
The industry has been debating the impact of the dominance of these the 'big three' firms for years. Summarising the findings of its report on competition in the sector, released in July, the CMA said: "We have found that the investment consultancy market is not highly concentrated, that concentration is particularly low for smaller schemes, and that there are a large number of providers active in this market."
Specifically, the market share of the big three is less than half of the market in total, which the CMA seems to think is evidence of sufficient competition. "The market is characterised by a number of well-established, mid-sized firms which in some customer segments enjoy a stronger position than the three leading firms", added the report.
The situation is similar in the fiduciary management sector. The 'big three' have increased their market share, taking it up to around 50%, and "concentration could increase in the future", says the CMA. Overall, however, the market is not highly concentrated, according to the authority.
The UK Financial Conduct Authority (FCA), which had originally referred the competition issues to the CMA, had also reported evidence of conflicts of interest in the industry. Investment consultants had been accused of unfairly favouring asset managers, in terms of recommendations to their clients, that were extending gifts or corporate hospitality as well as firms with which there were existing business relationships.
The allegation, for which there was no definitive proof, had caused great concern in the UK pension industry. The CMA, however, concluded: "We did not find evidence that any of these potential conflicts gave rise to a competition problem."