Pension funds' changing requirements are having a profound effect on the market for fiduciary management
Key points
Foreign fiduciary managers are leaving the Dutch market
Pension funds are demanding that fiduciaries have sufficient scale and local staff
Many prefer not to invest in fiduciaries' house funds
The ongoing consolidation trend among Dutch pension funds is affecting the market for fiduciary management . As the number of pension funds is falling and their scale is increasing, the smaller end of the market is thinning out.
Foreign providers with few staff and few Dutch clients are struggling. In the opinion of the €3.1bn sector scheme for the furnishing sector (Pensioenfonds Meubel) and the €7.2bn pension fund for the insurance provider UWV – both of which recently changed their fiduciary manager – the fiduciary must have a solid footing on Dutch soil. This means having staff who are familiar with the Dutch regulatory situation and also a sufficient number of clients for making comparisons.
According to Wilse Graveland, head of pensions solutions at Kempen Capital Management, the playing field has been shaken up during the past years. He says: "In particular, we now see Dutch fiduciaries and no more than a couple of international ones on the list of managers competing for fiduciary mandates. Ten years ago it was the other way round."
According to Graveland, the demand for services has intensified, and clients nowadays want a manager to be available 24 hours a day. "A fiduciary manager also needs to keep on investing to respond to developments and to be able to offer the full range of services," he says. "Think of the emergence of new asset classes, as well as the new option for pension funds to join a general pension fund or to switch to defined contribution arrangements."
Henk Radder, director of investment strategy at Russell Investments, cites regulatory changes. "If the DNB says that a pension fund's board must be in control, the fiduciary needs to know what the regulator exactly means. This is only possible if you have staff who know the local situation."
But this does not mean that non-domestic providers need a local office with dozens of employees. "We have 15 staff in Amsterdam," says Radder. "They stay in touch with clients and give presentations on board meetings, which is important to clients. For our manager selection, for example, we use the worldwide Russell teams for all our branches."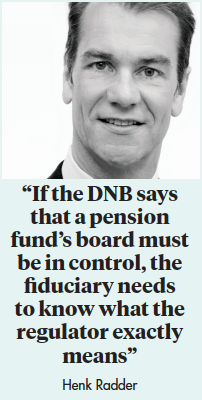 Russell has more than €8bn under fiduciary management for Dutch customers, and €75bn for 234 clients worldwide. Radder says: "The number of Dutch clients is stable, but the assets under management are increasing. This is in part thanks to having the non-mandatory sector pension fund for care insurers (SBZ ) as a customer. It has positioned itself as a 'magnet scheme' and is actively seeking companies in the financial sector to join."
Several foreign players with a relatively small local presence have lost some sizeable mandates recently. The €3.9bn sector scheme for bakers (Bakkers Pensioenfonds) replaced Lombard Odier with NN Investment Partners. Bpf Meubel left SEI for BlackRock, while the Pensioenfonds UWV switched from Allianz GI to Kempen.
In all cases, pension funds separated fiduciary management, which includes strategy selection and portfolio monitoring, from actual asset management. In the opinion of supervisor De Nederlandsche Bank (DNB), too much overlap between these areas is undesirable because of possible conflicts of interest. In the case of the pension funds' boards, they want to increase their grip on their providers. It seems that Dutch players in particular benefit from this separation, and that international parties are refocusing on their strong position as asset managers.
Dividing fiduciary management from asset management does not mean that fiduciary managers are not permitted to deploy in-house strategies for a fiduciary client. "It would be stupid if we did not use solid products of our fiduciary," says Marcel Roberts, chief investment officer at the €10bn occupational pension fund for medical consultants (SPMS ), which has BlackRock as fiduciary. "I am well aware of the area of tension, and I also know that a good product does not always have the best performance. Therefore, I pay extra attention to mandates implemented by BlackRock."
"A fiduciary manager also needs to keep on investing to respond to developments and to be able to offer the full range of services"

Wilse Graveland
The approach of many pension funds is to seek external mandates in principle, the fiduciary must come up with the best external asset managers. "If we can prove that our fund is the most suitable, we always present the client an external alternative as well," says Kempen's Graveland. Kempen's own funds and mandates comprise about 12% of its total of fiduciary managed assets. This is a relatively low percentage compared with many other providers.
Some boards will not permit their fiduciary manager to use its own strategies under any circumstances. In the past, however, many made an exception for interest-rate hedging. Graveland says: "The hedge was often perceived as a complex matter and something best left to be dealt with by the fiduciary manager. This has changed, and pension funds now increasingly seek the party with the best track record."
Component suppliers
The trend of deconcentration, with pension funds buying fiduciary services from different players, is gaining traction as the number of small schemes is rapidly decreasing. These smaller pension funds frequently outsource fiduciary management to a single partner. "Larger schemes, with their own management bureau, increasingly purchase specific fiduciary services from more than one manager," notes Graveland. "For example, risk management and board advice are bought separately. As a consequence, the schemes are less dependent on a single player and are in a better position to keep in charge of things."
The scale required to buy services separately has increased. "Five years ago, pension funds with assets of more than €1bn could do this. Nowadays, this option is largely open to schemes with assets exceeding €5bn," says Radder.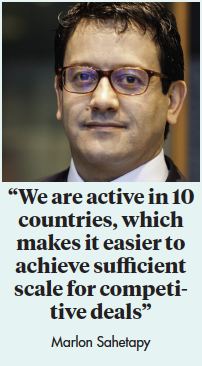 The drive to reduce costs has also affected providers of fiduciary services. Graveland says: "Fees have been under pressure for years. The cost of fiduciary management is usually 5-10bps but, given the minimum fixed costs, also dependent on scale." The scale of the fiduciary manager also helps to keep costs down, as large managers should have greater expertise and be in a better position to negotiate.
"We try to reduce these costs by buying services at very competitive prices, which only works if you have a sufficient scale. The larger the mandate, the more the costs of investment mandates will fall. We can purchase investment funds and mandates at scale based on the assets of dozens of pension funds."
The pressure on costs and demand for specific expertise has raised the threshold for fiduciary services. As Gravelend puts it: "An asset manager just can't offer it on the side." At Kempen, more than 50 staff are directly involved in fiduciary management and additional 50 work for the fiduciary division indirectly.
Despite the high barrier to entry, Aon Hewitt entered the Dutch market last year, hiring Marlon Sahetapy to set up fiduciary services. Sahetapy says: "We are active in 10 countries, which makes it easier to achieve sufficient scale for competitive deals. We are in third place on the worldwide list of fiduciary managers. Our fiduciary managed assets have increased from zero to €110bn for more than 400 pension funds."
In the opinion of Sahetapy, there is still space for new players. "Aon Hewitt does not have product-driven conflicts of interest, as we are not dependent on the sale of investment funds like many other asset managers.
The margins on investment products are still relatively high. Therefore, an asset manager is likely to be keen also to sell its own products, which leaves the temptation to not do the utmost to find the best external alternative."
Dutch pensions: IT is a bottleneck
1

2

3

Currently reading

Fiduciary management: Foreign fiduciaries struggle

4

5