The entirety of the finance sector needs to commit to net-zero emissions by 2050, former UN climate chief Christiana Figueres told those tuned into the closing, finance-focussed day of 'Race to Zero Dialogues'.
The 'Dialogues' was a programme of events convened by the UN High-Level Champions for Global Climate Action to make sense of the path to net-zero by honing in on sector transitions.
Speaking during a session organised by the UN-convened Net-Zero Asset Owner Alliance, which today announced three new members, Figueres said it was important to reach out to other parts in the financial sector that were not yet "on board".
"By COP26 we need to see asset managers commit to align their portfolios to net-zero by 2050. Some are already moving in that direction, but we should not be able to [itemise] them because it has to be normalised."
The same applied for commercial banks, venture capital, and other parts of the finance sector, said Figueres, who was executive secretary of the UN Framework Convention on Climate Change when the Paris Agreement was reached.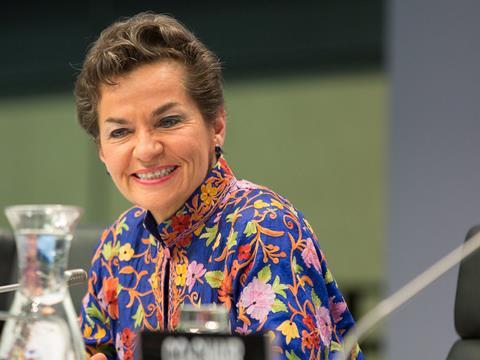 "Everyone should be embracing the paradigm shift to align finance with net-zero emissions before 2050," she said.
The Net-Zero Asset Owner Alliance now counts 33 members with a combined $5.1trn in assets under management, up from 12 members and $2.4trn in assets at the launch in September 2019. The latest members are Denmark's P+, Australian insurer QBE, and the UK's St. James's Place Wealth Management.
P+, the member-owned pension scheme for Danish professionals with higher academic qualifications, announced its decision to join the asset owner group earlier this month when setting out an overhaul of its responsible investment policy.
CEO Søren Kolbye Sørensen said: "We see the Alliance as a unique platform to cooperate with other asset owners and together define targets and tools to drive the transition to a low-carbon economy and achieve real world impact, and we look forward to be part of it."
In the asset management sector, DWS CEO Asoka Woehrmann yesterday said the company was "committed to becoming climate-neutral in its actions – in line with the Paris Agreement – and well ahead of the timeline officially set out in the Agreement".
In a Q&A at the company's annual general meeting, the CEO said the next step would be to formulate intermediate targets, and that the asset manager would report regularly on its progress against these.
To read the digital edition of IPE's latest magazine click here.