EFAMA president Christian Dargnat recently affirmed the strategic importance of the asset management industry in providing an alternative way of financing enterprises in Europe. This is against a background of a deleveraging banking system, resulting in greater difficulty of credit access, particularly for SMEs (not just in Italy, where Prometeia is based and where loans to non-financial companies fell by -6.1% during 2013, but also Spain, where they fell -14.2% and, more generally, the euro-zone, where there has been an overall decline of -4.3%).
The latest drafts regulations for European Long Term Investment Funds (ELTIF) have recently been disclosed. This new framework is designed to improve the transparency, efficiency and availability of long-term illiquid vehicles investing in real assets (including not only corporate debt for SMEs but also infrastructure, project bonds and other assets), with the aim of attracting not only institutional but also retail investors' savings, provided that certain requirements on liquidity and holding periods are met.
Institutional investors are more and more interested in this type of investment as a source of diversification and return enhancement, while providing a hedge in any future rising-interest-rate scenario. In particular, institutional investors in Italy have already started investing in private debt funds; around 25 new specialised funds have been launched, and Cassa depositi e prestiti (CDP) recently announced a €250m allocation, to be invested through a fund-of-funds platform.
Similar trends are taking in place in France and Germany among insurance companies. In fact, within the new regulation framework for the insurance market (Solvency II) to be enacted from 2016, a more favourable treatment for ELTIF is under discussion, with a potential reduction of capital absorption compared with other investment vehicles.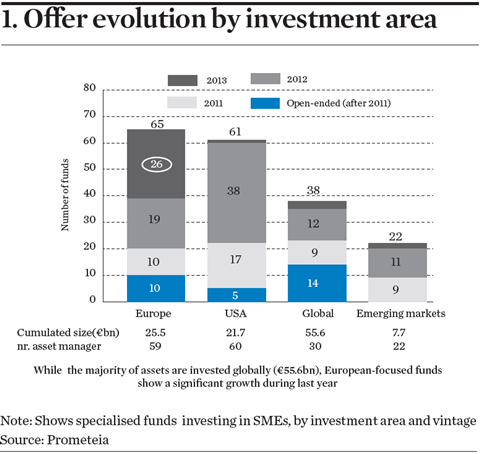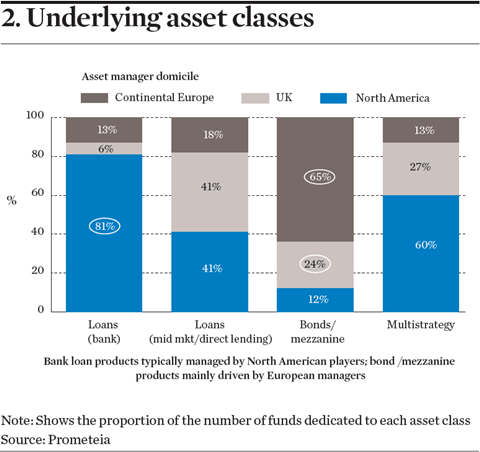 How is this market taking shape and what is the expected evolution in the international context? Prometeia maintains a database of more than 200 funds launched since 2011 by 150 different asset managers (including companies specialised in credit management, alternative asset management players, private equity managers and generalists), mainly in Europe and US. The key findings, main features and market trends are provided in Prometeia's recent report, 'Loans and Private Debt Funds'.
There are about 60 asset managers that have developed a range of funds dedicated to the European or US markets; less developed is the group of operators investing globally – approximately 30 – and many of those are specialised in emerging markets. Europe saw the greatest growth of funds in the first part of 2013 – 81% of new products. These funds now account for 40% of the funds dedicated to financing European companies.
The type of underlying investments varies significantly – from bank loans, which are very popular in the US market (a good level of liquidity, short maturity and a high level of seniority) through mezzanine instruments (illiquid, with an equity component in the return), to mid-market loans, direct lending and more specific markets such as Italy's 'mini-bonds'.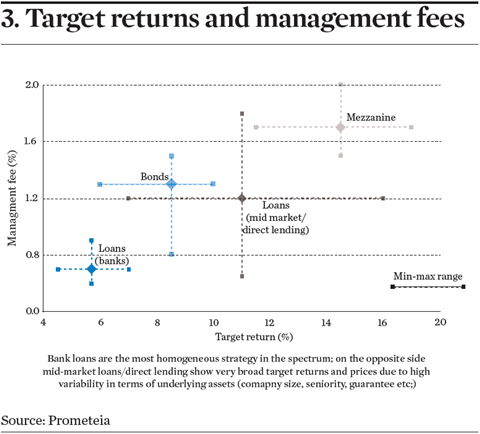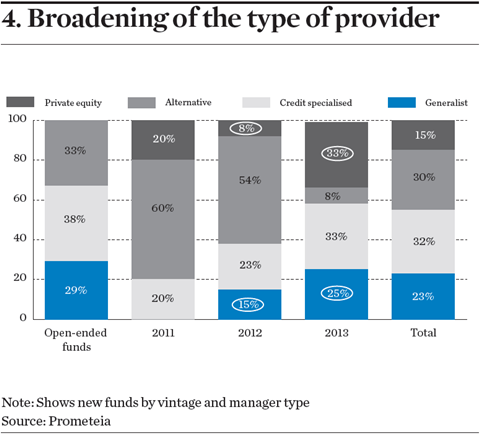 Here is the first major difference between the European and US markets; whereas the latter is characterised by investments in loans originated by banks, either direct or through securitisation (80% of funds of bank loans are run by US managers), in Europe debt or hybrid instruments are preferred (65% of bonds and mezzanine funds are managed by European firms, and a further 24% by UK firms). About 20% of the overall offer is constituted by multi-strategy funds – that is, portfolios with risk profiles diversified by instrument type and issuer.
Vehicle characteristics and the value proposition for investors vary according to the composition of the underlying portfolio: bank loan funds are typically larger (with an average size of more than $400m in the US market, with a target return in the 4-7% range); bond funds are normally smaller in size – €130m, on average – in the European market, with returns in the 6-10% range (which may go above 12% for mezzanine). Management fees vary consistently with performance expectations.
Direct lending and mid-market loan funds present greater variability both in terms of expected returns and of management costs, due to the greater heterogeneity of the underlying issuers in terms of size, risk profile, industry sector and guarantee levels.
Which asset managers play a role in this market? Until a few years ago it was dominated by alternative asset managers (over 60% of the funds launched in 2011 were hedge funds), but latest data show strong growth in private equity launches (one third of the funds rolled out in 2013) and in funds from so-called generalists, reflecting the growing interest of the entire European asset management industry in the trend.
From the institutional investors' point of view this is good news. They will have more choice on the shelf to build up a customised portfolio, with the desired risk-return profile and diversification, either by manager, strategy or geographic area.
Claudio Bocci is a senior manager and Gianmatteo Guidetti is a manager at Prometeia, a financial consulting and economic research company based in Italy