Jukka Reijonen, head of real assets at Etera, the Finnish occupational pension insurance company, talks to Reeta Paakkinen about the fund's investment portfolio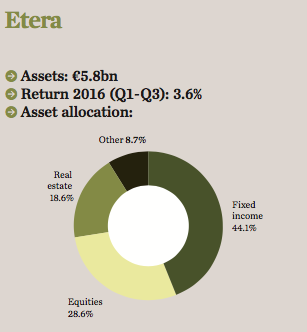 Etera Mutual Pension Insurance Company has an above average exposure to real estate compared to other Finnish occupational pension insurance companies at 18.6%. Over the first three quarters of 2016 the asset class yielded 4.3%.
"We made a few good exits on our property funds and that paid off on the real estate side of investments," says Jukka Reijonen, head of real assets at Etera. The company also launched several new residential property projects this autumn – the latest in Tampere and Oulu. It is also constructing the Tripla shopping centre in Pasila, Helsinki, which is expected to be complete in three years' time, and care homes for the elderly across Finland.
"In the future, we will increasingly manage our property portfolio in-house. The emphasis in the strategy will be on projects that we are directly involved in, and less on property funds. I would say residential property, care homes and commercial property are the most promising sectors to be in here at the moment," Reijonen explains.
Overall, however, exposure to real assets will remain the same. "Recently, we have increased direct investments in forestry and indirect allocations to infrastructure funds that invest in energy, communication, and transport projects, like airports in the European Union as well as in the US, for example. Of course, our plan is to keep our real assets holdings well-diversified as well in the future," Reijonen says.
Etera's portfolio returned 3.6% over the first three quarters of 2016, with equities returning the highest at 4.6%.
Boosting equity exposure is also on the cards. At present, Etera has a comparatively lower than average exposure to equities at 28.6% of assets. A new solvency framework, which comes into force in January, will enable it to grow its equity portfolio in 2017-18, Reijonen says. At present, some 40% of the fund's total assets are invested in Finland, more than other Finnish occupational pension insurance companies.
"Over the first three quarters of 2016, Finnish and emerging market equities continued to show a healthy performance. But euro-zone and Japanese equities were a bit of a disappointment for us," Reijonen notes. "In the coming months our plan is to become more cost effective also on this front, and we may reduce the number of managers we have hired, emphasising our own role here too."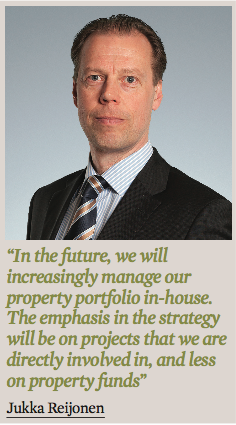 The low-interest-rate environment continues to be a major challenge for investors. At Etera, the bond portfolio accounts for 41% of assets, and returned 3.4% by end of September 2016. The fund has reduced its exposure from 44.7% at the end of 2015.
"We have reduced our exposure to government bonds of countries with an AAA-rating as it is hard to see much value in that sort of
investment. Instead of government bonds, we have grown our exposure to syndicated loans and to real estate loans. Real estate loans and other debt products with collateral pools can be seen as
substitutes to investment grade and still continue to offer some yield pick-up," Reijonen explains.
The only part of Etera's portfolio that posted a negative result over the first three quarters were commodities, with a return of -4.9%. Reijonen says Etera has only a minor investment in one commodity fund, which did not perform.
In Reijonen's view, the main challenge for investors, in addition to the low-interest-rate environment, is liquidity. "Storing liquidity is nowadays as profitable as paying for the storage of your winter tyres. You simply have to pay for the storage space," he said.
"We are no longer happy with the old way of making a commitment to a fund with some three to four years of investment period, and paying it to seek suitable investment targets. We at Etera appreciate increasingly the skill of a manager to forecast rapidly changing situations promptly, having access to seed assets instead of a blind pool, and being able to perform steadily."
Pensions in Nordic Region: Iceland - Opportunities abound
1

2

3

4

5

Currently reading

Finland: In-house property focus at Etera

6

7

8

9