Dwindling birth rates in Finland will put considerable upwards pressure on pension contribution rates in the future the Finnish Centre for Pensions has warned.
The agency – the statutory central body of Finland's earnings-related pension scheme – said the country must take action to prepare for this shift.
It published new statistics indicating that, after the 2050s, pension contributions could rise by around 30% due to the falling dependency ratio.
Heikki Tikanmäki, development manager of the Finnish Centre for Pensions, said: "The pension financing outlook is rather stable for the next few decades. The low birth rates should be taken seriously, though. Now is the time to think about how to influence the demographic development."
The centre's projections were based on data from Finland's national statistics institution, Statistics Finland. The data showed that the working-age population in Finland would decline between 2019 and 2085 and the share of the population aged 65 or older would continue to rise.
However, the government agency said that the private sector insurance contribution under the Employees Pensions Act (TyEL contribution) could be kept under 25% until the 2050s, despite the weakening dependency ratio.
It also predicted low investment returns for pension funds in the next decade of around 2.5%, rising to 3.5% afterwards, but said that the pressure to raise the TyEL contribution was still not significant.
"The contribution level in the next two decades depends on the economic development," said Tikanmäki.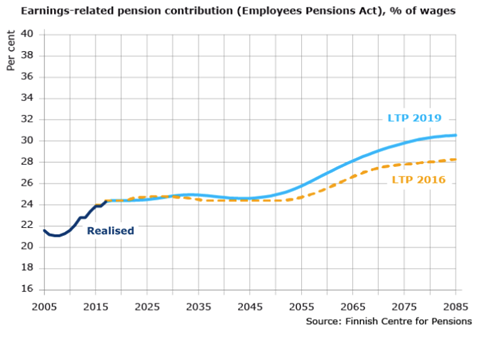 Further reading
Compenswiss moves to tackle mounting cashflow problem
Compenswiss – the manager of Switzerland's social security funds – has increased asset sales from CHF100m to CHF125m per month as Switzerland's ageing population and other demographic developments raised the size of the fund's negative cashflow problem