Pension funds around Europe saw their asset levels boosted by the rise in share prices during the first quarter, but a range of factors, including record-low interest rates, has kept many funds under pressure on other fronts.
In the Netherlands, funding levels for many pension funds remained at low levels or even dropped over the first three months of this year as a result of declining interest rates. While many pension funds in Europe cited the European Central Bank's (ECB) announcement earlier this year to launch wide-scale quantitative easing (QE) for the equity rally between January and March, others bemoaned the shrinking effect QE has had on bond yields and the consequences for funding levels.
The Dutch pension fund Vervoer, for example, made a 20% return on its equity portfolio in the first quarter, but since its discount rate for liabilities fell to 1.38% from 2% in the same period, liabilities increased and its funding level fell 1.4 percentage points to 111.2%. At the three pension funds of Dutch national carrier KLM, funding levels fell in the first quarter by between 3 and 4 percentage points.
Four of the five largest pension schemes in the Netherlands had to re-submit recovery plans to the regulator last month because falling interest rates eroded funding levels, despite the fact that investments returned up to 11.8% over the period.
On the other hand, Pensioenfonds ING made a healthy return from falling interest rates between January and June, reporting a 30% return on its 50-year interest swaps and government bonds. The gain boosted its overall quarterly return to 13.8%. However, it, too, saw scheme funding fall in real terms, dropping 2.6 percentage points to 86.6%, while the official policy coverage ratio stood at 142.9% at the end of March.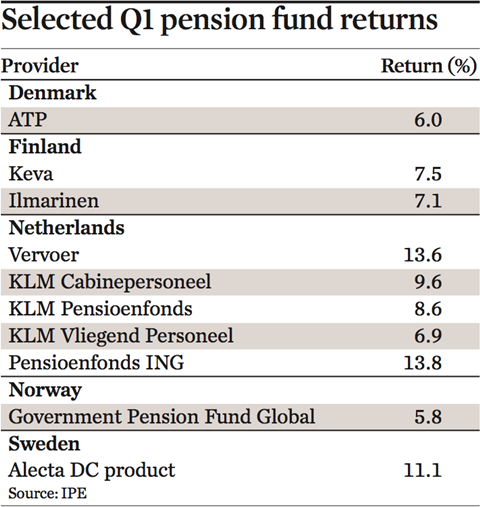 In Germany, Lufthansa's pension liabilities were hit by the knock-on effect of the ECB's quantitative easing programme, with liabilities rising by 41.2% since December. Back in December, the scheme had used a discount rate of 2.6% to calculate liabilities, but that rate was then cut to 1.7%.
Norway's former oil fund, the Government Pension Fund Global (GPFG), said its return in the first three months of the year was the highest it had ever reported in one quarter, with some equity markets in Europe and Asia returning more than 10% in the period. Shares in Germany produced 13.2% for the fund, and Japanese equities generated 14.5%, contributing to an overall investment return of 5.3%.
However, the sovereign pension fund came under pressure in the period because of the continued low level of inflows it received from oil revenues paid by the Norwegian government. Oil revenue has decreased in general for oil-producing countries over the last year because of the fall in prices. The GPFG received NOK9bn (€1bn) in the first quarter of 2015 from the government, far lower than the NOK44.7bn it gained in the same quarter a year earlier.
In Sweden, occupational pensions provider Alecta said its focus on Swedish and European equities lifted overall investment returns in the first quarter, with its defined contribution pension fund producing an 11.1% return in the January to March period. It said listed equities produced a return of 15.3% over the quarter, with fixed income also doing well.
Major European pension fund ATP, Denmark's labour-market supplementary pension scheme, said its first-quarter return of 6% was one of the best quarterly performances it has reported over the last five years. The domestic market in particular did well, with returns on Danish shares accounting for most of the equities growth achieved in January to March.
But three of the five risk classes in ATP's investment portfolio ended the quarter with losses, partly because of the hedging strategy within the inflation risk class, and partly because of the effect of falling oil prices on commodities overall. Mortgage bond holdings delivered a loss in the period because of falling interest rates and inflation.
Pension funds in Finland also reported strong first-quarter returns driven by surging equity markets, with local authority pension fund Keva posting a 7.5% overall return, including a 15.8% return on its equity investments.
Ilmarinen managed an even higher equities return, with shares generating almost 18%, although its overall investment return was just shy of Keva's, at 7.1% for the three months.