The first four months of 2015 were characterised by a rally in sovereign bond markets, aided by accommodative central bank policy and mounting uncertainty over the sustainability of Greek debt.
On 22 January, European Central Bank (ECB) president Mario Draghi announced an expanded asset purchase programme due to run until September 2016, including the long-awaited assurance that the ECB would begin buying sovereign bonds to battle deflationary pressure. In the same month, euro-zone inflation fell to -0.6%, the largest drop since July 2009, according to Eurostat. The ECB stimulus programme, worth €1.1trn, started on 9 March and a week later, the euro had dropped to a 12-year low against the dollar at $1.046. It had managed to climb to $1.17 by the end of April.
Sovereign bond yields across the euro-zone have continued their descent. Data from Tradeweb shows that the German 10-year Bund mid-yield closed at a record low of 0.07% on April 20 (see figure 1) before rising almost 30 basis points over the next ten days to reach 0.37%. Meanwhile, the Irish 2-year bond mid-yield fell below zero for the first time in January (figure 2) while its Austrian, Belgian, Dutch, Finnish, and French counterparts fell further into negative-yield.
Unlike its euro-zone peers, Greek sovereign debt declined through the first four months of the year and its curve inverted dramatically. Following the victory of Syriza in January's election, Greece entered into negotiations with its creditors. Despite promising faster economic reform in return for more lenient bailout conditions, the Greek government had yet to conclude negotiations before a deadline of 24 April. The mid-yield on the country's 10-year benchmark bond peaked at a two-year high of 13.41% at close on 21 April, but ended the month three percentage points lower at 10.48%.
Echoing the ECB's line on fighting deflation, the Swedish Riksbank initiated quantitative easing in February. It expanded this programme further in April, when it pledged to buy an additional SEK40-50bn (€4.3-5.4bn) of government bonds before this September, bringing the total to SEK80-90bn. The governor, Stefan Ingves, said he expected the inflation rate to move towards the bank's 2% target in 2016. Swedish 2-year bond mid-yields have remained below zero so far this year, while mid-yields on the 5-year bond dipped into negative territory in February and April.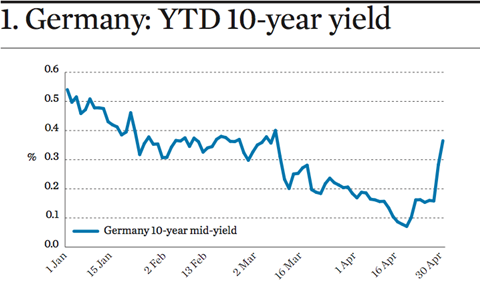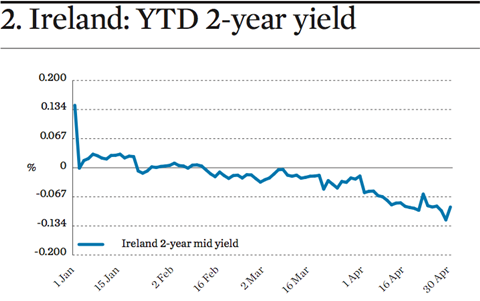 In a surprise move, the Swiss National Bank abandoned its currency cap against the euro and cut its deposit rate to -0.75% on 15 January. The Swiss 10-year bond mid-yield swung from 0.06% on 6 January to a record low of -0.29% on 23 January, after turning negative for the first time in its history on 14 January. Conversely, Denmark's Nationalbank cut interest rates four times in less than three weeks and suspended the issuance of government debt in January and February to protect its peg to the euro.
Inflation plummeted in the United Kingdom, reaching zero in February and March – the lowest since comparable records began in 1989. The Bank of England's Monetary Policy Committee voted unanimously to maintain interest rates in April. Previously, two members had voted for raising interest rates. Mid-yields on 5-year and 10-year Gilts fell to record lows of 1.02% and 1.34% on 30 January, before rising steadily until the end of April (figure 3).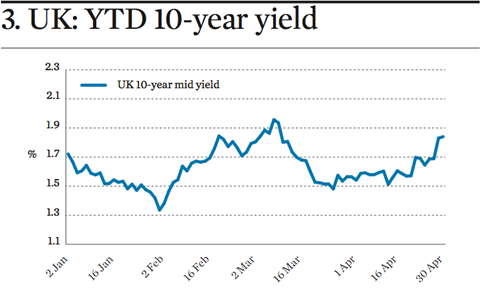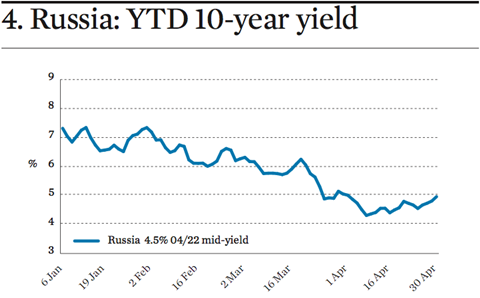 In Russia, the central bank reduced its key interest rate three times in the first four months of the year – from 17% to 15%, then to 14% and again to 12.5%. Russian sovereign debt rallied over the time period. Having opened at 7.27% on 6 January, the dollar-denominated bond due April 2022 fell to 4.31% on April 9 before climbing 65 basis points to end the month at 4.96% (figure 4).
Further east, the Bank of Japan kept the pace of its QE programme – worth ¥80trn (€599bn) a year – unchanged. Despite this, the central bank lowered its inflation forecast for 2015 from 1% to 0.8% in April. After dropping to a record low of 0.20% on 19 January, Japan's 10-year government bond mid-yield climbed slightly to end the period at 0.33% (figure 5).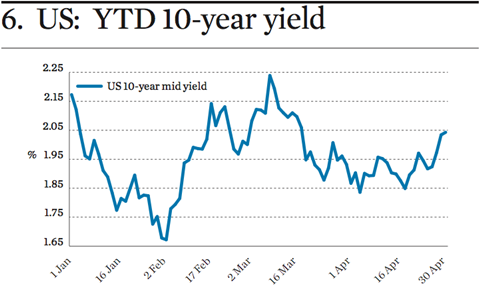 Other central banks diverged from the accommodative policy direction of the ECB. For instance, the Federal Reserve has hinted that it would raise interest rates during 2015 – potentially as early as this month. In March, the Federal Open Market Committee removed language describing its stance towards raising interest rates as "patient". The US 10-year Treasury mid-yield closed as low as 1.67% on 2 February, but finished April at 2.04% (figure 6).
Chris Collett is director, European governments at Tradeweb. Source for all data: Tradeweb, to 30 April 2015