The opportunity to add value through tactical asset allocation across the credit spectrum lends weight to multi-asset strategies, writes Joseph Mariathasan. Finding managers with the right expertise may not be so easy
At a glance
• Multi-asset credit strategies are more about having the ability to switch between asset classes than diversification.
• Each firms utilises pits own specific skill sets.
• US firms often can have the advantage given the importance of the US debt markets.
• But smaller European boutiques can still compete.
• Asset allocation can be dramatically different reflecting specific skill sets.
To everything – turn, turn, turn
There is a season – turn, turn, turn
And a time to every purpose under heaven
A time to be born, a time to die
A time to plant, a time to reap
A time to kill, a time to heal
A time to laugh, a time to weep
Pete Seeger
Stone Harbor Investment Partners quotes the Pete Seeger song that became a hit during the 1960s in a cover version by The Byrds in one of its white papers on multi-asset credit (MAC). For MAC managers, the firm argues, the underlying message holds true – there is a time to be in each credit asset class and a time to leave.
Pension funds and their consultants have realised that fund managers are better equipped than they are to make asset allocation decisions in the global fixed income markets. Multi-asset credit funds come in all flavours but perhaps what is common to them all is that, as Colin Fleury, head of secured credit at Henderson Global Investors explains, they are less about a theoretical view of diversification across lowly correlated asset classes and more about giving managers the flexibility to be able to switch between asset classes to find the best places for risk-adjusted returns.
Renaud Champion, head of credit at La Française Global Investment Solutions, concurs: "Correlations in credit markets are quite high. There is more value to be extracted by moving from one segment of the market to another. The 2008 financial crisis was just one example of that when there was a dramatic underperformance of the financials and of structured credits versus plain vanilla." The ability to switch between asset classes enables multi-asset debt strategies to take advantage of such market disruptions. Moreover, as Champion points out, remaining agnostic as to asset class avoids the temptation to be biased: "If you are a high-yield manager, you will always find value in that asset class and not in others. Your arguments will also be so persuasive that you will also be able to convince your clients."
Stone Harbor has been managing dynamic multi-sector allocation portfolios since 1993, but interest in such approaches has been increasing in recent years. This is perhaps unsurprising given the extent of both market disruptions and the impact of non-profit-maximising investors such as central banks and regulators. Babson manages over $1bn (€913bn) in a multi-asset credit strategy that was launched as recently as 2012. The growth in assets has been driven by support from UK institutional investors and their advisers, explains the firm's European CIO, Zak Summerscale. Henderson Global Investors in the UK has just launched a diversified global credit strategy with the Rexam Pension Plan as the seed investor, in addition to an existing narrower MAC strategy.
Valuations, behaviour, dispersions
To manage MAC strategies effectively there are three key factors that managers need to consider, argues David Torchia, multi-sector strategies portfolio manager at Stone Harbor. First is the differing valuations and prospective return opportunities; second is the likely future behaviour of each asset class; third is the extent of the dispersion of returns between the best and worst sectors in each asset class as greater dispersions imply more opportunities to generate outperformance through security selection.
Each firm approaches the MAC concept by leveraging its own skill base and new strategies are introduced as that skill base is broadened. "Our universe extends from investment grade to non-rated and from bonds to loans and private placements," says Champion. "But we don't as yet have expertise in some sectors such as emerging market debt or the US residential mortgage markets, for example, although they would lie within the scope of our fund."
Having a broader accessible universe certainly increases the opportunity set and reduces problems arising from capacity constraints for any MAC strategy. But that does not necessarily mean smaller firms cannot hope to compete. For example, TwentyFour Asset Management has a Europe-focused multi-credit fund with a 15–30% weighting in subordinated bank paper together with 20–30% in European high-yield corporates.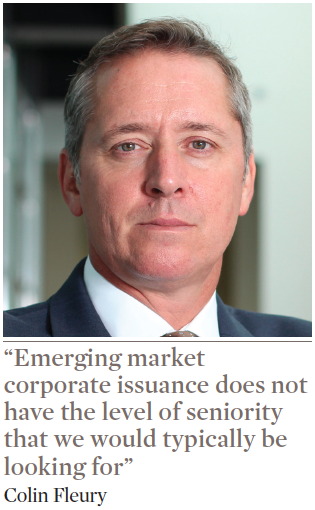 But while the firm is happy with the strategy both in terms of performance and client interest, it has soft closed it with just £1.3bn (€1.8bn) under management. As Rob Ford, a partner at the firm, explains: "There are some funds with £10bn in the same market, but they have to own everything so their performance suffers. We are constrained by how much European bank paper we are willing to buy." Broadening the universe clearly expands capacity and TwentyFour AM is looking to develop its capabilities in the US credit markets. In contrast, US firms such as Stone Harbor and Babson have the advantage that they are very well equipped to offer global MAC strategies given their existing broad capability in US and European markets as well as in emerging market debt. "Our global loan fund alone which only invests in loans is close to $7bn in size, with two-thirds of that being US and one-third in Europe," says Summerscale.
Each to their own
What institutional investors have to be aware of is that asset allocation can differ dramatically between ostensibly similar strategies, reflecting not only different perceptions of risk and rewards but also differing expertise. At end September 2015, Stone Harbor had a 22% exposure to emerging market debt and a 20% exposure to bank loans, primarily senior obligations. Babson by contrast, had a zero exposure to both emerging market debt and the banking sector: "We are corporate credit specialists and are used to seeing transparent cashflows, which you don't get in banks," explains Summerscale.
La Française had a 25% exposure to financials as of end-September and is keen on contingent convertible capital instruments (cocos), which Torchia is wary of: "We are not huge believers in the structure and they have not yet proved themselves through a market cycle." Henderson has a focus on seniority and security. As a result, despite having a 10-person team in the US, its MAC fund is 90% weighted towards Europe with no emerging market debt exposure at all. "In the ABS market, there is a lot more variety in Europe than in the US and 50% of single-B European bonds are secured versus 20% in the US, as a result of European high yield issuance effectively replacing bank lending. Emerging market corporate issuance does not have the level of seniority that we would typically be looking for," explains Fleury.
Regulatory factors
In contrast, Babson's fund is split 65% to 35% in corporate credit between the US and Europe. The largest component is 45% in high yield followed by 35% in loans and 15% in structured credit. But over 90% of the structured credit exposure is US: "There are tighter spreads in Europe than in the US. The 'skin in the game' rules for European insurers stop them from buying US paper where spreads are wider, while US insurers are not subject to such restrictions. As an unregulated purchaser of debt, we can take advantage of what is essentially a regulatory arbitrage. European insurers cannot buy US paper even if they think it is better value," says Summerscale.
"The vast majority of US retail funds are dollar only. As a result, investors like ourselves are able to undertake pure relative value trades which can amount to as much as 3 points difference in pricing"
Zak Summerscale
Differing regulatory and technical factors across markets are a key opportunity for global MAC investors: "You can have companies issuing high yield and loans in both dollars and sterling. There can be very different technical factors affecting their valuations even though they have the same risks as there are relatively few investors who are totally agnostic with regard to currency. The vast majority of US retail funds are dollar only. As a result, investors like ourselves are able to undertake pure relative value trades which can amount to as much as 3 points difference in pricing" explains Summerscale.
Volatility in markets creates opportunities for MAC strategies. A clear example was the oil price crash in 2014. It had the greatest impact on the US energy sector but corporate markets as a whole felt the contagion, whilst bank paper was relatively unaffected: "It is easier to catch movements between asset classes than in single names, which are much more unpredictable and the cost of being wrong is very high" argues Champion. Other firms, such as Stone Harbor and Babson, place emphasis on stock selection as well as asset allocation: "There is a huge amount of idiosyncratic risk and most firms do not have large enough credit teams to be able to undertake the due diligence required, particularly following the growth of the credit markets" says Summerscale. "We have increased our exposure to the US energy sector for example, by doing the research to fund companies that we believe can prosper even if the oil price stayed at $40 a barrel for a few years, which is not our base case scenario."
There was little point in asset allocation in the credit markets immediately after the 2008 crisis as all markets were rebounding. But we are now in a world of idiosyncratic risks, which, like the oil price collapse, can cause contagion in other markets and opportunities for those managers able to switch as a result. As Stone Harbor argues, this means tactical asset allocation between credit asset classes is now a key factor with 'a time to plant' and 'a time to reap' as Seeger's lyrics suggest. There are good reasons to consider MAC strategies but, as Torchia points out, for investors, identifying managers with the resources, expertise and experience to manage them well is the challenge.
Multi-Asset Strategies: Adaptive approaches
1

2

3

4

5

6

Currently reading

Fixed Income: A time to sow, a time to reap

7

8

9