The average listed equities allocation in the portfolios of funds polled for this month's Focus Group is 31%, with the level of respondents' allocation ranging from 10% to 59%. The average is down slightly from 34% at the end of 2010.
Just one fund has the same allocation to equities as it had six years ago, although a further six funds have only increased allocations by 5% or less. Overall, 10 have increased their allocation. An Irish fund showed the largest decrease in allocation over the past six years, dropping 45%.
Over half of respondents expect to keep their equity allocation roughly the same over the next five years. "We don't want to take more risk," states a Dutch fund with an allocation of 40%.
Five funds plan to increase their allocation to equities, the same number as plan a decrease. A Balkans-based fund comments: "By law, [we] can invest a maximum of 35% in equity and in this low-yield environment we expect we will increase our equity exposure in the future."
A UK fund expecting a decrease in allocation says: "The strategy is to de-risk the fund. One way of dealing with this is diversification of return-seeking strategies." A French fund adds: "We doubt that the equity outperformance will remain unabated over the next five years."
Thirteen funds have between 30% and 50% of their overall portfolio exposed to equity risk. Four have an exposure of over 50%, with seven respondents under 50%.
Nine respondents use low-volatility strategies to make the most of their equity-risk budget. Five have done this by replacing some equity exposure with high-yield bonds; four by biasing portfolios to lower-volatility sectors; four by using long/short equity strategies to smooth out some portfolio volatility; and a further four by using tail-risk-hedging overlays.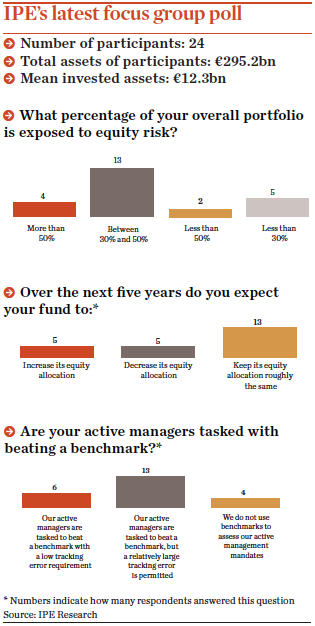 A third do not maintain equity allocations in this way. "We seek to diversify risk to a range of other return-seeking assets that are less exposed to equity risk," says a UK fund.
Nine respondents mostly allocate the equities in their portfolio passively, while eight mostly do so actively. Three have a 50/50 allocation and three a different split, including a French fund that has smart beta about 40% and cap-weighted passive around 15% (mostly equitisation of cash held for initial deposits and margin calls).
For a third of those polled, passive equity management within their investment strategy has increased over the past 10 years, while for seven respondents the active element has increased. The balance has been stable for a quarter, and three have allocated to smart beta.
Thirteen respondents say their active managers are tasked with beating a benchmark, but a relatively large tracking error is permitted. A further six say their active managers are expected to beat a benchmark with a low tracking error requirement. Four do not use benchmarks to assess their active management mandates.
Fourteen funds agree that higher valuations, as well as increased volatility in the equity markets, make active management more attractive in terms of potential value added. A UK fund agrees, but feels it is marginal: "Pricing anomalies are increased, but increased political risk makes it harder for active managers." A Dutch fund is also cautious: "Ideally it should be case, but that may take more time than the managers are granted."
Ten funds disagree. "Increased volatility yes, higher valuations, less so. Many factors influence the ability to outperform," says a Danish fund. A French fund comments: "It is dispersion that creates opportunities, not the average valuations. And, as far as market volatility is concerned, it creates timing opportunities, but not necessarily security selection opportunities."
Three-quarters of respondents consider low-turnover, concentrated equity strategies the most likely to add value to their portfolio in the future. The same number say high turnover, high-tracking-error equity strategies are least likely to add value. Respondents are evenly split on low volatility, quantitative equity strategies and on absolute return equity strategies.
Respondents consider US/North American equity markets to be the most expensive, with Japanese markets the least expensive.